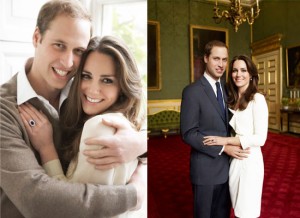 I'm so excited I could burst!  It's less than 24 hours until the Royal Wedding and I'm counting down the hours like a child waiting for Christmas.  I can't wait to see THAT dress, the look on Prince William's face when he first lays eyes on Kate, the famous guest list, and (hopefully) a smile on the Queen's face.  With our London apartments being so close to the action it's been impossible to avoid the hysteria.  The crowds have been slowly building over the past few weeks, the tourist shops are filled with weird and wacky wedding souvenirs, the international media contingent is huge and royal loyalists have now started to pitch their tents along the route. It's hard not to get swept up in the fairytale romance that will see Catherine Middleton, a commoner from Berkshire, marry her real-life Prince in front of an expected television audience of nearly 2 billion people.  Let's hope they don't forget their vows!
For those of you planning on attending, here's some handy last-minute links:
Congratulation to the bride and groom, we hope it's a perfect day with perfect weather!