If you haven't already stumbled across the peaceful, charming and absolutely quaint mews in London's South Kensington neighbourhood, then let us share a little secret with you. What was once the stable areas for the larger homes nearby has since been transformed into the most sought-after residential property in London. Why the appeal? When you turn off a busy road and wander into a mews you'll understand immediately. They're quiet and much more private since each one has its own entrance. They're like little row homes, often painted cheerful colors and with cute gardening and decorations outside.
One of our most popular mews vacation rentals is the sweet and serene Rockingham, a gorgeous two bedroom home set on two levels in one of South Kensington's most charming mews. Located very near the South Kensington Tube station and right around the corner from Museum Row, the setting is a peaceful oasis just moments from a host of London's top attractions, fine restaurants and pubs and easy transport options for fully exploring the city.
Step inside through the private entrance and you'll find a spacious and welcoming living room with lightly colorful décor and lots of floor-to-ceiling windows to create a bright and cheery environment. The ground level also features a deliciously modern kitchen, an open plan dining area and a full bathroom.
Our frequent guests know it's the details that make the difference, and the Rockingham is dressed to impress with ornate decorative touches and ample room to spread out. With two levels of living space, two bedrooms and three full bathrooms, the Rockingham never feels crowded or cluttered, allowing guests to simply unwind in between London adventures.
There's nothing better than a well-supplied kitchen, and the Rockingham has everything you will need for a morning jump start or a relaxing afternoon tea at home. There's plenty of cabinet space, which complements the suite of modern appliances, and visitors will find a collection of grocery stores, specialty shops and a weekly farmer's market nearby, all tucked away in this exclusive residential neighborhood. More convenient and cost-effective than the nearby five-star hotels, you'll save big on dining out every meal and enjoy all the comforts of home at the Rockingham.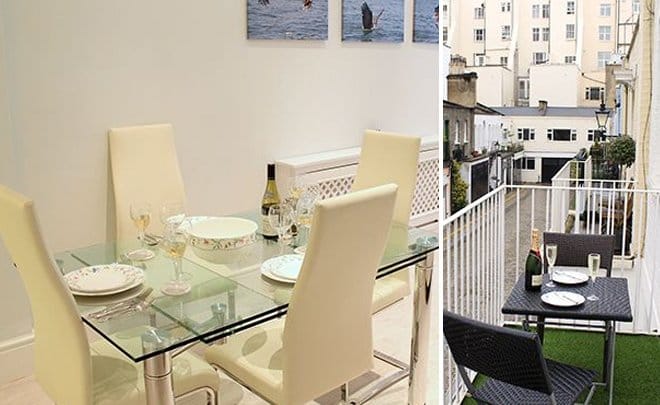 Share time with family and friends and laughter at the beautiful dining area with ample room for four and plenty of natural light. Or escape for a quiet cup of tea or a romantic after dinner drink on the crisp outdoor patio overlooking the quiet Mews home community. Here's where you'll really appreciate the mews with its historic cobblestone streets and charming atmosphere in the heart of the city.
When it's time to retire, you'll look forward to retreating upstairs to the two softly appointed bedrooms, including one with a queen bed and en-suite bathroom, and one with two single beds which can be converted to a king bed before arrival. Both bedrooms feature easy access to en suite bathrooms for additional privacy, as well as plenty of closet space to store all that extra luggage. We find that storage space can be an issue in the majority of hotels, but at the Rockingham, our guests simply feel at home.
The three full bathrooms in the Rockingham means that everyone will have plenty of time to get ready for an evening out at the West End or a romantic rooftop dinner in the neighborhood. Extra touches like the sunny skylight, glass-enclosed shower, or the bright tile décor makes the bathrooms a cheerful spot for starting the day.
You won't have to travel too far to uncover London's most appealing sites, including Kensington Palace and gardens, top London shopping along Kensington High Street, Brompton Cross and at Harrods department store. Pubs, top restaurants, antique shops and boutiques are all an easy stroll away, and with so much space at home, you will have no trouble finding room for all your newly acquired treasures.
As for culture and history, the Rockingham is within easy walking distance of the Natural History Museum, stunning Victoria & Albert Museum, Royal Albert Hall and the absolutely beautiful Kensington Gardens. More extended excursions to see London highlights like the Tower and London Eye can also be effortlessly enjoyed, via the Tube station that's just a three-minute stroll away. Pick up fresh flowers at the corner florist or baked goods at the local Pâtisserie after a London excursion to add a little extra indulgence when you arrive to your quiet London home.
With a dreamy and convenient setting–and two stories of bright and inviting space–we know you'll fall in love with the Rockingham inside and out. Spring and summer weeks are filling up quickly, so don't miss out on the opportunity to experience the best of London at the Rockingham!