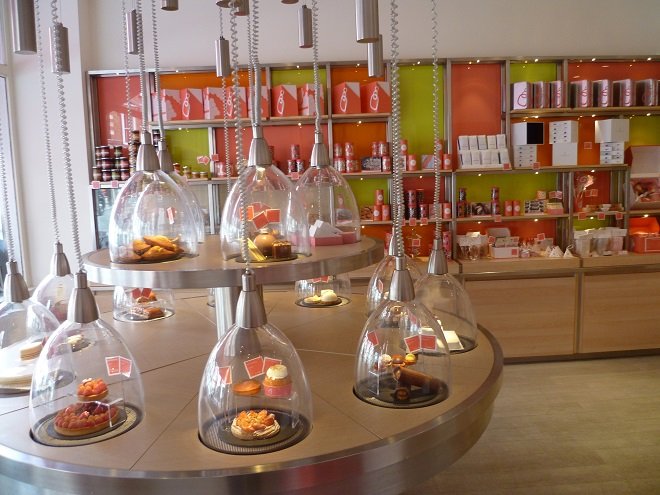 A stroll around the exclusive neighborhood of Marylebone in central London always guarantees a great day out. It is an area of exquisite architecture, high-end restaurants, fashion boutiques, as well as some of the finest food emporiums in the city! We discovered our latest find while strolling along Marylebone High Street when we came across a bakery, truly deserving of the "artisan" title. Stepping inside La Pâtisserie Des Rêves, you instantly feel as though you have entered a fabulous high-end fashion boutique. But as you take a closer look, you will see that the items being displayed aren't shoes or jewelry but the most exquisitely presented baked pastries and cakes.
The concept of La Pâtisserie Des Rêves, already a hit in Paris where it started, is a fascinating one as it was founded on the idea of our "gourmet memories" and how the desserts we enjoyed as children can be brought into our present via taste and smell. In essence, these desserts are a way for us to access the happy memories from our past. We think La Pâttiserie Des Rêves have certainly achieved this with their exquisite creations, and we think they will appeal to the sweet tooth in all of us!
They have a fabulous range of baked goods including; savory, chocolate, seasonal pastries as well as "our childhood" pastries range. Some of our favorites include the delicious looking cream puffs and the oh-so decadent chocolate éclairs – what could be more reminiscent of childhood than these classic creations! In their current seasonal menu you could also choose a classic Apricot Tart or an exquisite sounding Lemon Verbena Bavarian cake.
If you're also looking for that perfect little gift for friends and family, they have a tempting array of candy, too. We can definitely recommend the strawberry pink rocks or the too-pretty-to-eat pink swirl lollipops! If you are also looking to take some items back to your London apartment, why not try the delicious sweet spreads of caramel or praline which would add an extra touch of decadence to any continental breakfast. The store also benefits from a lovely little outside seating area, which if you happen to have a bright sunny day, is the perfect place to sample that pastry you've had your eye on, all the while taking in the atmosphere of Marylebone High Street.
If you want even more of a reason to make this lovely store an item on your to-do list, have a look at this video of their famous sweet creation, Saint-Honoré cake – we're already planning to try this cake on our next visit!
Unfortunately the London La Pâtisserie Des Rêves is now permanently closed.
(Image Credits: All photos by author.)