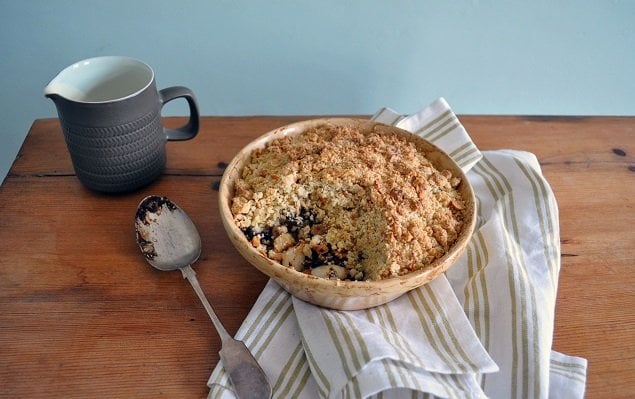 I have a devilishly sweet tooth and so I'm quite surprised (and in truth, a little proud of myself) that it has taken until my fourth blog post to get around to dessert. But this is definitely worth the wait. It is so simple to put together, and can make a handy option if you have friends coming over as you can prep things a couple of hours in advance (although make sure you squeeze plenty of lemon juice over the pears and cover them with plastic wrap), and it will happily cook by itself while you enjoy a first course.
I've seen quite a few variations of pear and chocolate crumble – pear and chocolate is such a classic flavor combination – but usually it is made simply with the addition of cocoa powder to the crumble, which is a tad half-hearted if you ask me! Not being one for abstinence, this recipe goes a little further, with chocolate chunks providing little pockets of molten chocolate that spread through the fruit as you dig in. You probably don't need sugar in the filling as you might for an apple crumble, as pears generally aren't as sharp – and they will also be sweetened by the chocolate as it melts. There is also an additional secret ingredient: quinoa flakes add a lovely toasty flavor to the crumble topping. Don't worry too much if you can't find them though (you might just want to up the flour quantity a little), as the hazelnuts will add to the general nutty flavor, and it will still make for a pretty delicious pudding. Serve with lovely thick vanilla custard.
Serves 4–6
For the topping:
50g/2oz/1/3 cup blanched hazelnuts
100g/3½oz/heaped 3/4 cup plain/all-purpose flour
40g/1½oz/heaped 1/3 cup quinoa flakes
60g/2¼oz/heaped ¼ cup golden caster sugar
70g/2½oz/4½ tablespoons butter, chilled and diced into cubes
a pinch of salt
For the filling:
4–6 pears (depending on the size of your dish)
60g/2¼oz/1/3 cup chocolate chunks
a squeeze of lemon juice
Preheat the oven to 190ºC/375ºF/gas 5.
Tip the hazelnuts onto a baking tray and roast in the preheated oven for about 5 minutes to toast them a little (they will toast more when the crumble bakes, too).
Meanwhile, mix together the flour, quinoa flakes, sugar and a pinch of salt in a large mixing bowl. Add the butter cubes, and use the tips of your fingers to rub the butter into the mixture until you have a texture that looks like breadcrumbs.
Roughly chop the roasted hazelnuts and add them to the crumble mixture. Set aside while you prepare the pears.
Peel and core the pears and chop them into chunky slices. Squeeze a little lemon juice over them as you go so that they don't start to turn brown. Put the pears in a baking dish and sprinkle over the chocolate chunks.
Sprinkle the topping mixture over the pears. It's nice to have some larger chunks for a bit of texture, and to prevent the crumble being a little powdery, so squeeze handfuls of the mixture together, then crumble these larger pieces over the dish. Place the dish on a baking sheet and transfer to the preheated oven. Bake for about 30–35 minutes until the crumble on top has turned a light golden, the pears are tender and the chocolate has melted.
Serve straight away with vanilla custard.
Summary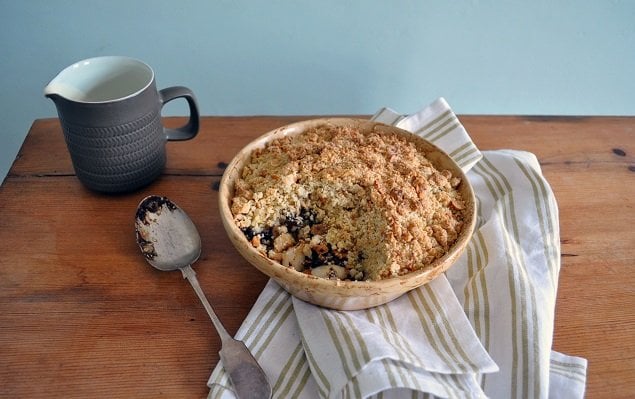 Recipe Name
Recipe For Pear, Chocolate And Hazelnut Crumble
Published On
Preparation Time
Cook Time
Total Time
Average Rating


Based on 108 Review(s)