Image by Pete Edgeler
A major part of the summer season in London is the annual Wimbledon Championship! Whether you're a serious tennis fan or just a Pimm's aficionado, this world-famous tennis tournament is a must for your summer calendar.
Its popularity however means that all the balloted tickets are long gone, with the closing date being back in December, but to keep fans happy there is a queue system in place for anyone looking to get a court-side seat. 'The Queue' has become almost as famous as the Championship itself with eager fans lining up to get a ticket. So, here is all you need to know about beating the crowds and getting a seat at the most exciting event of the season!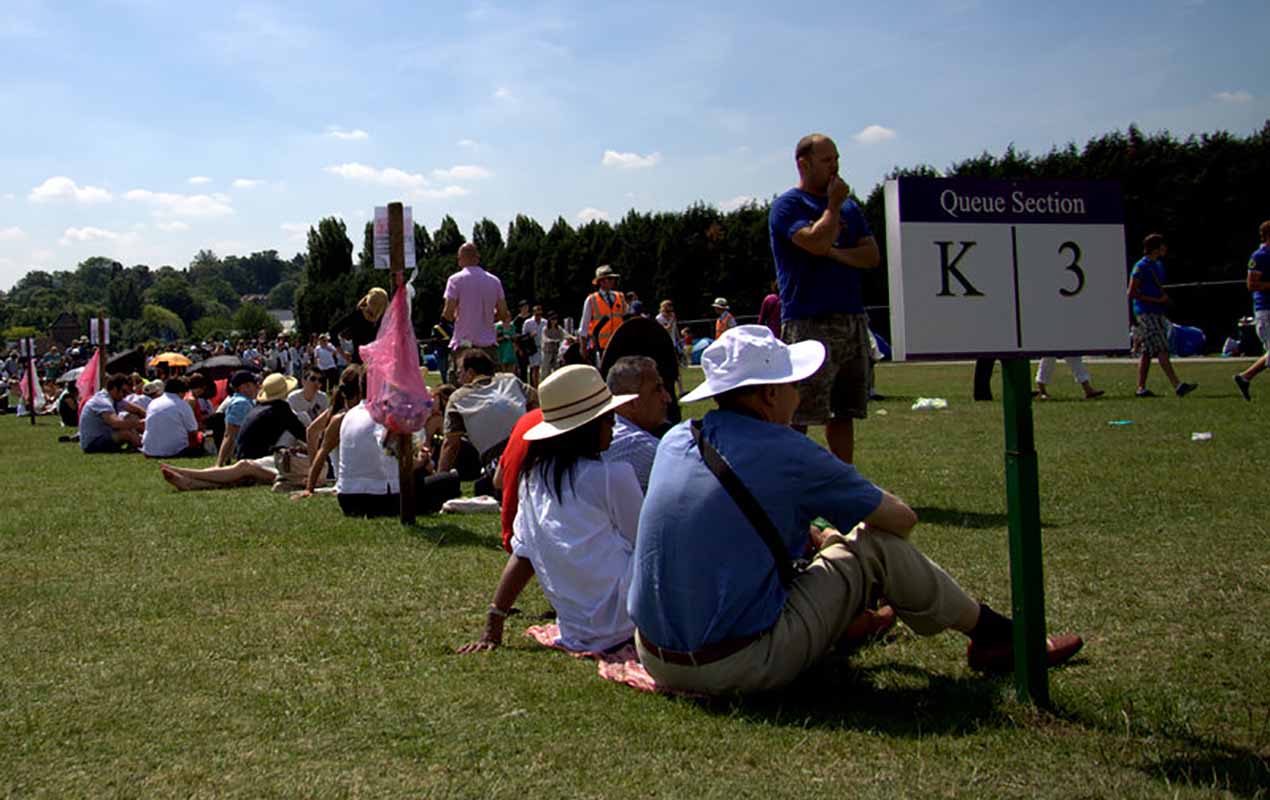 Image by Miranda Wood
Get There Early
The Queue opens daily at 8am and with only a limited number of Centre Court, Court 1 and Court 2 tickets available (except for the last 4 days where tickets are only allocated in advance) dedicated fans tend to camp out overnight for a better chance. If you want to nab one too, we recommend setting up camp between 6-8pm the night before.
If you're happy with one of the Ground Admission day passes, which will grant you access to Courts 3-19 then don't bother with the camping. However, we would recommend you get there around 6am (the earlier the better) as The Queue fills up pretty fast.
The Queue isn't quite as dull as it sounds though, there's a huge sense camaraderie with families, couples and groups of friends all decked out with picnics and Pimm's to see them through the wait.
Image by James Mellor
Get Clued Up
Being knowledgeable on the little things is a great way to save time and get you one step closer to those coveted tickets.
Avoid getting the train straight to Wimbledon, instead, get off at Southfields (District line) which is much closer. Many people believe that the courts are in the center of the town but they are actually around 25 minutes away. There are shuttle buses from Wimbledon station but you'll save time by heading straight there.
Taking cash is always a great tip as debit and credit cards are not accepted for ticket purchases. Ground admission tickets cost £25 but if you're after the better courts, prices will vary. Click here for a full breakdown of the prices and for further information.
Image by Pete Edgeler
Ticket Resale
The ticket resale kiosk is a great spot that not too many people are aware of. Once you're in the grounds, you can head to the kiosk, see here on the map, and get tickets for the better courts for a fraction of the price (sometimes as little as £10 or £20). It's based on people handing in their tickets should they not be able to attend the match and most come from people who have been given the tickets as part of a corporate event, so it's well worth enquiring. Plus, all the money is donated to charity.
And if you're not lucky enough to bag a ticket, don't worry, as you can head into Wimbledon Village where there'll be screens showing the matches and lots of events going on. There's also a big chance you'll spot a couple of the players enjoying a drink in one of the local pubs (usually the Dog and Fox).
For further information on all the exciting Wimbledon action, click here for all the details.