A few weeks ago, I traveled to London for the very first time. Between Westminster Abbey and the stunning gardens of Kensington Palace, I made sure to visit all of the notable hot-spots. But there was one area I visited that I'd never even heard of, but from now on, will be at the top of my to-do list whenever I go back: the Spitalfields neighborhood.
Located in the borough of Tower Hamlets, Spitalfields is an East London neighborhood that is as rich in amenities as it is in historic significance. But this history doesn't have the stamp of royal influence as a lot of the other city neighborhoods do. Before Spitalfields was the trendy area it is today, it was one of East London's worst slums, rubbing elbows with Bethnal Green and notorious Whitechapel.
Christ Church, its notable landmark, stood above the fray, while below its steeple was decrepit buildings, impoverished citizens and downtrodden merchants let down by the decline of the silk industry. Though the Victorian era was a time of great romanticism, it was a period of sorrow for those in Spitalfields, with The Poor Man's Guardian even making it a paradigm of cholera contractions and urban decay: "The low houses are all huddled together in close and dark lanes and alleys," the paper wrote. "Presenting at first sight an appearance of non-habitation, so dilapidated are the doors and windows: in every room of the houses, whole families, parents, children and aged grandfathers swarm together."
But Spitalfields isn't your usual refurbished neighborhood, whose sordid affairs are forgotten underneath high-rises and retail boutiques. It will forever go down in history as the location for one of the world's most vicious and mysterious serial killers: Jack the Ripper. Like a snake slithering through the East End, Jack the Ripper was responsible for the brutal murders of several prostitutes around the Whitechapel area, his second being Annie Chapman. On September 8th, 1888, Annie Chapman became a victim of Ripper's mutilations with her body being found in the backyard of 29 Hanbury Street, Spitalfields. Though number 29 has been demolished, Hanbury Street is still recognized for that fateful day, and is a stomping ground for anyone who wants to trace the footsteps of this deadly legend.
Though the most prominent, Jack the Ripper wasn't the only source of the violence in the neighborhood. As you might have suspected, being a victim of mugging, theft or murder was a reality for the Spitalfields inhabitants, and even after the Victorian era had ended, its despair still spread to the 20th century. In 1902, American novelist Jack London spent his summer in the East End, immersing himself in the lives of its residents. His accounts resulted in a novel entitled "The People of the Abyss." "I was out all night with the homeless ones," he wrote. "Walking the streets in the bitter rain, and, drenched to the skin, wondering when dawn would come. I returned to my rooms on Sunday night after seventy-two hours continuous work and only a short night's sleep… and my nerves are blunted with what I have seen." From reading London's words about the unfortunate faces he came into contact with, it's clear that the desolate nature affected him, but when you visit Spitalfields now, you realize that its previous desolate nature gives this neighborhood its completely unique edge.
Today, Spitalfields has all of the trendiness and style you would expect, and is a great area to explore. Without a doubt, your first stop should be Spitalfields Market. In 2005, the market underwent a regeneration program and is probably one of the best shopping experiences you can have in London. The indoor market is full of vendors selling antique clothing, contemporary fashions, accessories and original artwork. Beautiful scarves for £3 a piece. Dresses for just £15. Artwork for less than £30. If you're looking for beautiful clothes that won't burn a hole through your wallet, this is the place to go.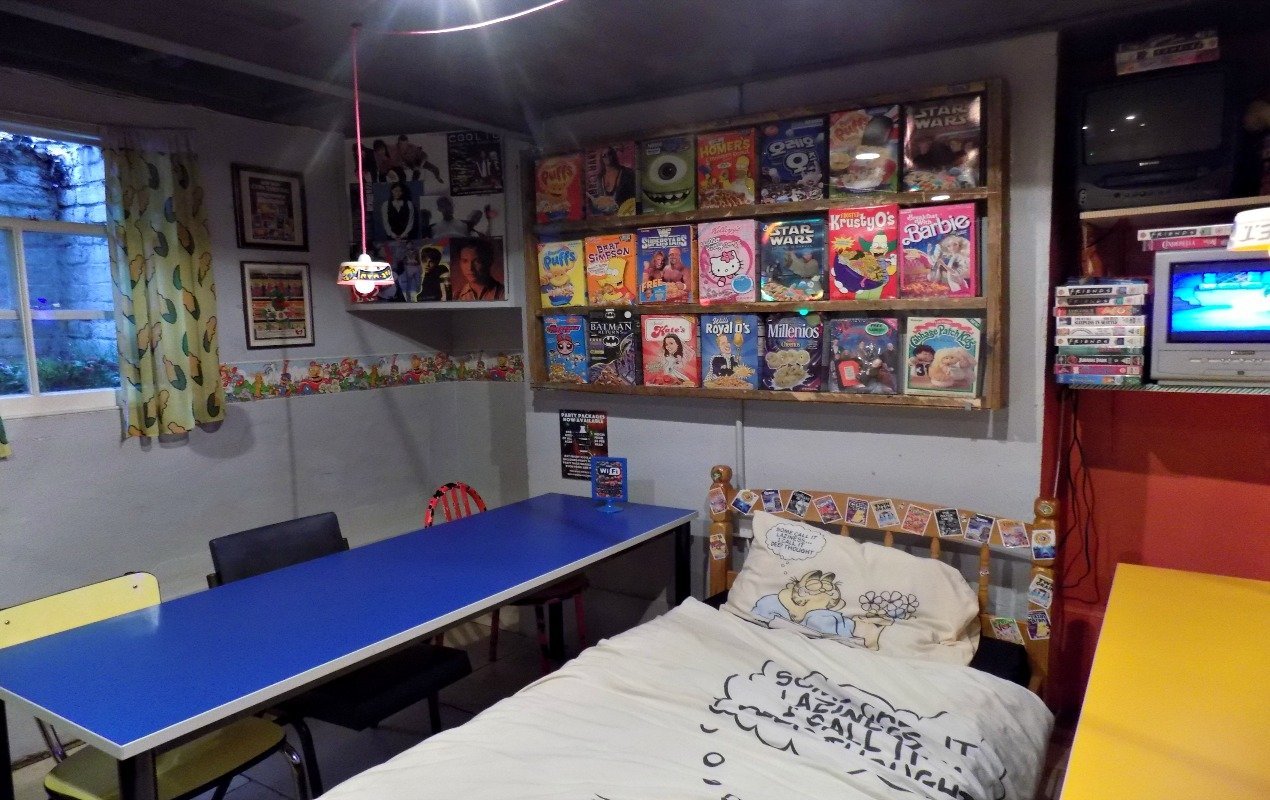 Outside of the market, you can find a selection of hip chains such as Urban Decay and Crosstown Doughnuts, as well as shops specific to this neighborhood like Verde & Company. But the thing that gives Spitalfields its character is the homage it pays to its history through specialized stores. Just an eight minute walk away from Christ Church, you'll find a retro-styled shop called Cereal Killers Café, an eatery completely dedicated to, you guessed it, cereal! Not only did Alan and Gary Kerry (the owners of the café) succeed in creating a fun space to eat Cinnamon Toast Crunch and Pop Tarts, the play-on-words also brings your mind back to the East End's murderous past. Looking for a barber? Visit the award-winning Brick Lane shop, Jack the Clipper, where a barber chair now sits directly atop a spot where Jack the Ripper murdered one of his victims. Even the location of the Truman Brewery, which used to be London's largest brewery, is still standing strong, and is now a home to art exhibitions, creative offices, small businesses as well as a fantastic selection of pubs and restaurants.
After spending time in this neighborhood, it's clear that Spitalfields has done something that many refurbished neighborhoods have failed to do: it has revamped its streets with interesting businesses without sacrificing its local culture and historic value. It's the place to go for drinks and lunch at a pleasant mom-and-pop eatery, and definitely proves that London's East End is one of the top places to explore while on your London stay.