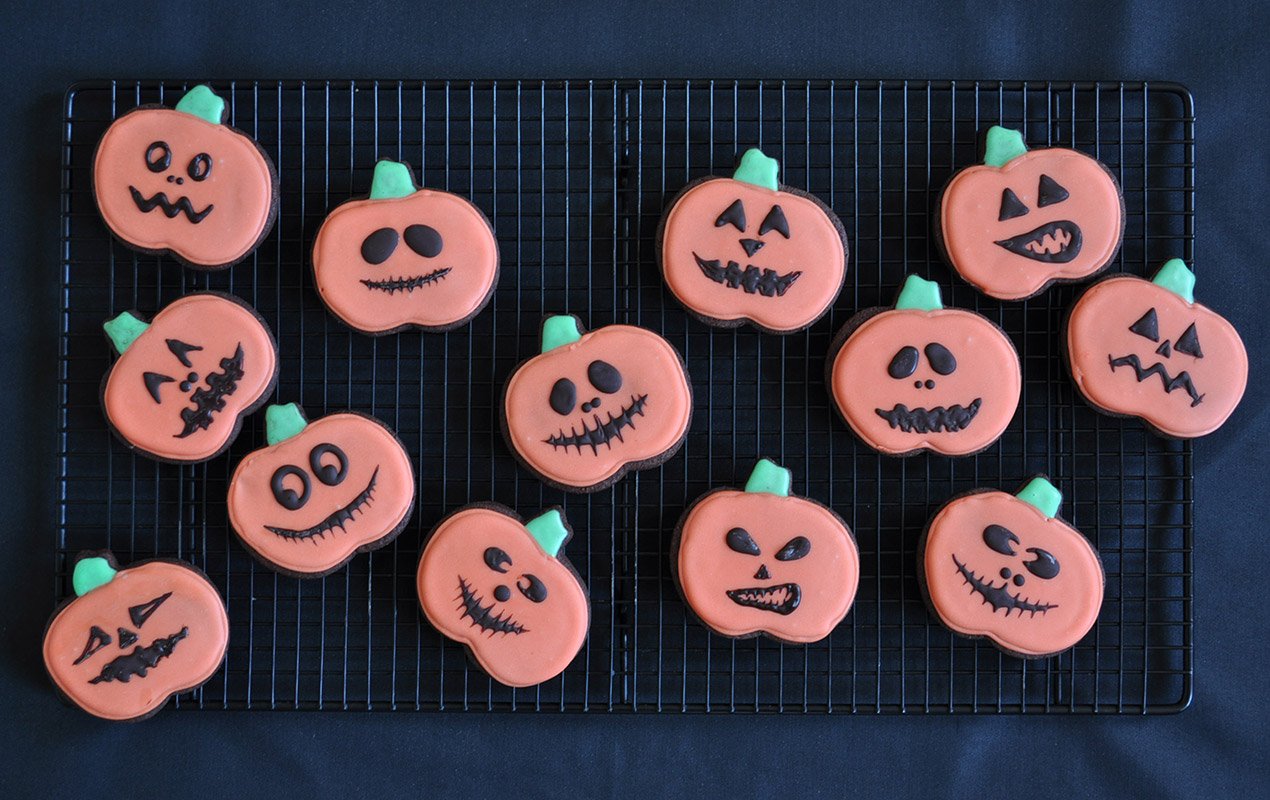 These creepy pumpkin cookies are great for Halloween. What child (or adult, in fact) doesn't love chocolate and orange together, and they also give you the opportunity to flex your creative muscles come the decorating. The fun of these is making each face different, and coming up with the most evil expressions you can think of!
The yield depends on the size of your cutter – mine was about 8cm/3inches across to make 14 cookies. And don't let the prep time on these put you off – the actual cookies only take about 10 minutes to mix up, and you can spend as much time on the decoration as you can spare.
Chocolate can be quite tricky to pipe with as it cools and sets, so you need to be quite quick. If you are a little unsure of your piping skills, just use a bit more royal icing, colored black or brown, to do the faces. You will still get the chocolate flavor from the cookie itself.
Makes 14–16
100g/3½oz/7 tablespoons salted butter, softened
100g/3½oz/½ cup caster/superfine sugar
1 large egg
1 teaspoon orange extract
175g/6oz/11/3 cups plain/all-purpose flour
50g/1¾oz/5 tablespoons unsweetened cocoa powder
½ teaspoon baking powder
To decorate:
250g/9oz/1¾ cups royal icing/confectioner's sugar
orange food coloring paste
green food coloring paste
80g/2¾oz dark/bittersweet chocolate
Beat the butter and sugar together until light and fluffy with an electric hand mixer or in a stand mixer. Beat in the egg and orange extract.
In a separate bowl, combine the flour, cocoa powder and baking powder. Sift the dry ingredients into the butter mixture and stir everything together until well incorporated. Wrap the dough in a sheet of cling film/plastic wrap and flatten to make a patty. Chill in the refrigerator for a couple of hours.
Preheat the oven to 180ºC/350ºF/Gas 4 and line a baking sheet with baking parchment. Roll the chilled dough out on a floured surface to about 4mm thick and stamp out cookies using a pumpkin-shaped cookie cutter, placing them on the prepared baking sheet as you go.
Bake the cookies for 12–15 minutes, until the tops are crisp and darkened slightly. Allow them to cool for 5 minutes on the baking sheet, then transfer them to a wire rack to cool completely.
Once the cookies are completely cool, prepare the icing. Mix 200g/7oz/1½ cups of the icing/confectioner's sugar with a few drops of water until you have a thick icing that you will be able to pipe successfully. Add enough food coloring paste to make the icing a strong orange. Spoon about one-quarter of the icing into a piping bag with a fine nozzle/tip.
Pipe around the outside of each cookie very carefully to create a thin border on each, and let them dry for a few minutes. Don't go around the stalk as you do this, as you want that in a different color – just cut straight across the bottom of it. Fill the inside of the line with a generous teaspoonful of the remaining icing (you want a nice thick coating, but not so much icing that it pours over the edge and looks messy), spreading it out to the border line – a toothpick is useful for this.
Mix the remaining icing/confectioner's sugar with some green food coloring and pipe the stalks onto the pumpkins. Leave the cookies for at least an hour to set really hard.
Melt the chocolate in a heatproof bowl set over a pan of simmering water, being careful that the bottom of the bowl doesn't come into contact with the water. Transfer the chocolate to a piping bag with a fine nozzle/tip and pipe faces onto the cookies. Once again, having a toothpick on hand will help you to push the chocolate into more precise shapes. Allow the chocolate to cool and set before serving.
Summary
Recipe Name
Spooky Chocolate–Orange Pumpkin Cookies
Published On
Preparation Time
Cook Time
Total Time