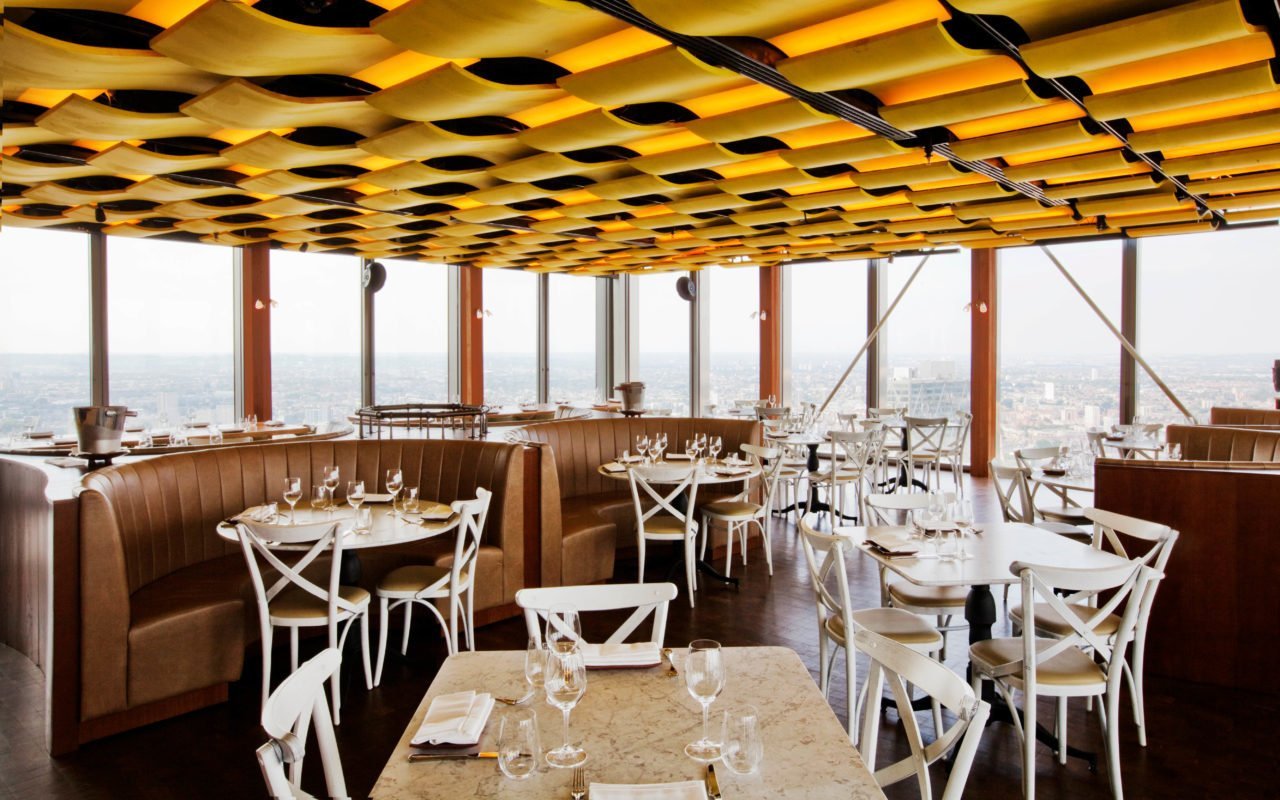 Guy Beringer first coined the word brunch after he proposed the idea in his essay, 'Brunch. A Plea', written back in 1895. A hybrid/combination of breakfast and lunch, little did he know just how popular the concept would become on these shores. Singapore has an established reputation for its lavish brunches in its luxury hotels, and now London is embracing the trend. There's more to brunch than just the classics, though, and this is clear in the diverse brunch menus across London: sushi platters, dim sum buffets, ox-cheek Benedict, and even Champagne in Kate Moss coupes.
The Champagne Brunch: 34, Mayfair
Champagne adds a special flair to any meal, so go all-out with a fancy Champers brunch at 34. Every weekend, this upmarket grill restaurant in the heart of Mayfair offers an extravagant range of brunch dishes, such as a variety of Benedict plates, lobster omelette Thermidor, and the sweetest banoffee waffles and cream; there's also an ample steak menu. In the upscale surroundings, sip Champagne from the bespoke Kate Moss coupes that come with a quirky story.
Details: 34, Mayfair. Weekends; noon – 5pm.
The Hotel Brunch: The Wolseley
To brunch in absolute luxury, a table at The Wolseley is a must. The Wolseley is the finest hotel for breakfast or brunch, and a famed landmark. In the book he wrote dedicated to the place, A.A. Gill wrote, "Breakfast is everything. The beginning, the first thing. It is the mouthful that is the commitment to a new day, a continuing life." And brunch here is just as much an event as it is a meal; timeless dishes here include kedgeree, smoked salmon and eggs, and French toast. Wash it down with a wiener kaffee – espresso with whipped cream – or quite possibly the best bloody Mary you'll ever have in London.
Details: The Wolseley. Everyday, orders from the breakfast menu.
The Restaurant Brunch: Maze
At Gordon Ramsay's Maze in Mayfair, Sundays are for brunching with an Asian flavour: Japanese fare including a wide variety of sushi, such as tuna tartare and other tasty Japanese platters. The Maze brunch has a set time limit of an hour and a half; perhaps wise as it's a bottomless brunch with free-flowing bubbly. And it's a reasonable £40 for a top Ramsay restaurant.
Details: Maze, Mayfair; Sundays, noon – 4pm.
The Brunch with a View: Duck and Waffle
To enjoy a brunch with sky-high views, book a table at Duck and Waffle. It's London's highest brunch, on the 40th floor of the Heron Tower. The fare is as divine as the panoramic view, duck is the menu focus here (as the name suggests, with waffles) plated for patrons crispy and delicious, or Asian-style as a congee, or rice porridge popular in the Pacific Rim. Other highlights include duck egg and soldiers and a Benedict with one difference – ox cheek. The Colombian eggs is a delight of a dish with scrambled eggs, tomato, avocado and chorizo on sourdough. Either way, gazing out of the window with a mimosa is quite the pleasant pastime.
Details: Duck and Waffle; weekends, 9am – 4pm.
The Dim Sum Brunch: Hakkasan
Michelin-starred restaurant, Hakkasan, offers Cantonese fare and their exclusive Dim Sum Sundays. Dim sum translates as 'touching the heart' in Cantonese, and this brunch hits that spot. For patrons craving Asian dishes and wanting to steer away from the standard brunch menu, a delightful dim sum journey starts at Hakkasan. Tuck into four courses of mouth-watering dim sum, enjoy their two signature cocktails, and half a bottle of Louis Roederer Brut Premier Champagne. Monday might be a long day.
Details: Hakkasan; Sundays, noon – 6.45pm.
Book one of our beautiful London Perfect vacation rental houses or apartments based on your food tour.