Have you ever wondered what it would be like to live like a princess? A life in the public eye, with appearances and events, and the splendor of jewels, yachts, and grand residences? This August will mark 20 years since Lady Diana's death. The 'People's Princess' valued privacy and tradition, but she wasn't shy about maintaining a sense of her true self, and a bond with those around her – nobility or not.
Kensington Palace and Gardens remained Princess Diana's home for 15 years, so it's no great surprise that it held wonderful memories. Glimpses of the "real" Diana are well-documented – according to royal gardeners that loved chats with the late Princess recall her cheeky sense of humor!
With her own upbringing rooted in the aristocracy, Diana Spencer's early years brought the enjoyment of culture, the arts, travel, shopping and haute cuisine. After marrying Prince Charles, her appreciation of these elements and this lifestyle continued, with frequent shopping trips to Harrods and Harvey Nichols. It's no secret that Princess Diana embraced a very "down-to-earth" approach, especially after the birth of her children, and she loved the popular British high street brand Marks and Spencer who reportedly would close the store so she could browse privately.
With the 20th anniversary of Princess Diana's passing approaching, London Perfect takes a closer look at the life – and lifestyle – of the "People's Princess", and we offer her favorite places with our 7-day royal itinerary, allowing our readers to follow in her regal footsteps.
Day One: Kensington
Morning
Just like the princess, arrive at one of our most opulent Kensington homes, like our sprawling Victoria, sleeping up to 8 in its four decadent bedrooms and boasting an amazing 1,900 square feet of space.
Appropriately named, Guests arriving at our Victoria are immediately met with palatial surroundings and embrace the life of a royal in this luxurious home. It's easy to imagine your ladies-in-waiting tending to your every need here.
Afternoon
After settling in, take time to discover the neighborhood and shop along Kensington High Street, one of Diana's favorite shopping districts. Visit the Kensington outlet of Whole Foods Market, perfect for stocking the pantry in your apartment. You may recognize it from its location in The Barker Building, where Diana was frequently photographed visiting. Grab a sandwich from the food hall at Marks and Spencer (she liked Marks – just like the rest of us!). Diana was a particular fan of the muffins and the freshly baked white bread for her bacon sandwiches. Before heading back, visit McDonald's for a snack…believe it or not, Diana took Will and Harry there sometimes!
End the day with dinner at the Michelin starred Launceston Place Restaurant, another favorite of Diana and located a few just down the street from our Victoria rental.
Day Two: Diana's Fashion Story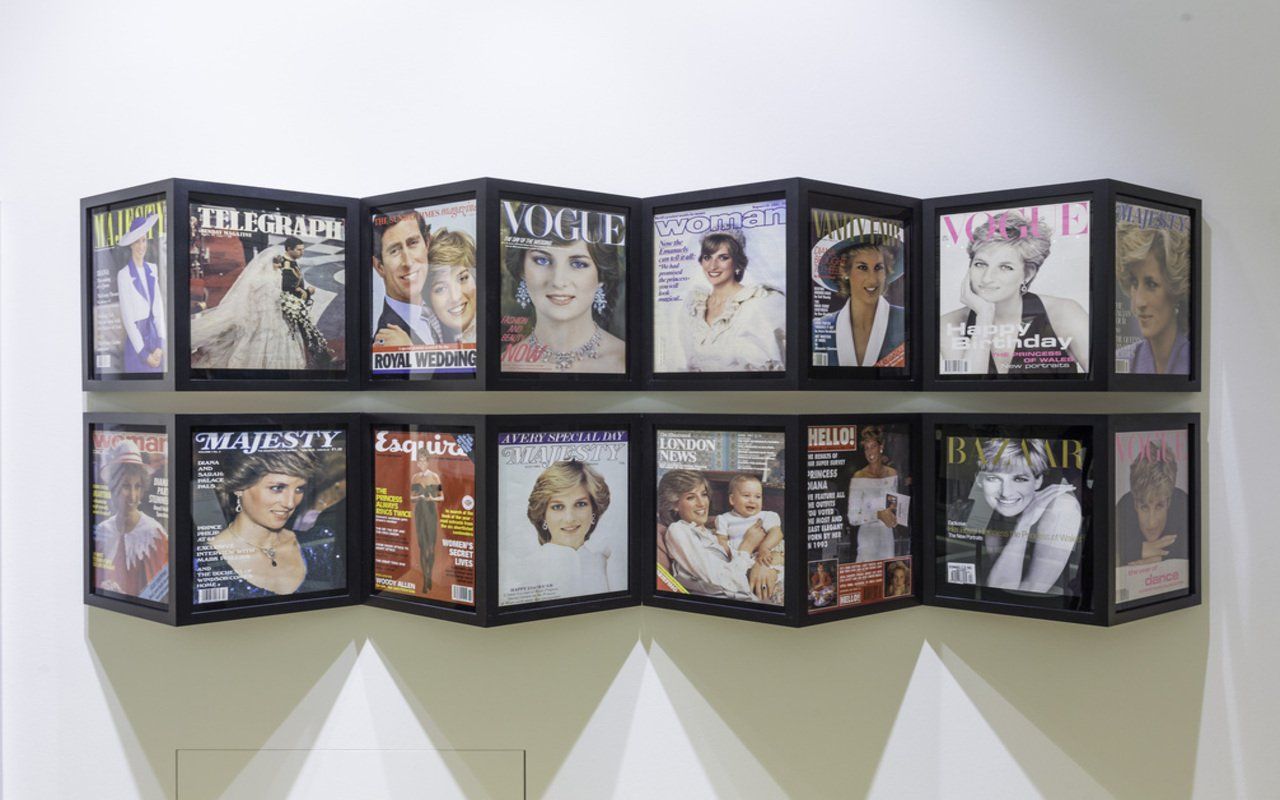 Photo courtesy of Historic Royal Palaces
Morning
Head out to Kensington Palace and Gardens and take in the fabulous exhibit, Diana: Her Fashion Story. You can easily get lost in the history of this experience.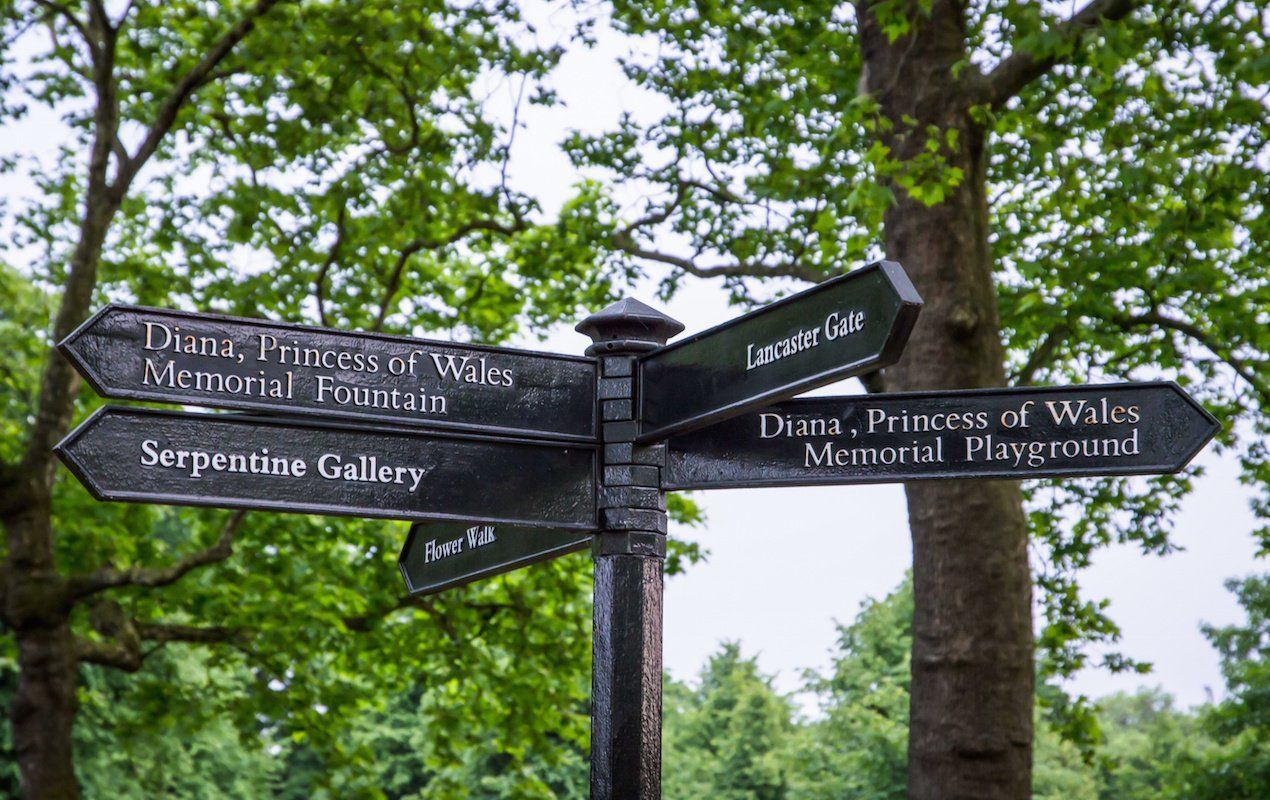 Continue on to the Memorial Gardens, Fountain and Playground and see the new statue. The White Garden at Kensington Palace is free to the public and is currently commemorating the 20th anniversary with a display of Diana's most-loved blooms, like forget-me-nots. The garden's design is inspired by Diana's life and has taken an entire year to plan and create.
Afternoon
Plan a lunch at The Orangery to experience another of Lady Di's coveted favorites, and then head out on the St James Princess Diana Memorial Walk (11K). Return home for a relaxing supper.
Day Three: Harrods and Harvey Nichols
Photo courtesy of Visit London
Morning
Opulence awaits your arrival at department stores like Harrods and Harvey Nichols. There's also a "Princess Di" Memorial inside Harrods, which is a must-see for any fan of the late princess. Stroll down Beauchamp Place where she shopped, venture across to Sloane Street, and then head back up to Knightsbridge Station, passing Chanel and Valentino. Or, take the famous red London bus direct to the stores; it's the ideal sightseeing route.
Afternoon
Tuck in to a delicious Italian lunch at San Lorenzo, one of Diana's most-loved restaurants. Continue shopping for the family at Dragons of Walton Street and buy some children's items. You may recall this is where the princess bought many items to outfit the nursery for Will and Harry; it's also where The Duke of Cambridge later shopped for George and Charlotte.
After heading back to the apartment to change, enjoy dinner at Daphne's, with its dashing design by Martin Brudnizki. Diana had a penchant for this casual-chic restaurant. Continue the merriment with an evening theater performance on the West End, such as Mamma Mia at the Novello. Diana was known for her love of the arts.
Day Four: Buckingham Palace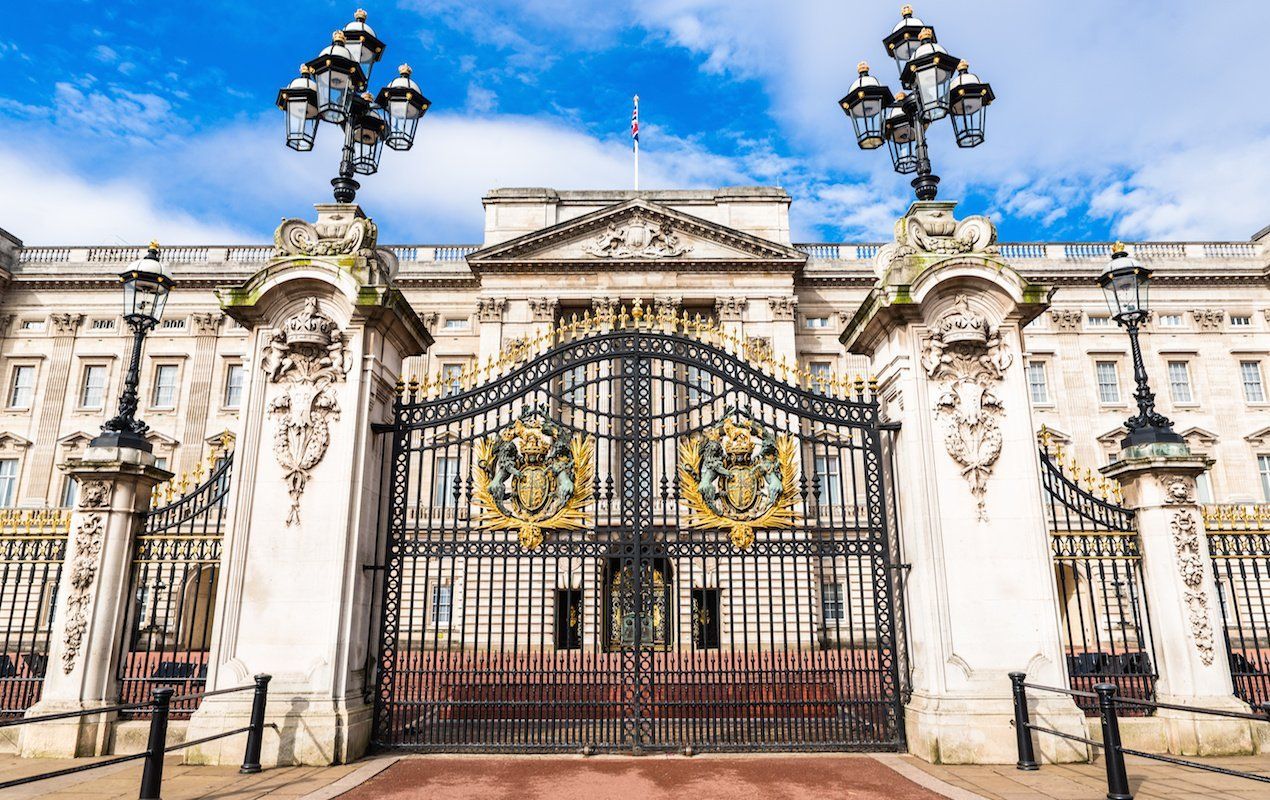 Morning
Set out on a tour to Buckingham Palace, home to Queen Elizabeth II and Prince Phillip, and see the famous balcony where Diana appeared following her wedding to Prince Charles. Remember that famous photo of her waving, and how the royal family appearing on this balcony has become a tradition at most major royal events. A must-see for any Diana fan is the Changing of the Guard; it's truly a unique experience. Drop by The Royal Mews to see Princess Diana's wedding carriage and browse the splendid gift shop.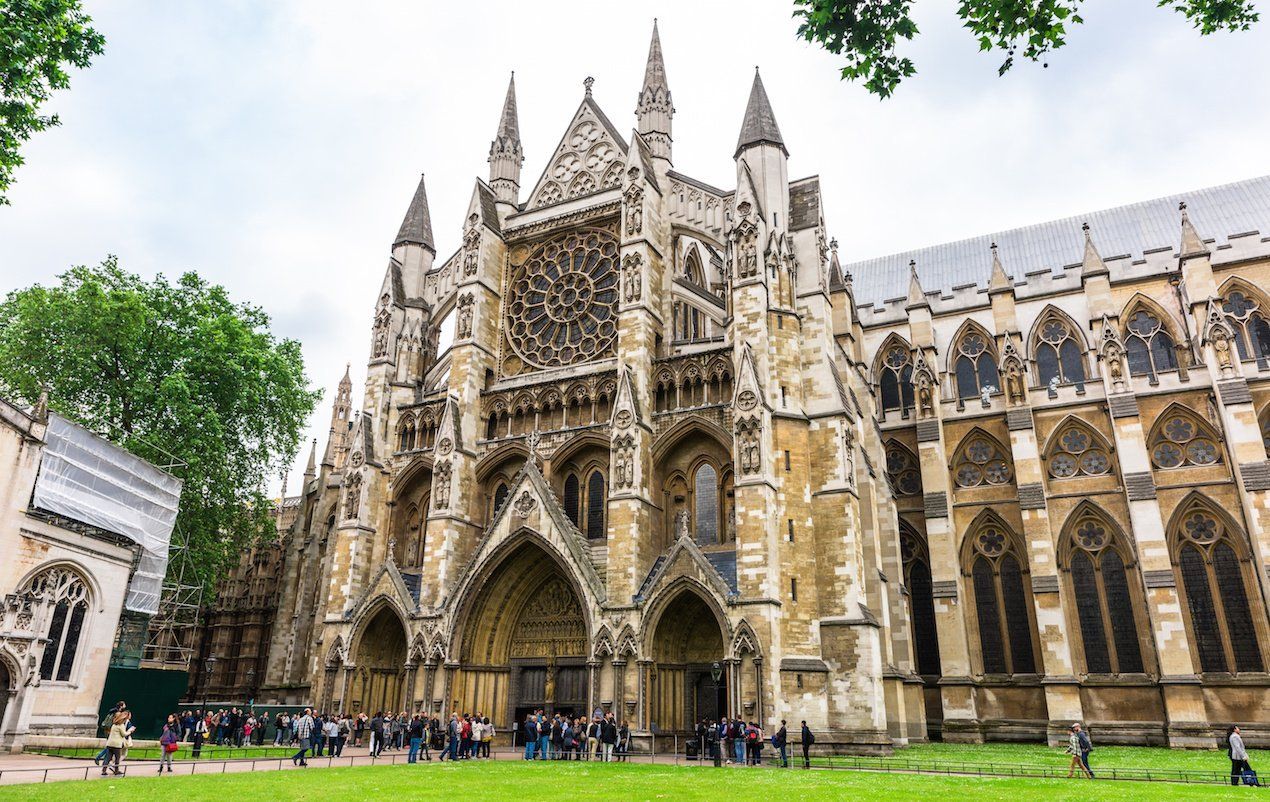 Afternoon
Have a pizza slice at Da Mario, which you'll likely recall was Diana's go-to pizza parlor. Afterward, journey to majestic Westminster Abbey, where Diana's funeral was held, and take a few moments to absorb the history and amazing architecture. Continue your afternoon by heading to the iconic Big Ben, Westminster, and Downing Street.
The final stop is Soho's buzzing maze of streets for French fine-dining at L'Escargot, where Diana would bring her friends.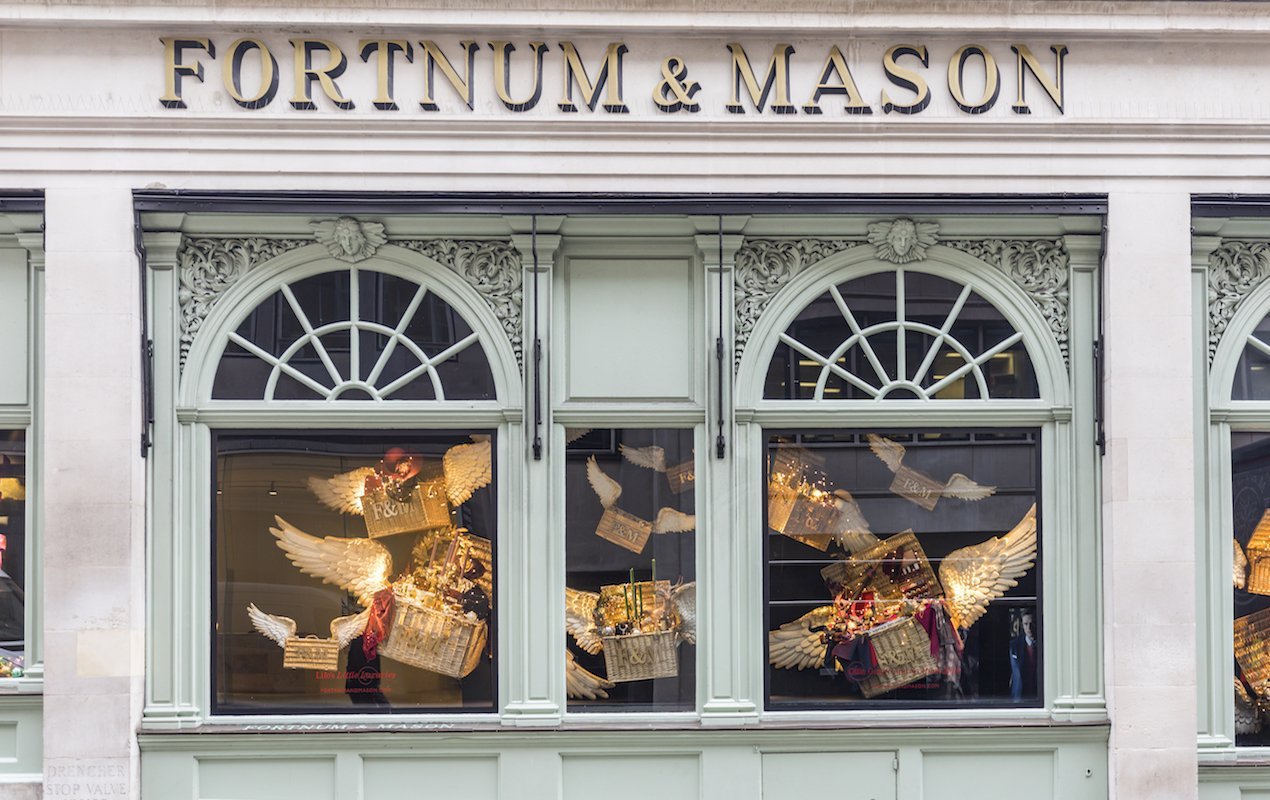 Day Five: Tea and Shopping
Morning
Have brunch or a morning tea at Fortnum and Mason, where Diana was a regular patron. They have held a Royal Warrant since 1955, as the royal grocers and tea merchants.
Walk down Albemarle Street, then onto Grafton Street to visit House of Garrard, the designer boutique where Diana's famous sapphire engagement ring was purchased. At the time, it was almost scandalous that she didn't opt for a custom ring. Stroll on to Oxford Street, the famed London shopping strip and pulse of the fashion capital, where high-street fashion and high-end designers meet, such as the iconic Selfridges store.
Afternoon
Have lunch alfresco at The Roof Deck in Selfridges. Continue with browsing and check out the high street stores such as Jigsaw or Cos. Diana was quite known for her mixing of haute couture with high-street fashions.
Ride a bus along the scenic route back to Kensington, and then stop by Café Diana for dinner; it's a café dedicated in her memory with portraits of the Princess dotted along the walls.
Day Six: Madame Tussauds and St Paul's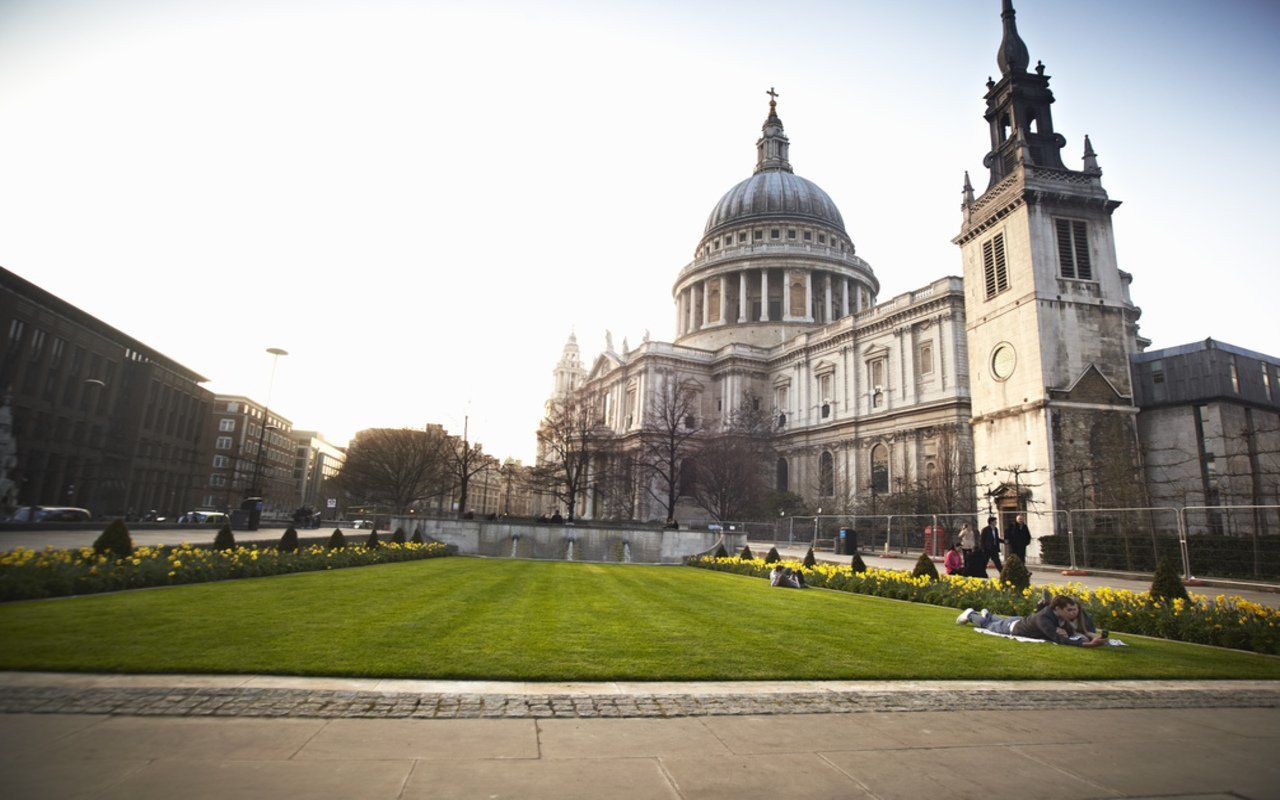 Photo courtesy of Visit London
Morning
Madame Tussauds and London Eye Tour is the ideal way to start Day Six. Discover impressive wax figurines of the royal family, including Princess Diana. Journey on to St Paul's Cathedral where millions watched as Diana and Prince Charles famously wed in a televised special in 1981, and soak up the grandeur.
Afternoon
Unwind by relaxing on your bright terrace with a good book this afternoon. Diana loved the arts, especially literature and film. Enjoy a luxurious soak in the bath with Crabtree & Evelyn bubbles (her favorite), and then dinner and a movie. Try your hand at making bread and butter pudding, it was Di's favorite or buy it at Sainsbury's where she was sometimes spotted pushing a trolley around the aisles.
Day Seven: Royal Windsor
Photo courtesy of Visit London
Morning
On the final day of this Diana Tour, rise early and take a tour of Windsor. Wander the quaint lanes, and at lunch, sample the tea rooms, art galleries, and boutiques. Visit Windsor Castle – the largest inhabited castle in the world. The decorative state apartments including St George's Hall are simply unbelievable.
Afternoon
Travel back to London to watch a ballet performance at the Royal Opera House, where Diana made a surprise performance with Wayne Sleep in 1985. Did you know Diana, like most little girls, once dreamed of becoming a ballerina? Nibble on a late supper at your gorgeous London Perfect residence.
You can download the Princess Diana Memorial Walk Map to take with you on your journey around London!
For your next stay in London, our friendly reservations team are on hand to help you select one of our stunning family vacation rentals. We can also help with shopping, itineraries, tours, dining reservations, and customized private experiences! Email us today for more information.