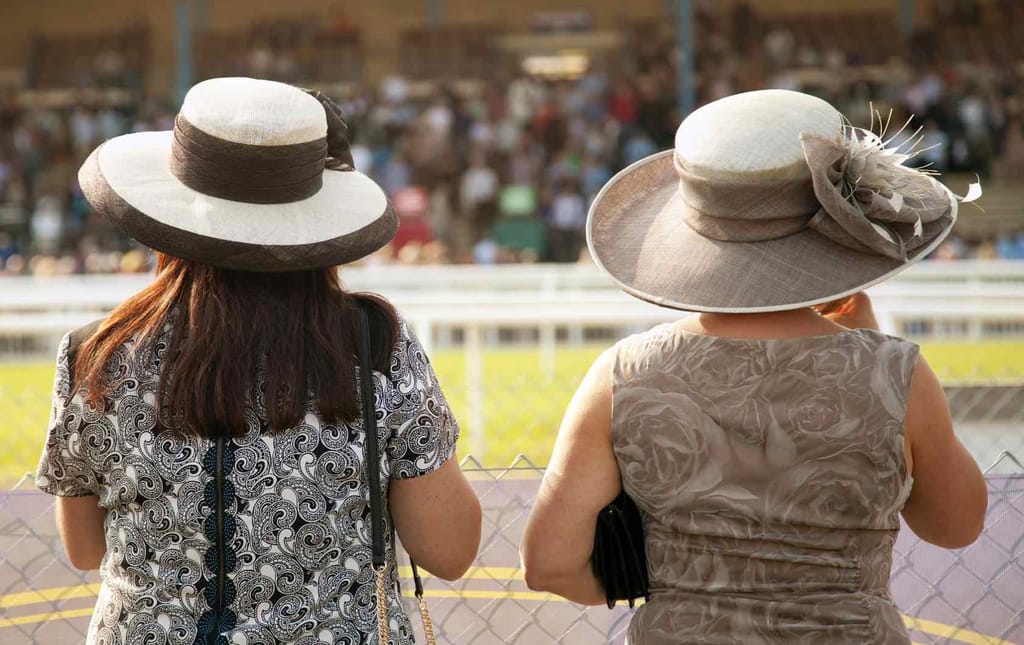 Hats and fascinators are as much a part of British culture as tea and scones. In fact, fancy headwear is de rigueur at many formal events like the ones attended by the royals and British high society. The whimsical headwear is also a must at weddings. Most would agree that the royal nuptials just wouldn't be as much fun to watch without the unique and interesting headwear. So with the summer wedding season fast approaching, we're taking a look at the British fascination with fascinators, as well as rounding up a few British millinery spots to check out if you're in the market for an English hat of your very own. Happy shopping!
The Beginner's Guide To British Hats and Fascinators
The Basics of British Millinery
First, some basics: hats and fascinators are two separate things. Hats have brims and a base, whereas fascinators are decorative pieces attached to the head via a headband or clips. Fascinators can include or be made up of elements like feathers, netting or bows, and can even include veils. Both hats and fascinators can be wild and weird (like the butterfly headpiece Princess Beatrice wore to the wedding of Peter Phillips to Autumn Kelly in 2008) or totally traditional (like many of Queen Elizabeth's hats). Every so often the Queen wears a fascinator. However, she certainly seems to prefer hats.
Just like other fashion accessories, hats and fascinators are a playful form of self-expression. When worn in public to major events, they're almost always discussed. It seems like the world is still talking about the fascinator that Princess Beatrice wore to the wedding of the Duke and Duchess of Cambridge, a.k.a. Will and Kate. (But at least after all that gossip, the unique piece went on to fetch an impressive £81,101 at a charity auction.)
At formal events, it's considered proper etiquette to wear a hat or fascinator. Seeing British millinery and English hats are also common at horse events—especially upscale ones like at Royal Ascot.
The History British Millinery
Historically speaking, headpieces and hats were status symbols and a way of signifying one's place in society. Up until the 1950s, wearing a hat while outdoors was simply what everyone did. Through the years, the styles and trends have changed, of course. In the 1940s, "doll hats" became popular. These were basically an early cousin of the modern-day fascinator, but in many ways, the Edwardian era was the heyday of British millinery, as ornamental ostentation was arguably at its height. (Just check out the bird hat in the image above.) British millinery saw a resurgence after Will and Kate's wedding. Many retailers and hat shops in London saw an increase in sales after the wedding aired around the world.
Where To Find Fascinators and Hats in London
Shopping for headpieces and hats in London is a worthwhile adventure—even if you don't intend on buying anything. For historic British hats in London, your first stop should be Lock & Co. Hatters. Considered the oldest hat shop in the world, Lock & Co. is responsible for iconic styles like the bowler hat. They still make plenty of classic styles like Panamas, boater hats and straw hats. The timeless shop is located on 6 St James's St in the ultra-expensive area of St James's. It's easily accessible from the stylish Belgravia apartment, which sleeps up to five people.
Affordable Options
Though Lock & Co. is legendary, it is also pricey. But don't despair. There are plenty of hats in London that are very affordable. A great place to find affordable fascinators and British hats in London is at Dorothy Perkins. There are several Dorothy Perkins stores to be found around London including one in Battersea and one in Victoria. Another good spot for well-priced hats in London are the major department stores like Marks & Spencer and House of Fraser. House of Fraser is actually a part of the Westfield shopping mall in Shepherds Bush. It's easily reached on foot from several of London Perfect's apartments including the light and airy Gladstone and the two-level Chatham. (You can find more places to shop for affordable British fashion here.)
Along with those department stores mentioned above, almost all of London's iconic, luxury department stores like Harrods, Liberty, and Fenwick have departments dedicated to British millinery. You can find a full guide to British department stores in London here.
Ready to do some shopping in London? The team at London Perfect can help you find the perfect home base near all the best shopping areas. Don't forget to pack your hatbox, and check out our full London packing guide for other essentials.