Set on a quiet lane just off Kensington Church Street, the high-spec York house in Kensington is one of our very best properties. Laid out over four floors, this well-dressed sanctuary sleeps six with three bedrooms and three bathrooms. It's ideal for families with older children, especially since it's nestled away on a peaceful street but still close enough to enjoy the best of what London has to offer.
The York House in Kensington
With a spacious ground-floor patio spilling out from the folding glass doors of the open-plan kitchen/dining room and under-floor heating throughout, the York is comfortable and well suited for any season. It's also supremely stylish. With pops of cobalt, unique artwork and lighting fixtures, plus luxurious linens throughout, you may find it hard to leave this home in Kensington.
The three bathrooms are a works of art too, with modern finishes and natural light. The large, en suite bathroom on the third floor features a walk-in shower and spa-like tub, and there's a rain shower in the handsome fourth-floor bathroom, dressed in contemporary dark slate.
Everyone's favorite room is the kitchen, and the York doesn't disappoint. Clad in marble and stainless steel, the light-filled kitchen has plenty of counter and storage space, as well as a full-sized fridge and freezer. The kitchen leads right into a dining area, which seats up to six comfortably.
From the dining area, the room flows outside onto a generous outdoor patio. With two outdoor couches and a bistro-style table seating two, this chic patio is the perfect spot to enjoy a morning coffee, a pre-dinner glass of wine or even an alfresco bite to eat. It's also the ideal place to entertain guests, though there is no shortage of communal indoor space either. With a bright upstairs living room decked out in comfortable armchairs and wall-to-wall bookshelves, the living room—which takes up the whole of the second floor—seems purpose-built for entertaining.
What to See
Kensington is one of London's most sought-after neighborhoods, and everything you need is right on your doorstep at the York. It literally overlooks Our Lady of Mount Carmel Church, a Catholic church that Sir Giles Gilbert Scott designed in 1959, after the World War II bombs destroyed the original church. Also, the bells can be heard from the nearby St. Mary Abbots, a grade II listed church by English architect Giles Gilbert Scott.
In terms of tourist attractions, you're right on the doorstep of Kensington Gardens, home to London's famous Peter Pan statue, Kensington Palace, the Diana Memorial Playground, Royal Albert Memorial and the Serpentine Gallery. Kensington Gardens feeds into Hyde Park, home to the Diana Memorial Fountain and the Lido, where you can actually go swimming during the summer. Holland Park is nearby as well. Visit to see the "wild" peacocks or to play some tennis. Holland Park also has a beautiful traditional Japanese garden. The Chamber of Commerce of Kyoto donated the Kyoto Garden to Holland Park in the '90s.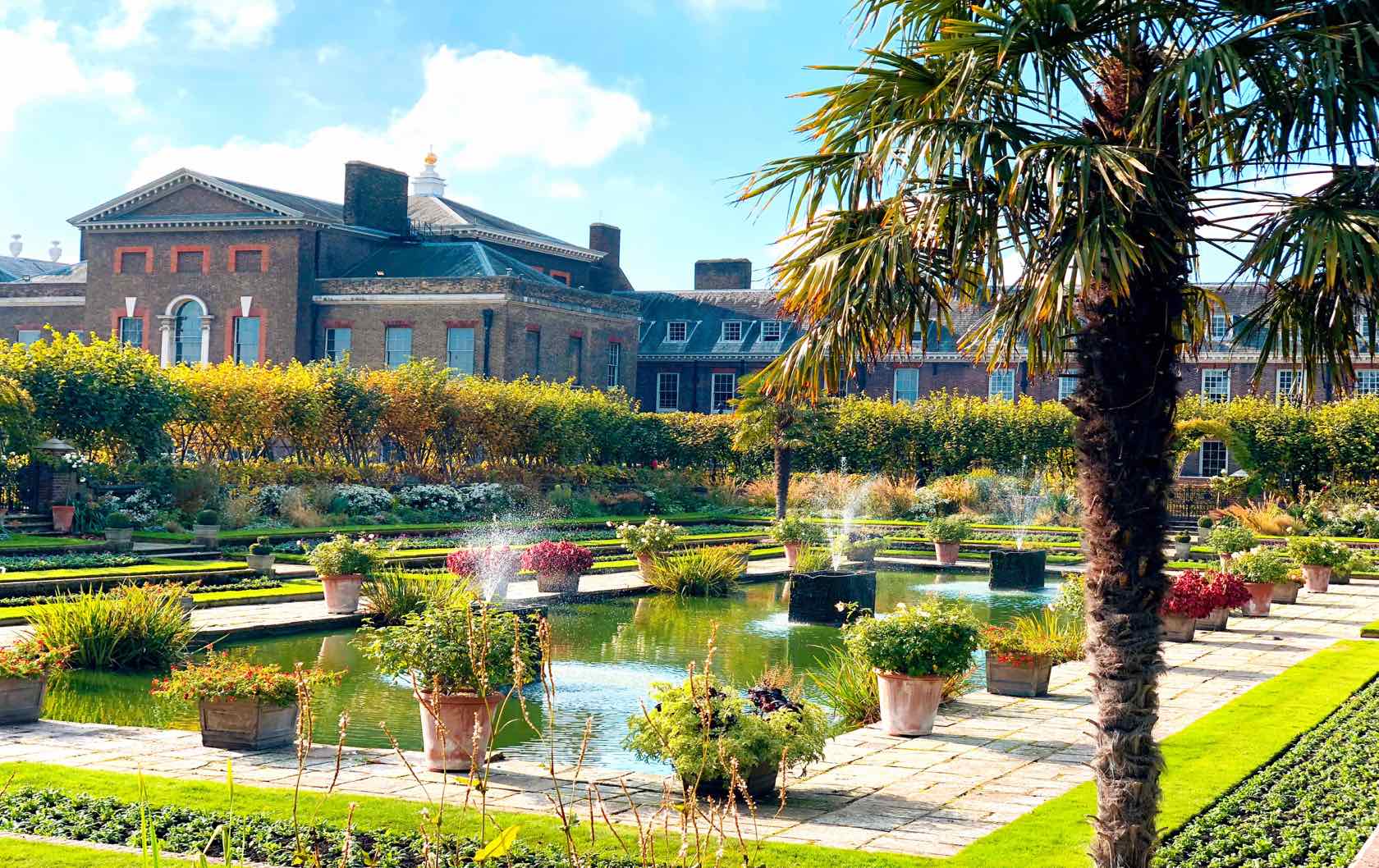 There's plenty of shopping to be enjoyed near the York house as well. Kensington Church Street has plenty of quaint antique shops and pretty cafes. Kensington High Street as some great offerings in terms of fashion. (Check out these affordable British designers here.) Kensington High Street is also home to London's modern Design Museum, which has recently been refurbished. With breathtaking art and architecture, the under-the-radar Leighton House Museum is also in the immediate vicinity, just off Kensington High Street. The epic concert venue, the Royal Albert Hall, is also a quick walk away.
Where to Eat & Drink
In terms of food and drink, the York is perfectly positioned for a night on the town. Covered in flowers and lights, The Churchhill Arms is an iconic London pub. It's known for its delightfully eccentric exterior and serves Thai food inside. Maggie Jones's restaurant was a favorite of Princess Margaret. Expect hearty British country fare and don't miss the savory pies. The Shed is also just a short walk away. It serves farm-to-table delights like fresh cow cheeses drizzled with honey and sprinkled with thyme. They have the best desserts, so leave some room.
As the York is blessed with a gorgeous professional kitchen, there are also plenty of wonderful food shops in the immediate vicinity should you feel like doing some cooking. Swing by the Notting Hill Farmers Market for fresh fruits and vegetables. There's also the Chegworth Farm Shop with plenty more seasonal products. Stop by the lovely Sally Clarke Shop for handmade bread and pastries. They also have a large section of dessert and sell cheeses from Neal's Yard Dairy and Mons. Why not create a little cheese plate to enjoy on your own private patio? Also, this is the spot for your morning coffee, as they have Monmouth beans, one of London's finest purveyors. It's easy to feel completely at home in this lovely neighborhood.
Ready to book the York or one of our other properties in London? Contact us today and we'll help you find the perfect and home for your next trip to the capital.