London gets into the festive spirit around Christmas and New Year, with winter fun warming everyone's hearts. Streets are strung with lights, ice skating rinks and Christmas markets pop up, and extravagantly decorated stores stock seasonal gifts and treats. Here are 10 of the most festive holiday spots, filled with inspiration for a wonderful vacation in London.
Regent Street lights
Make a trip to see the feel-good lights festooning Regent Street and adjoining Oxford Street. An annual Yuletide tradition, it's believed to be the world's biggest Christmas lights switch-on, with more than a million LED lights illuminated at once across 20 streets in the West End. Running from mid November to early January, they tie in beautifully with all the seasonal store window displays. 2021 sees angelic Spirits flying above Regent Street and the surrounding St James's neighborhoods. For more festively lit holiday spots, you'll find twinkling Christmas lights on Marylebone High Street, Bond Street, Carnaby Street and in Covent Garden too. Regent Street, W1
Ice skating rinks
Winter is a wonderful time for a holiday in London with magical ice skating rinks appearing around town over Christmas and New Year. Locations vary each year but there are usually spectacular rinks at Somerset House, the National History Museum, Hampton Court and Greenwich's Queen's House, backdropped by stunning historic buildings, or Hyde Park surrounded by pretty natural scenes. Hire skates on-site, enjoy a spin on the ice, then sip on hot chocolate, mulled wine or Champagne. Some open in late October, but most start in November and run until early January, with daytime and illuminated night skating up for grabs. Merry Alexandra Palace Ice Rink offers festive fun year-round. Somerset House, Strand, WC2
Selfridges
If you're spending Christmas in London, check out the windows at Selfridges department store. Famous for festive displays, they're always on trend, visually impressive and vibrant, channelling the seasonal mood. Inside, the beauty atrium, fashion and interiors zones, and food hall are especially upbeat during the holidays, with fun drinking and dining spots for relaxing after a shopping spree. You'll also find plenty of Christmas delights on sale, from decorations to cards, paper, crackers, stockings, hampers and gifts. Nearby department store Liberty on Regent Street always has a stylish take on the holiday spirit too, or explore Harvey Nichols and light-decked Harrods in Knightsbridge. Selfridges & Co, 400 Oxford Street, W1
View this post on Instagram
Hamleys
The world's most famous toy store, Hamleys guarantees festive fun on a holiday in London. Kids will be excited to explore this thrilling seven-level emporium on Regent Street, which stocks toys and games for children of all ages. Founded by William Hamley in 1760, the oldest and largest toy shop on Earth is also beloved for its fabulous staff who demonstrate the shop's wares and perform for their young fans. Special Christmas windows, decorations and a Santa's grotto with cheeky elves keep the good times coming. One of London's most charming holiday spots! Hamleys, 188-196 Regent Street, W1
Trafalgar Square
A London focal point, thanks to lofty Nelson's Column fringed by its iconic bronze lion statues, Trafalgar Square comes into its own during the festive season. It's home to the capital's most impressive Christmas tree, an annual gift from Norway since 1947 as a token of gratitude for Britain's support during World War II. Usually a 50-to-60-year old Norway spruce, around 25 metres tall, it's lit up from early December to early January, with carol singers often livening up the square. Trafalgar Square, WC2
Fortnum & Mason
Since 1707, gourmet department store Fortnum & Mason has created "extraordinary food, joy-giving things and unforgettable experiences." It's especially atmospheric during winter, when it stocks gorgeously packaged teas, coffees, jams, chocolates, sweets and festive produce. Hampers, decorations, crackers and advent calendars radiate stylish indulgence. Pick up treats to go from mince pies to biscuits and bubbles, or seek out specialty items such as glacé fruits, marzipan Christmas puddings and chocolate reindeer noses. The heritage Piccadilly flagship store is also a favorite for Afternoon Tea. Fortnum & Mason, 181 Piccadilly, St James's, W1
View this post on Instagram
Winter Wonderland
For festive cheer head to Hyde Park Winter Wonderland. This annual event hosts an observation wheel, rides and games, ice skating, an ice slide, Santa Land (complete with grotto), musical shows, two circuses and a Bavarian Village. Traditional chalets at the popular Christmas Markets sell decorations and festive foods. Visitors can enjoy a drink in frosty adults-only Bar Ice or Lapland-inspired Thor's Tipi by the toasty fire. Hyde Park, W2
Richmond Park and Kew Gardens
Take a walk on the wild side at south-west London's vast Richmond Park, where red and fallow deer roam free amid the misty foliage. Deer have played a part in the park's history since 1637 and there are around 630 animals in this National Nature Reserve and Deer Park. Looking like Santa's reindeer, they're an enchanting sight, and will add festive charm to a winter holiday in London. Nearby Kew Gardens usually hosts a magical winter trail after dark with illuminated trees plus cheery food and drink vendors serving hot chocolate, mulled wine and spiced cider. Richmond Park, Richmond, TW10; Kew Gardens, Richmond, TW9
View this post on Instagram
La Via del Dolce
Italian food market Eataly has its very own Sweet Spot, La Via del Dolce, a colourful, illuminated alley showcasing Italian cakes, pastries, cannoli and house-made gelato. It's one of the most tempting holiday spots to shop for chocolates and candies too, such as beloved Baci (Kisses) hazelnut chocolates, which each contain a romantic message inside. The store is also a great place to source Italian-themed foodie gifts and hampers, including Prosecco and panettone. Eataly, 135 Bishopsgate, EC2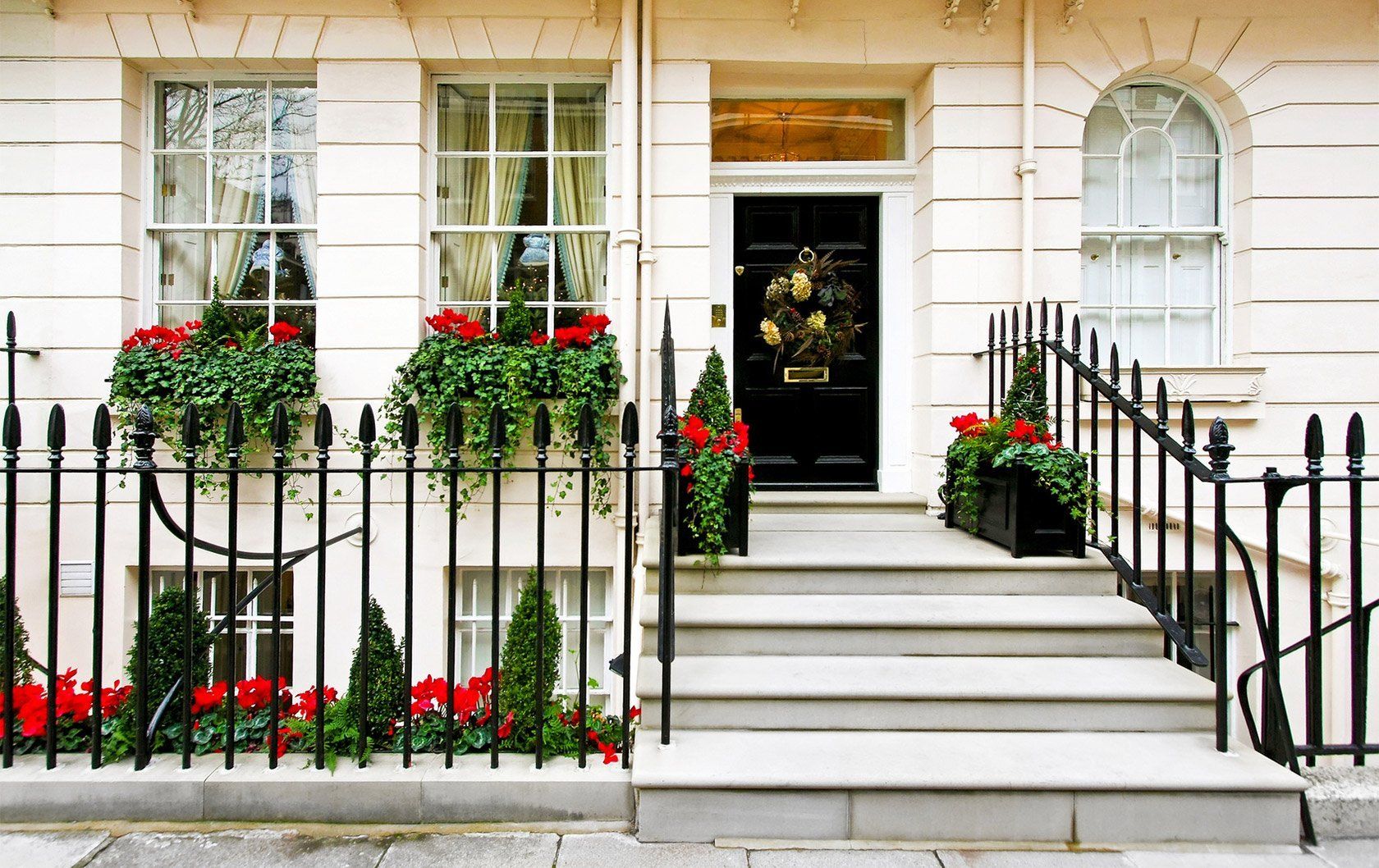 Your London Perfect Apartment
Celebrate with a stay at one of London Perfect's centrally located vacation rentals. Our elegant apartments are perfect for your holiday in London, especially for a cosy Christmas break or glam winter getaway at New Year. In Notting Hill, one-bedroom Leicester sleeps up to four and is decorated with festive hits of red. While enjoying your holiday in a comfortable home setting you can even add in some British Christmas Traditions for your London Vacation.