Studio & One Bedroom London Vacation Apartment Rentals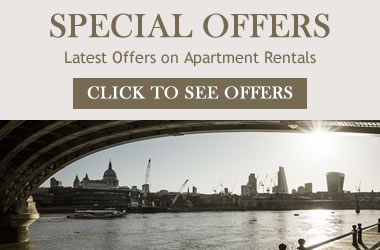 At London Perfect, we hand select all our apartments to ensure they offer the right combination of luxury, comfort and location, and our studio and one-bedroom apartments are no exception. Situated in the most sought-after areas of the city, they put you within a short stroll of the London's most famous landmarks, sprawling royal parks and fabulous shopping streets. More spacious than a hotel room, our London apartments are an ideal choice for couples, small groups and families, and provide a truly special experience during your London holiday.
Studios at our London Vacation Apartments for 1-4 Guests
Sleeps up to 3 people. Brand new Studio apartment. 430 square feet. Located on a quiet street in London's West End near Trafalgar Square. Free internet.

The Eden is an elegant studio rental in London offering a peaceful stay in a fabulous location near Trafalgar Square, the West End and River Thames. This studio apartment has been beautifully remodelled and features a luxurious bedroom and bathroom, gorgeous living area and modern kitchen. Walk to Westminster, Big Ben, Buckingham Palace and more!

Sleeps up to 2 people. Studio, 1 Bathroom. Comfortable studio apartment with excellent location in South Kensington. Free wireless internet.

With a comfortable setting and ideal location in South Kensington, the Stanhope is a lovely home base for your holiday in London. Set in a peaceful residential neighborhood with charming architecture and pretty gardens, this studio rental is very near Museum Row, excellent restaurants and shopping, the Tube and beautiful Kensington Gardens.

Sleeps up to 3 people. Studio, 1 Bathroom. 425 square feet. Stylish studio loft apartment with fantastic location in South Kensington. Free high speed wireless internet.

One of our most popular vacation rentals in London, the Queensgate is a studio loft located on a pretty tree lined street in South Kensington near Queen's Gate Gardens. Cleverly designed and decorated with a combination of old-world elegance and contemporary comfort, the Queensgate is only a short stroll from Kensington Gardens and Museum Row.
1 Bedroom London Vacation Apartments for up to 4 Guests