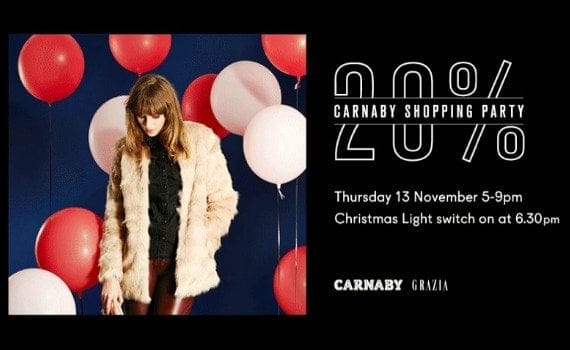 Alright you Christmas lovers out there. You know who you are and you know precisely how many days there are left until Christmas. (Only 41 to go … woohoo!!!) No bah humbugs allowed. Tonight is the fun, festive, cool and colourful Carnaby Shopping Party and celebration for the Christmas light switch-on.  This isn't just any holiday celebration, but a fabulous shopping sale as well with a 20% discount at over 100 shops. bars and restaurants. Christmas + sales = The Not to be Missed Carnaby Shopping Party!
Carnaby Street is sparkling with holiday decorations and lights, which will be switched on today, November 13th, at 6:30pm. But the events will be going strong from 5-9pm with DJs, free drinks, giveaways, style trend events and much more. There will be a star DJ line up, including DJ Becky Tong, Leah Weller and Jodie Harsh on Carnaby Street along with 50 DJs spinning tunes in shops.
To enjoy the 20% discount you must register in advance for your free ticket, but it just takes a moment at the website below. We'll see you for holiday fun on Carnaby Street!