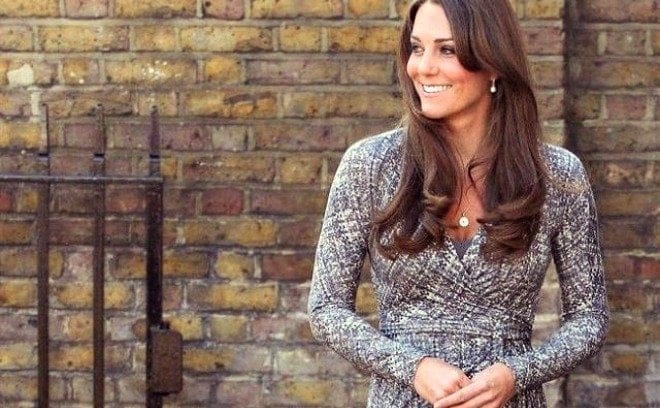 From the moment Prince William and Kate Middleton announced their engagement Kate became a style icon. What we love about the Duchess of Cambridge's fashion sense is that she dresses very much like a modern princess. While she's every inch the couture queen at her more glamorous engagements, Kate's day-to-day style is very accessible. In fact, the down-to-earth royal has been known to frequent popular retail shops around Kensington High Street, not far from her home in Kensington Palace and a short stroll from many of our apartment rentals.
Much of the Duchess of Cambridge's wardrobe comes from London-based labels, making her the city's unofficial style ambassador. From off-the-runway Alexander McQueen to off-the-rack Reiss, let's take a look at where Kate finds her most fashionable frocks and where you can buy them, too!
Reiss
UK high street label Reiss has long been a favourite with the fashionable women of London and Kate is no exception. Over the past few years she's been photographed at official engagements in several Reiss dresses, including her meeting with President Barack Obama and First Lady Michelle Obama. Sporting a post-honeymoon tan, The Duchess glowed in the neutral-toned dress and black heels.
Kate chose Reiss again on a visit to a children's hospice, but this time opted for a more demure ensemble with similar black heels. With dresses ranging from £49 to £349, Reiss is hardly a brand exclusive to royalty. Visit the label's Kensington outlet to shop the latest collection.
Where to shop: 19-21 Kensington Church Street (just off of Kensington High Street). Additional Reiss retail shops can be found throughout London.
L.K. Bennet
Much like Kate herself, London-based L.K. Bennet epitomises modern British style. The Duchess of Cambridge chose the label's Detroit Notch Collar Fitted Dress in blue for her trip to the poppy field art installation at the Tower of London and also donned its Lasana Printed Dress in Brisbane, Australia.
However, if there is one item from L.K. Bennet's collection that Kate treasures the most it is their Sledge Patent Leather Platform Heel in taupe. The 4-inch heels, which also travelled with her to Australia, retail for £195 and are in the Duchess of Cambridge's regular wardrobe rotation.
Where to shop: 1 Kensington Church Street (just off of Kensington High Street). Additional L.K. Bennet retail shops can be found throughout London.
Alexander McQueen
When it comes to premium designer labels, Kate's shown a strong preference for Alexander McQueen. She famously donned a bespoke McQueen gown designed by Sarah Burton for her wedding, and has been regularly spotted in the London label ever since.
The Duchess of Cambridge looked stunning in a dove grey dress coat by McQueen at Easter Sunday church service in Sydney. The label's military-inspired ensemble was the perfect choice for Kate's visit to Bletchley Park in June, where her grandmother worked as a codebreaker during the Second World War.
Where to shop: 4-5 Old Bond Street (between Green Park and Piccadilly Circus). McQueen's collections are also available at luxury department stores throughout London, including Harrods.
Jenny Packham
The Duchess of Cambridge attends no shortage of glamorous galas, and always manages to turn heads. Her secret? Jenny Packham.
The British fashion designer was trained at London's Central Saint Martins and her eponymous label is known for beautiful bridal and ready-to-wear gowns. With swept-back hair and a feminine teal frock by Packham, Kate looked every inch the princess at a gala celebration for Team GB at Royal Albert Hall. The Duchess was spotted in the stunning Ink blue silk tulle gown (below) on several occasions, including at the Metropolitan Museum of Art in New York and the National Portrait Gallery in London.
Where to shop: 3A Carlos Place, Mount Street (near Bond Street and Green Park).
Thanks to the Duchess of Cambridge, dressing like a royal has never been so easy. Next time you're in London, take a stroll down Kensington High Street for some Kate-inspired shopping to enhance your wardrobe. Better yet, pop into Jenny Packham's Mayfair boutique or Alexander McQueen's flagship store and bring back the ultimate glamorous souvenir from London.
_____________
Cheylene Thongkham is a writer, travel blogger and American transplant in London. You can read more about her life as an expat and adventures around the world at: www.girlinlondon.com
(Image Credits: hotgossipitalia)