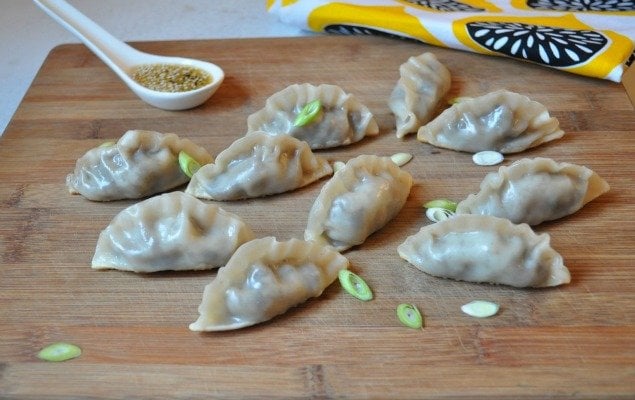 To celebrate Chinese New Year, which is always a fun event in London, I'm sharing one of my favourite recipes for potstickers. Also, I confess to becoming a bit obsessed by these lovely little Chinese dumpling parcels with their deliciously sweet and sticky fillings. But there's no reason to stick to classic Asian ingredients; instead the fillings for mine are inspired by a couple of the most British of ingredients – the humble parsnip and seasonal, gamey venison (although you could happily substitute beef if venison proves hard to find). Venison has an extraordinary affinity with Chinese 5-spice that makes this culinary culture clash one to try.
A stroll to a China town supermarket will get you the perfect-sized dumpling wrappers needed to assemble these dainty little dim sum – mine were about 10cm/4inches diameter. Kicap manis is a thick sweet Indonesian soy sauce, which is available in the specialty selection of most supermarkets these days. If you can't find it, you could use a little hoi sin instead, but kicap manis is a bit more delicate than hoi sin and so doesn't drown out the other flavours too much.
Their name, potstickers, is a little misleading, as any half-decent non-stick pan and a good glug of oil should free you from any adhesive troubles. Just make sure you don't pour too much water into the pan if you want to keep the nice crisp bottoms – try to keep the parcels close together in the pan and keep the water sprinkled over the tops so the bases aren't allowed to go soggy. Beware, these are truly addictive!
Makes about 20
125g/4½oz venison steak, finely diced
sunflower oil, for frying
50g/1¾oz grated parsnip
140g/5oz chestnut mushrooms, finely chopped
2 spring onions/scallions, sliced finely on the diagonal, plus extra to serve
about 20 round dumpling wrappers
For the marinade:
2 tsp kicap manis
1½ tsp Chinese 5-spice powder
1 small garlic clove, finely chopped
1cm/½ inch piece fresh root ginger, grated
1 tsp fish sauce
1 tsp rice vinegar
2 tsp toasted sesame oil
a pinch of chilli flakes (optional)
For the dipping sauce:
2 tablespoons soy sauce
1 tablespoon toasted sesame oil
1 teaspoon sesame seeds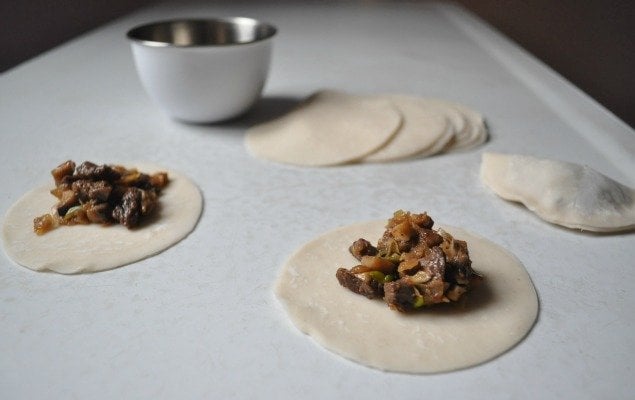 Mix together all the ingredients for the marinade, add the diced venison and set aside for a couple of hours for the flavours to develop.
Heat about 1 teaspoon of sunflower oil in a large frying pan set over a high heat and tip the venison mix into the pan. Flash fry for only a minute until browned on the outside, then transfer to a plate.
Add a little more oil to the pan and add the chopped mushrooms. Fry for 8 minutes or so until starting to brown and reduce down, then add the grated parsnip and spring onions/scallions and cook for a couple of minutes longer. Turn the heat off and stir the venison back into the pan, along with any juices/marinade that may have gathered on the plate. Allow to mixture to cool.
To assemble the dumplings, place a heaped teaspoonful of the venison mix in the middle of a dumpling wrapper. Dampen the outside of the wrapper with a little water, fold over half to form a half-moon shape and push the edges together gently. Turn the dumplings so that the seam is on the top, and push down gently to form a flat base on the bottom. Crimp the top seam to seal tightly. Repeat with the remaining dumpling wrappers and filling – you should be able to make about 20, depending how much filling you use.
Heat about 1 tablespoon sunflower oil in a large non-stick sauté pan (or a frying pan with a lid) over a medium-high heat. Place half the dumplings in the pan, keeping them close together. Fry for a few minutes until the bases are brown and crisp. Sprinkle the tops of the dumplings with water – a couple of hand scoops should be plenty. Be careful when doing this as sprinkling water into a pan with hot oil (even if only a little, as here) can be dramatic – but hopefully if the dumplings are pushed up close together it shouldn't spit too much as the water will be caught by them. Quickly pop the lid on the pan and let the dumplings steam for about 5–6 minutes until the pastry is cooked and the filling is heated through. If they are looking a bit dry during cooking, or if there doesn't seem to be much steam (a glass lid is the best for this!), quickly add a little more water to the pan. Repeat to cook the other half of the dumplings.
While the dumplings are cooking, mix together the ingredients for the dipping sauce in a small bowl.
Transfer the potstickers to a plate or board and serve sprinkled with more finely sliced spring onions/scallions and the dipping sauce.
Enjoy!
Summary
Recipe Name
Recipe for Five-spice Venison Potstickers to Celebrate Chinese New Year
Published On
Preparation Time
Cook Time
Total Time
Average Rating


Based on 3 Review(s)