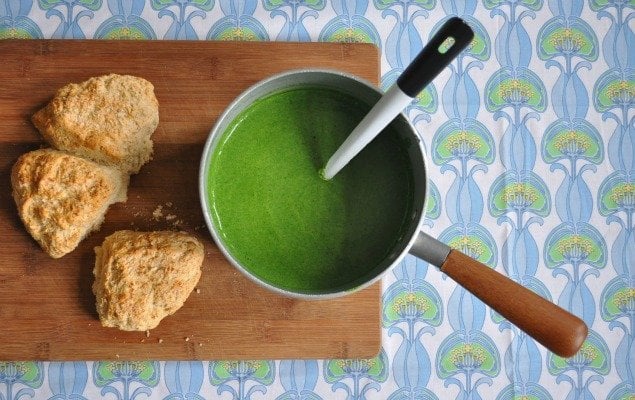 I always think this soup, with its fresh spinach and fragrant rosemary, has an English kitchen garden feel to it – although definitely a garden in winter. That touch of spice from the nutmeg gives it a deep, warming flavour, making it feel truly nourishing – but then anything this green has to be good for you! I'm sure it's packed with all sorts of antioxidants to ward off winter colds, but don't go too overboard with the nutmeg (or the rosemary, for that matter), or the flavour may start to truly take on medicinal undertones.
In the soup recipe, the potatoes are just to thicken the texture really, rather than add any true amount of stodge – you'll find it's quite rich and you can only manage a small portion, so look to the generously-sized scones to make it a more filling meal. The very savoury Parmesan cheese in them is a great foil for the rich, sweet soup – and don't skip the cayenne, as that adds a welcoming kick too. To serve, you could top the soup with a little more grated Parmesan too, or, if you're feeling indulgent, a swirl of crème fraîche wouldn't go amiss.
For the scones:
250g/9 oz/2 cups spelt or plain/all-purpose flour
¾ teaspoon salt
40g/1½ oz Parmesan cheese, grated, plus a little extra for sprinkling
30g/1 oz/2 tablespoons butter, melted
160ml/5¼ fl oz/2/3 cup whole milk, plus a splash extra, if needed
A pinch of ground cayenne pepper
For the soup:
40g/1½ oz/3 tablespoons butter
1 small onion, chopped
150g/3½ oz peeled, diced potatoes
600ml/21 fl oz/2½ cups hot chicken stock
100ml/3½ fl oz/1/3 cup whole milk
2 teaspoons chopped fresh rosemary
250g/9 oz spinach
a grating of nutmeg
sea salt and freshly ground pepper
To make the scones, preheat the oven to 180ºC/350ºF/Gas 4 and lightly grease a baking tray.
Sift the flour into a large mixing bowl and add the salt and Parmesan. Make a well in the centre and add the melted butter and milk. Stir gently to combine, adding up to 2 tablespoons more milk, if needed, until you have a quite soft dough.
Turn out the dough onto a lightly floured surface and shape into a round about 2cm/¾in thick. Sprinkle the top of the dough with Parmesan and a pinch of cayenne pepper. Slice the round into 4 wedges and place them on the prepared baking tray. Bake in preheated oven for about 20­ minutes, until risen and pale golden.
Meanwhile, prepare the soup. Melt the butter in a heavy-bottomed pan over a medium–low heat. When it foams, add the onion and potato and stir to coat in the butter. Cover the pan, turn the heat down to low and sweat gently for 5 minutes until the onions are soft and translucent. Add the hot stock, milk and rosemary, bring back to the boil and simmer for about 10 minutes, until the potatoes are soft enough to crush.
Remove the pan from the heat and stir through the spinach until it has just wilted. Transfer the soup to a blender and blend until smooth. Return to the pan and season well with salt and pepper, adding a grating of nutmeg to taste.
Serve the soup with the Parmesan scones to dunk.
Summary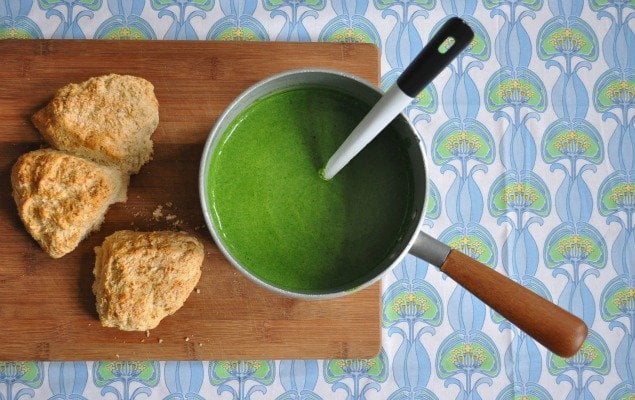 Recipe Name
Spinach and Rosemary Soup with Parmesan Scones
Published On
Preparation Time
Cook Time
Total Time
Average Rating





Based on 1 Review(s)