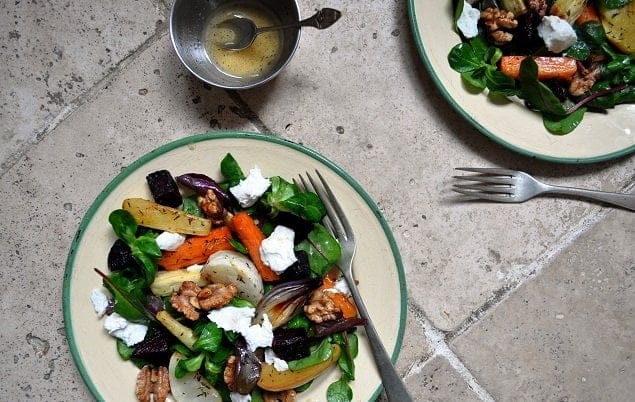 Spring is finally here, but as it's still not quite warm enough to dispense entirely with hot suppers just yet, this warm salad is a nod to the lovely summer dishes to come. Root vegetables aren't glamorous, but with a bit of attention they can be made into a salad that is healthy, warming and satisfying. I like to use honey that has been infused with rosemary (hint: just pop a sprig of rosemary in a jar of runny honey and leave for a couple of weeks, and you're done), but failing that standard runny honey will do. Make sure to chop your beetroot quite a bit smaller than the other veg, as it always takes longer to cook – dice into chunks about half the size of the other veg pieces and that should do the trick. I like to keep my dressing quite sharp as it cuts well through the sweetness of roasted veg and the richness of the cheese, but do add a little more walnut oil if you find yourself pursing your lips from the sourness!  Green salad leaves with a hint of red (baby red chard leaves are good) will make this even more beautiful.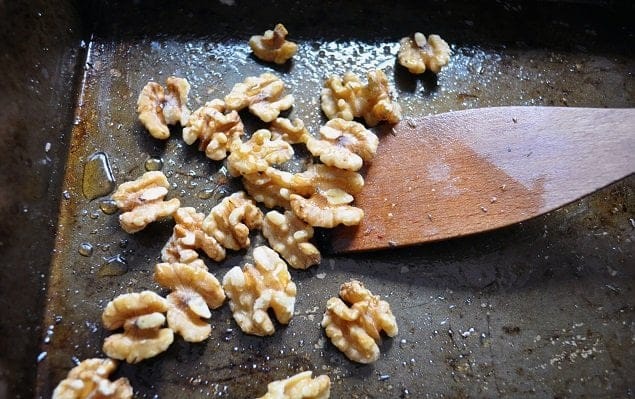 Serves 4
1 beetroot, peeled and chopped into large dice
1 parsnip, peeled and chopped into large chunks
1 carrot, peeled and chopped into large chunks
1 turnip, peeled and chopped into wedges
1 red onion, chopped into wedges
1 tbsp olive oil
¼ tsp dried thyme
1 apple, cored and chopped into quarters
50g/2oz walnut halves
a drizzle of honey
a bag of salad leaves
125g/4½oz soft, crumbly goat's cheese
sea salt and freshly ground black pepper
For the dressing:
1 tablespoon walnut oil
2 teaspoons apple cider vinegar
¼ teaspoon Dijon mustard
¼ teaspoon honey
Preheat the oven to 190ºC/375ºF/gas 5.
Put the chopped vegetables in a large roasting pan, drizzle over the olive oil and sprinkle over the thyme, and season with salt and black pepper. Toss everything together until all the veg are well coated. You may wish to keep the beetroot separate at its own end of the pan as it does have a tendency to color everything else pink! Roast in the preheated oven for about 20 minutes until starting to brown.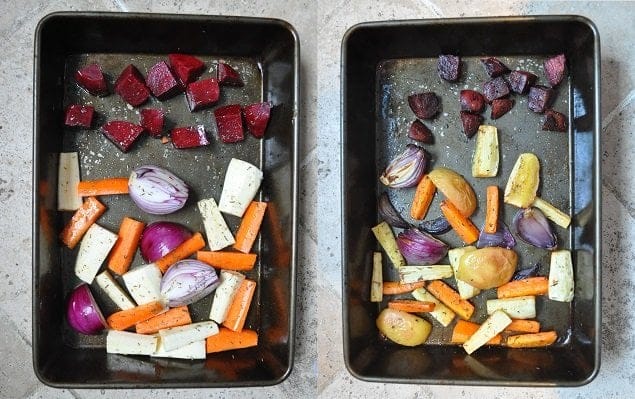 Add the apple slices and mix to coat in the oil. Return to the oven for another 15–20 minutes until all of the veg and the apple are tender.
Remove the veg and apple from the pan. Tip the walnuts into the pan and drizzle with the honey. Mix to coat well, sprinkle with sea salt and return to the oven for 5 minutes until toasted and golden.
Meanwhile, mix together all of the ingredients for the dressing and season well with salt and pepper.
Toss the salad leaves in the dressing and divide equally between two bowls. Top with the chunky vegetables and crumble the goat's cheese over the top. Finally, sprinkle over the caramelized walnuts and serve.
Summary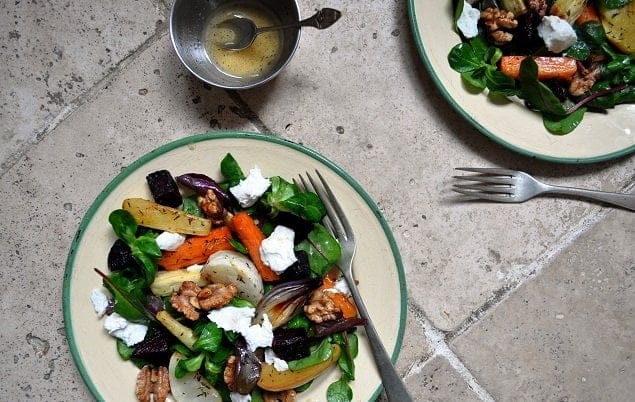 Recipe Name
Warm Salad With Root Vegetables, Apple And Honey Walnuts
Published On
Preparation Time
Cook Time
Total Time
Average Rating
Based on 44 Review(s)