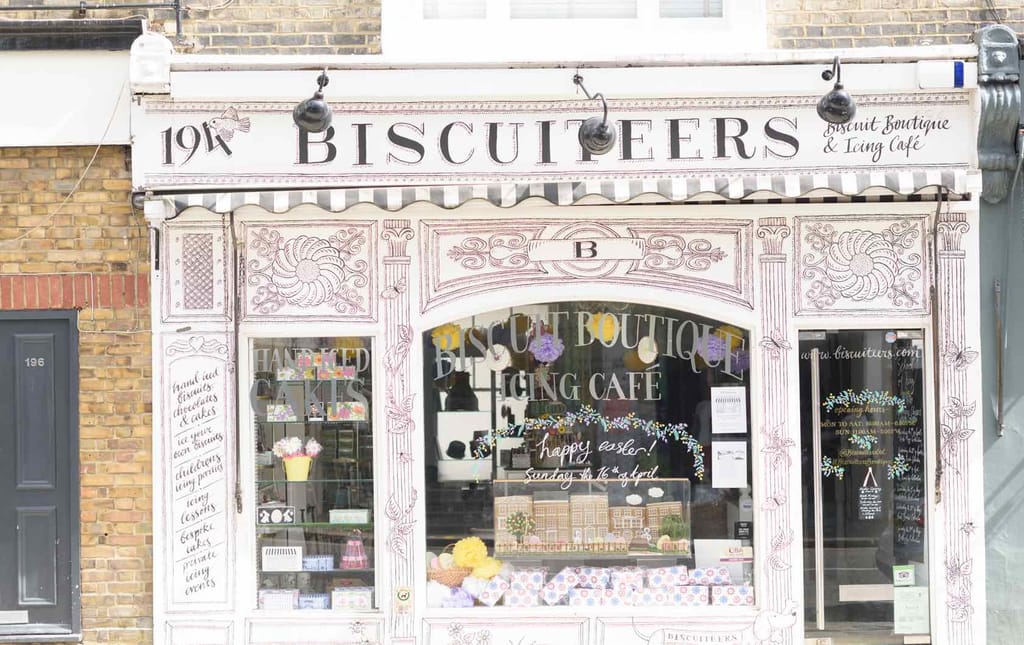 The lively, bohemian neighborhood of Notting Hill is just full of cute little cafés and quaint neighborhood coffee shops. On nearly every corner, you will find a picture-perfect setting to recharge with a hit of freshly brewed coffee and a sugary treat. These cafés make for a great pitstop while you're shopping Portobello Road Market. Also, if you're staying nearby (like at the stylish Leicester or the roomy Danebury), a morning visit is the ideal way to start your day. Here are a few of the very best cafés in Notting Hill for all your needs
The Best Cafés in Notting Hill
Daylesford: Best for Tea and Coffee
This organic farm-to-table shop, restaurant and café is a charming spot to stop for a quick coffee. If you have some time on your hands, sit in the Daylesford restaurant and order some breakfast too. Or if you're in a rush, you can take your coffee to go. Drink it at the outdoor tables set out in front. (It's the best spot for people watching since you're able to look out on the whole square of Westbourne Grove.)
If coffee isn't your thing, Daylesford also stocks specialist organic and sustainably grown teas in flavors like white peony and Moroccan mint. It's these teas along with their aromatic coffees—available with every kind of milk substitute imaginable—that have earned them a spot as one of the best cafés in Notting Hill.
Biscuiteers: Best for Souvenir Shopping
To spoil your friends and family back home (or yourself), head to the adorable Biscuiteers café. The photogenic exterior is just the start of the cuteness. Once inside,  you're spoiled for choice. Discover hand-iced biscuits (cookies) designed to look like everything from brightly colored unicorns to classic sports cars. It's a great place to pick up souvenirs since you'll find cookies decorated like classic British characters like Peter Rabbit and Paddington Bear. (Also, stock up on the cute cookies decorated like Big Ben and the Union Jack flag.)
You can even take one of their Icing Lessons where you'll learn how to ice like a pro. At the end of class, you get to leave with new skills and your very own tin of biscuits that you've iced yourself. And with the magical atmosphere and candy-striped cups and saucers evocative of Dr. Seuss, kids love it here too.
Farm Girl: Best for Pictures
Social media mavens can't resist the highly Instagrammable Farm Girl café, tucked away on Portobello, just steps away from the bright and cheery Leicester apartment.
The coffee is brilliant, but it's their brightly colored matcha lattes in shades of baby blue, rosy pink, and pastel green that steal the show. They're not only tasty but also super attractive, making Farm Girl one of the very best cafés in Notting Hill. Most hot drinks are served with a sprinkling of edible flowers atop. Alternatively, you may get a sweet French bulldog stenciled in cinnamon on the foam of your latte. (The turmeric lattes are also seriously delicious.) They also serve great brunch dishes like avocado toast, hearty sandwiches and yummy pancakes. Whatever you order, have your phone ready!
Fabrique: Best for Sweets
For sweet pastries, you have to head to Fabrique. This Swedish bakery not only has divine bread, but it also boasts the best traditional cinnamon rolls outside of Scandinavia. Try their traditional rolls in flavors like cinnamon, cardamom or walnut. Cinnamon is the local favorite. And if you're planning on doing some cooking in your London Perfect apartment kitchen, pick up one of their naturally baked doughy levain loaves. Serve it aside a zesty, fresh salad or a hot, creamy soup. (Also, it's a nice addition to your picnic basket, should you feel like a summery picnic in the park.)
Bodyism: Best For Healthy Bites
To start your day the healthy way, head to Bodyism on Westbourne Grove. This clean-eats café is also a favorite gym of celebrities and local Notting Hill stars. (You may spy Pippa Middleton, sister of the future queen.) Even if you don't spot any stars, you'll be bowled over by the icy acai bowls, bulletproof coffee and nutritious probiotic shakes. Also, if you're feeling super-charged after all that healthy grub, you may even want to stay for a cutting-edge gym class. Get sweating at Bodyism Budokon, a challenging yoga class that incorporates martial arts and calisthenics. It's just one way to stay healthy in London.
Ready to explore Notting Hill like a resident and find out which café is your personal favorite? Book your London Perfect apartment today.