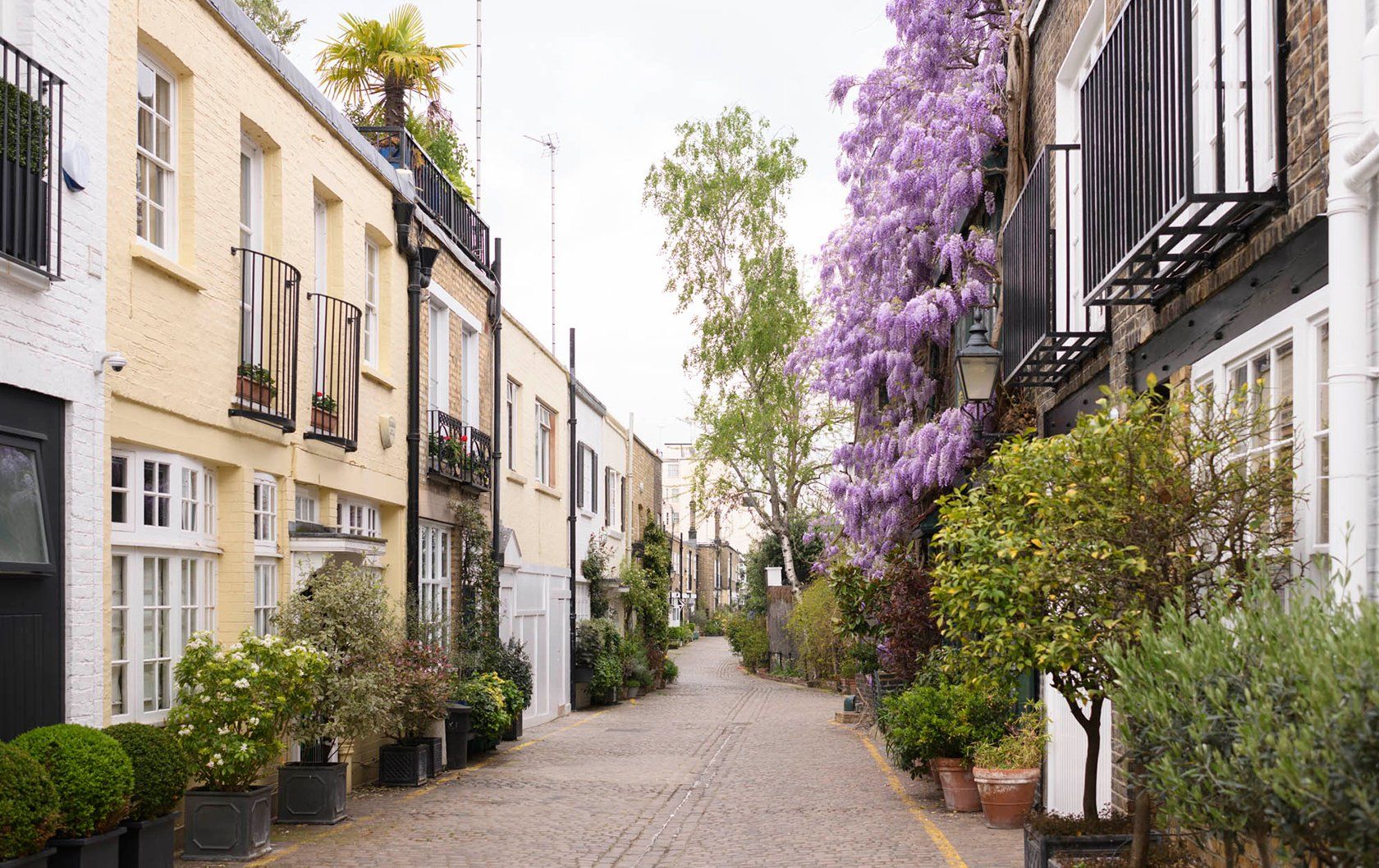 We're always on the lookout for the perfect homes to buy in London that have just the right balance of charm, beautiful location and features needed to create a comfortable home. And, of course, at the right price! Plus, with over 20 years of experience in the vacation rental market, we have an eye for what's needed to make a successful vacation rental for owners looking to rent while they're away. It's rare to find not just one but two excellent listings for London properties – but that's exactly what happened!
Both properties we spotted for sale in London are mews houses. If you're not familiar, mews are unique homes that are located in what were once the rows of stables, often with living quarters located above them. Nowadays, these cobblestone mews are among the most sought-after residential real estate in London thanks to their quaintness and quiet settings away from busy streets. Another perk we love about mews is that you have your own private entrance and often—with the best mews properties—your own outdoor space. Sometimes even a garage that can often be updated to create additional living space. You can enjoy the feeling of London living without neighbors too close and, as the English say, you're the lord and master of your own castle—even if it's a little one—right in the heart of London.
Here's a look at two properties on the market that are an excellent find in London!
Gorgeous Two Bedroom Mews House for Sale in Kensington
The first property is in a charming mews in Kensington not far from great shopping along High Street Kensington, the beautiful Holland Park and Kensington Gardens and near the Gloucester Road Tube station. This three-level mews home is on the market for £2,575,000 and it's a great find with two bedrooms, outdoor space and excellent condition. The space is bright and already beautifully finished, meaning it won't take much to make it a gem. Step in and find an open plan dining room, a kitchen a few steps up and access to a garden patio. Also on the ground floor is a garage that could be converted to work space or an additional bedroom or office.
Follow a gorgeous staircase up to the first floor where a large living room and second bedroom are located. The living room is full of light from the large south facing windows and the large doors that lead out to a roof terrace. This is an incredible feature in a mews home in London!
A space in Kensington with this much light and possibility is truly special. Then to be able to step outside to your own private terrace makes this property one of the best finds we've seen in a long time in London. Just imagine relaxing with a cup of tea or an aperitivo on a warm summer evening.
Up one more level on the second floor you'll find the master bedroom with ensuite bathroom and a full second bathroom. The space already features great lighting and a full built-in wardrobe for excellent storage. With only a bit of updating, you'll have a welcoming and comfortable home away from home in London!
Another benefit of buying a mews home is that you avoid common property fees and, even more importantly, they are "freehold." This means that you own the land outright as well as the house – a huge plus. While many apartments are also freehold, we try to avoid leasehold apartments, where the land itself is owned on a long-term lease. This is an unusual aspect when buying in London and although you can own for 999 years – we just don't like the idea.
One Bedroom House on Quiet Mews for Sale in Kensington
The second property we spotted is located in our favorite Kensington mews in a quiet little spot off Cornwall Gardens. A classic Kensington photo is of the leaves on the arch that is the entrance to the mews, which turn deep red in autumn. It's an ideal location near Kensington Gardens, excellent shopping and local restaurants, a large Waitrose supermarket and the Tube nearby at Gloucester Road. The asking price for this west facing news house is £1,550,000. It's just waiting to be transformed into a jewel!
Currently, this mews home has a garage and private entrance with steps leading up to the first floor with a large open plan living room and kitchen. The space is perfect for a complete remodel with a brighter and more modern style.
Climb the stairs up to the second level where you'll find a cozy bedroom with an ensuite bathroom. The arched window adds a lot of character and looks out over over the quiet mews. While currently a one bedroom home, the large garage on the ground level could easily be converted into a second bedroom with a second bathroom. This property is truly a blank slate, which is what makes it such a great find.
The little enclave in Kensington where both of these properties are located is one of the best areas in London, for its strategic central location and its endearing local atmosphere. It's a neighborhood that's easy to feel at home in, thanks to all its lovely little cafes, restaurants and local pubs. You'll enjoy exploring the area and finding your favorite spots.
We hope these two beautiful mews homes for sale have inspired you to think about all the perks and charms of London living. Our team at London Perfect can also manage your London home while you're away and match it to renters who will treat it with care. If you'd like to learn, check out our guide to buying property in London or contact our team. But hurry, London properties as perfect as these don't stay on the market for long!