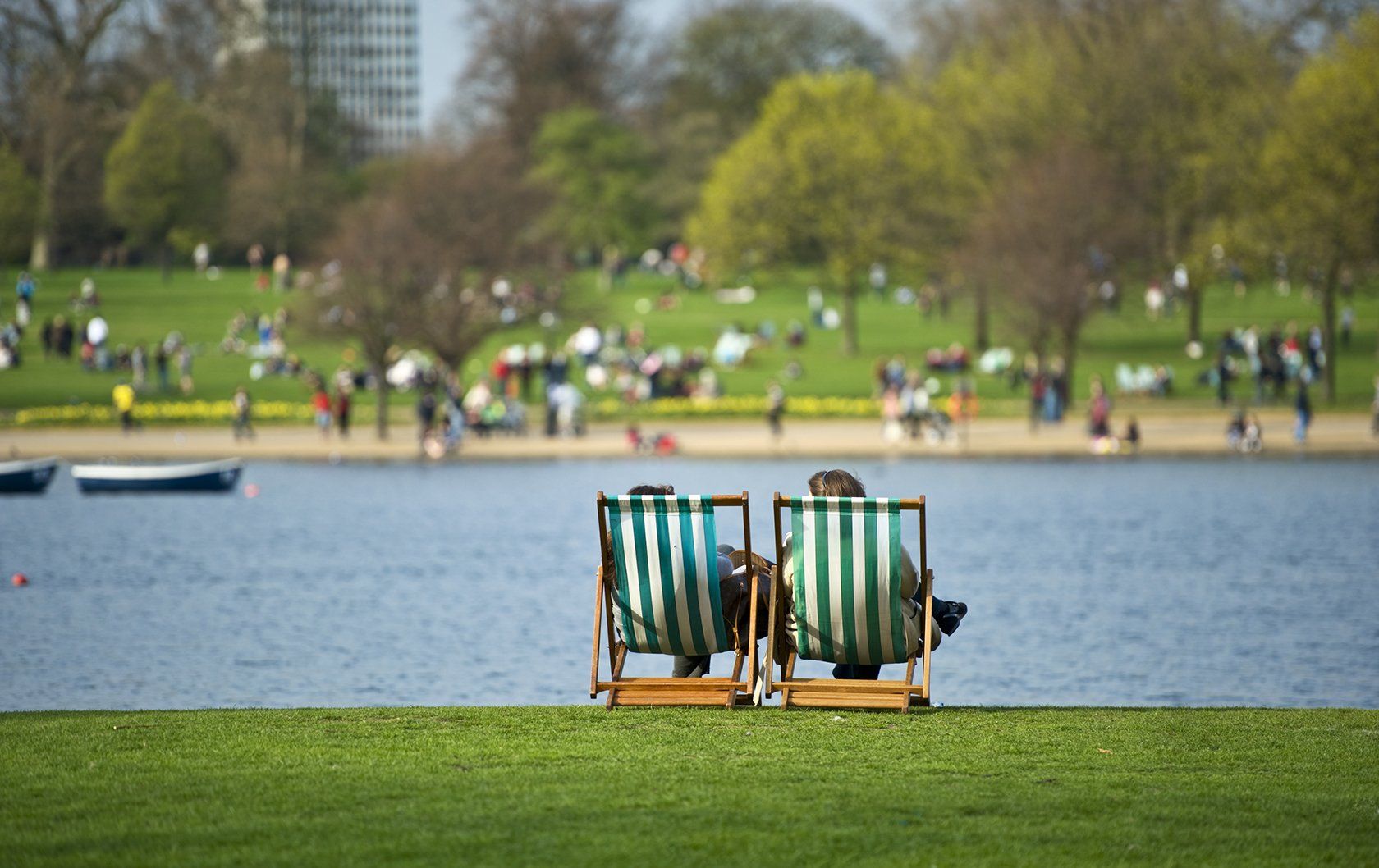 When planning a visit to London, gardens aren't usually the first thing that pops into mind for travellers coming to the United Kingdom's largest city. While you'll certainly want to see top sights like the Tower of London, explore royal palaces and visit the world-class museums, there are many fine green spaces in the city to enjoy an urban respite. The quiet appeal of London's charming neighbourhoods and its many beautiful parks and gardens might just capture your hearts – like it did ours! From sprawling parks in the heart of London to hidden away green spaces and gardens fit for a king, here's our garden lover's guide to London.
Our Favorite Parks & Gardens in London
It's no secret that one of the many reasons guests love our vacation rentals in Kensington and Notting Hill is their close proximity to Kensington Gardens and Hyde Park. Together these two enormous parks cover 625 acres right in the heart of London. Whether you're enjoying an evening stroll or letting the kids run and play on the wooden sailing ship at the Diana Memorial Playground, there's so much beauty to enjoy – in every season of the year. While in Kensington or Notting Hill, plan a visit to Holland Park where you can spot some of the resident peacocks and admire the Kyoto Gardens, the beautiful Japanese garden that was a gift from  the Chamber of Commerce of Kyoto in 1991.
Just a short stroll from iconic London sights and landmarks like Big Ben, Trafalgar Square and Buckingham Palace, St. James's Park is one of the city's most scenic Royal Parks. Enjoy a peaceful moment in the park after the Changing the Guard ceremony or stop for a picnic with a view of the London Eye or Buckingham Palace in the distance.
For beautiful gardens and an incredible view, head to The Regent's Park and Primrose Hill. Covering 395 acres and with the perfect blend of landscaped gardens and open spaces, playgrounds for kids, the heavenly scents of Queen Mary's Rose Gardens, there's plenty to enjoy outdoors on a beautiful day in London. Climb Primrose Hill for a great view overlooking the the park with the London skyline in the distance. Love theatre? You can even book tickets in advance to catch a show at the Regent's Park Open Air Theatre.
Besides the Royal Parks, you'll also find many lovely garden squares while out and about in London. Russell Square or Bloomsbury Square Garden—London's oldest garden square dating from the 17th century—are both a great spot to rest your feet after a visit to the British Museum nearby.
If you're staying Chelsea, just across the Thames on the ornate Albert Bridge you'll find Battersea Park. This 200-acre Victorian era garden opened in 1858. It's a lovely green space with a lake, a riverside promenade and the London Peace Pagoda built in 1985.
For True Garden Enthusiasts
If you can't get enough of blossoms and blooms, spend a Sunday morning visiting the Columbia Road Flower Market for a cheerful weekend experience and the chance to bring home some flowers for your London Perfect vacation rental. Or, if you're more into history, don't miss the Garden Museum set in a unique location – inside the once abandoned church of St Mary's at Lambeth. The church was set to be demolished but was saved and opened in 1977 as the world's first museum dedicated to garden history. There is even, as one would expect, a lovely little courtyard garden to enjoy as well.
While exploring the Chelsea neighbourhood, plan a visit to the Chelsea Physic Garden, a historic 4-acre garden that feels like a little oasis of calm not far from bustling King's Road. Founded in 1673, it's one of the oldest surviving botanical gardens in England. After exploring the gardens, you'll want to linger a bit longer at the Physic Garden Café and the cute shop.
A Garden Adventure Outside London
You don't have to travel far outside the center of London to find even more beautiful parks and gardens. A must for nature enthusiasts (of all ages!) while in London, Kew Royal Botanical Gardens is set on 500 acres in southwest London. One of the world's largest and most important botanical gardens, spend a day exploring the many plant houses—such as the massive glass Palm House—the unique ornamental buildings, visiting historic Kew Palace and checking out the galleries and special exhibits.
We're betting you didn't plan to see deer on your trip to London, right? Just southwest of central London, Richmond Park was founded by King Charles I in the 17th century as a deer park. Coming in at about 2,500 acres, it is by far the largest of London's Royal Parks. Rent a bike and enjoy a relaxing day – with a view to London's distinctive skyline in the distance.
Not far from Richmond Park, trace 500 years of garden history at Hampton Court Palace—from the Tudors to the Victorian era—a lavish royal palace west of London in the Borough of Richmond upon Thames. Once the home of Henry VIII, beyond the sprawling Baroque palace you'll find 60 acres of gardens to explore. Wander through the Privy Garden, created as a private garden for the monarch, and admire the Great Fountain Garden, Rose Garden and interesting Royal Kitchen Garden.
Looking for more gardens and historic homes? Check out the National Trust, an organization for heritage conservation, to find out more beautiful gardens and historic sites located near London.
Plan a Garden Themed Trip to London
While London's many parks and gardens can be enjoyed throughout the year, there are a few events garden lovers will want to plan to catch well in advance. The extremely popular Chelsea Flower Show, which takes place every year in May on the grounds of the Royal Hospital in Chelsea, is the hot ticket. It truly is the event of the year for garden enthusiasts in London. To get your tickets and a convenient Chelsea vacation rental nearby, plan to book very early. Our Christchurch and Sloane apartments are located just a short stroll away – perfect for reaching the flower show on foot! Later in the summer, the Hampton Court Palace Garden Festival in July is another garden-themed event to add to your London list.
If you're visiting London from July to September, you'll have the chance to explore the Buckingham Palace Garden. The nearly 40-acre garden is as beautiful as one would expect and well worth the visit. When you book tickets to the State Rooms, you'll also have the chance to go on a guided tour of the garden highlights.
Your Own Little Garden in London
For truly relaxing moments during your stay in London, check out our London Perfect apartments with lovely gardens and terraces. Two of our newest properties—Broadwood and Shelbourne—overlook one of Kensington's prettiest garden squares and offer charming views you'll enjoy every moment of your stay. You'll even have access to the private community garden square – a true London luxury!