British occasions — from weddings to horse races — mean English women go shopping for hats.  The Royal Wedding in London last week was no exception.  As ever, I was amazed by the bold designs, colors and sheer size of the hats!  Princesses Eugenie and Beatrice took the spotlight, while I took a moment to look back on other creations they have worn.
The color combination of purple and green was charming, but my French mother-in-law commented, 'Why not a simpler, more classic design to ze dress and hat? Someone should take zem to Avenue Montaigne  in Paris, to visit ze Grand Couturiers. Tell them to stop first in Chanel and then Dior."
A fun hat for Eugenie on this special occasion.
Eugenie has a wonderful sense of humor; butterflies everywhere!
Mother and daughers all chose little feathery numbers for this wedding.  Sweet!
Beatrice at Ascot, starting to enjoy bigger hats…
Amazing contrasts in fashion.  The sleek style of cousin Zara compared to the more colorful looks of Beatrice and Eugenie in London last week.
Camilla wore an over-sized woven hat to the wedding.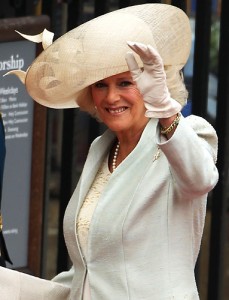 Camilla likes large hats too…. in fact all of England seems to like large hats.
A large pale blue hat for Camilla …
I contrast the 'big hat' choices with 2 stylish women who were at the wedding in London last week:  Victoria Beckham and the Queen of Spain. Some got the dress and hat just right.
Even though she isn't smiling, the smaller hat flatters Victoria Beckham and fits her head .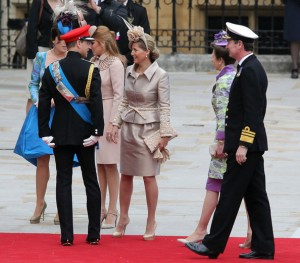 The Queen of Spain was stunning in a chic beige silk suit with flattering hat. What style!
And then there's Ladies Day at Ascot…  I took a moment to ponder some of the most outrageous  hats that have appeared in London recent years. You've got to enjoy them, even if they're not flattering.
The next big hat occasion for the Press is Ladies Day at Royal Ascot on June 16.  Count on a post from us with the most outrageous hats for 2012!