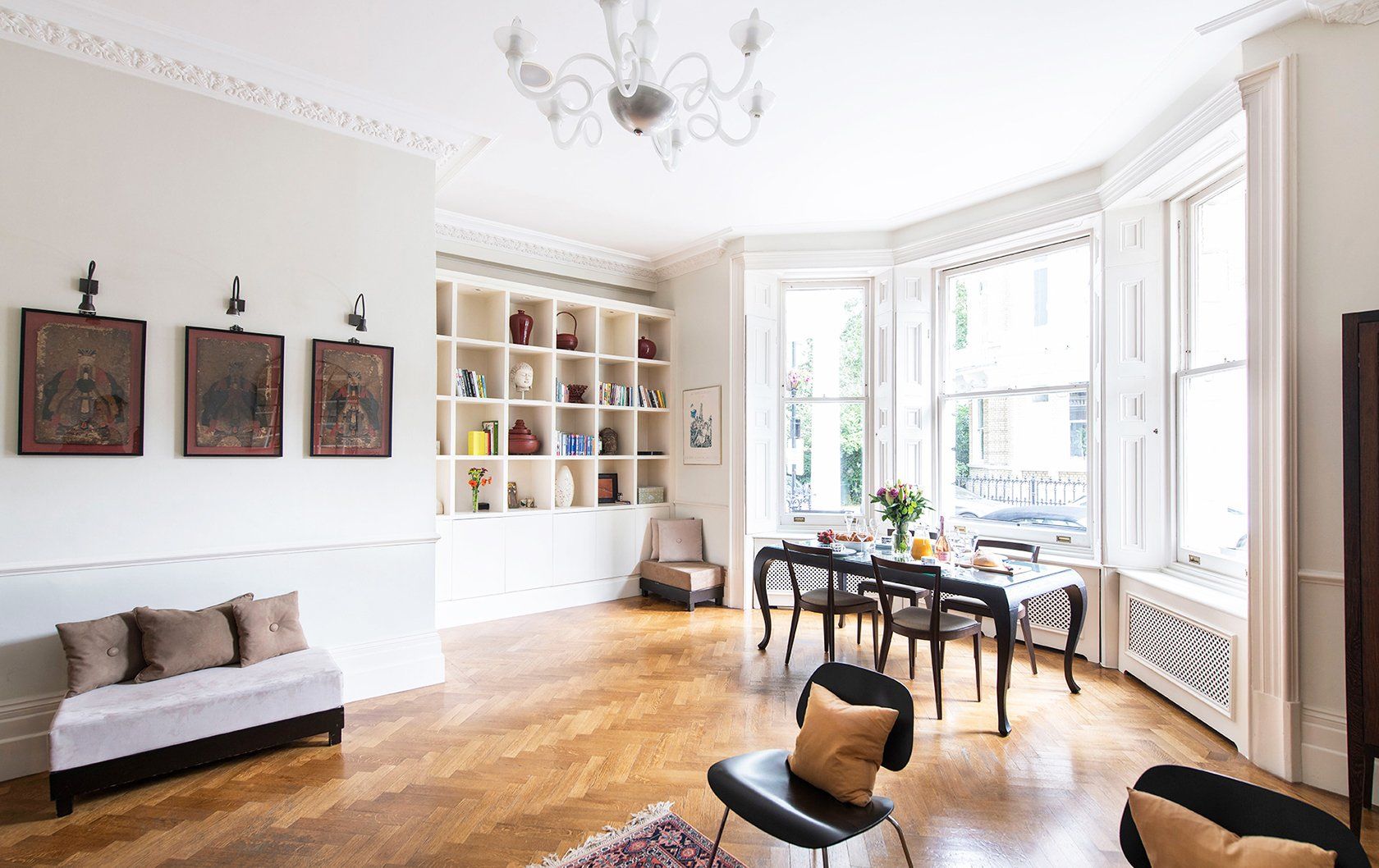 It's no secret that we love Kensington and enjoy sharing this charming neighbourhood in London with our guests. We're thrilled to introduce our newest find, the lovely two-bedroom, two-bathroom Elliot apartment. With large windows and a perfect setting on one of London's prettiest historic garden squares, this beautiful vacation rental in Kensington offers the perfect blend of comfort, style and a fabulous central location. Enjoy this inside peek of the new Elliot and contact our team to book an unforgettable stay!
At Home in the Heart of London
Situated on tranquil Cornwall Gardens, the Elliot boasts a prime spot in one of London's most prestigious garden squares. Even better, during your stay you can access the private communal gardens to enjoy peaceful moments. It's these little elements that allow you to savour the joys that make London living so special. This spacious apartment is more than just a place to rest your head; it's a home away from home, beautifully designed to provide you with a relaxing home base for your London holiday.
From the moment you step into Elliot's elegant living room, you'll notice the abundance of natural light streaming through the large bay windows. This comfortable space invites you to unwind and recharge after a day of London exploration. Imagine enjoying a meal with the backdrop of classic Grade II-listed historic buildings and Cornwall Gardens beyond. If you enjoy cooking, the stylish and fully equipped kitchen is your canvas. Unleash your inner chef and create tasty meals to enjoy in a truly home setting.
At Elliot, the bedrooms are designed with your comfort in mind, offering a relaxing retreat within the bustling city. The first bedroom is complete with an en suite bathroom featuring a large bathtub and shower combo. Meanwhile, the second bedroom with twin bunk beds is great for younger travelers. For added convenience, there's a second full bathroom with a sleek, glass-enclosed shower.
Kensington: Your Gateway to London's Charms
If you haven't yet fallen under the spell of Kensington, get ready to be captivated. Elliot's location offers more than just a place to stay, and you'll love spending time getting to know this stylish neighbourhood. Take leisurely strolls through charming streets, enjoying excellent shopping or exploring Kensington Gardens – beautiful in every season!
Art and culture enthusiasts will love having the Victoria & Albert Museum, the Natural History Museum and the iconic Royal Albert Hall just a stone's throw away. And let's not forget about the culinary delights that await you. Kensington's dining scene is a mosaic of flavors, ensuring that every meal is a journey in itself.

London Living in Style at the Elliot
Whether you're planning a first-time trip to London or are already a Kensington fan, the Elliot ticks all the boxes for what we look for in London vacation rentals. Your next unforgettable vacation begins at this classically Kensington doorstep. We look forward to welcoming you to a wonderful stay at Elliot!