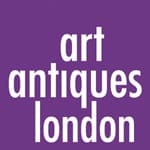 Art and antique lovers have a new date to add to their travel calenders. The third edition of Art Antiques London is set to take place from June 14-20th in Kensington Gardens. This celebrated fair incorporates Haughton International Fair's longest running fair, the renowned International Ceramics Fair & Seminar, and brings together about 70 of the leading art dealers from around the world. Presenting an extensive and strictly vetted display of objects, Art Antiques London has quickly become a favorite with collectors, curators, interior designers and art and antique enthusiasts who travel from all over the globe to attend this event. The dealers at Art Antiques London are among the most important and specialize in paintings, furniture, jewelry, clocks, textiles, silver, ceramics, rare books and contemporary art. Once again this fair promises to be a wonderful showcase of the arts, very appropriately located in Kensington Gardens near the site of the Great Exhibition of 1851.
Art Antiques London will be presenting a fabulous Lecture Programme bringing together some of the leading experts, curators and historians from around the world. One of the most intriguing we hope to catch is Jonathan Marsden, the Director of the Royal Collection, who will be giving a lecture "The Royal Collection on Show" about the history of the display of the Royal Collection highlighting the exhibitions in honor of The Queen's Diamond Jubilee. This lecture is part of the lecture series held on Thursday, June 14th at Art Antiques London.
The Art Antiques London pavilion will be located in a lovely spot near the Albert Memorial in Kensington Gardens just opposite the Royal Albert Hall. Enjoy a stroll through the gardens before visiting the fair or attending a lecture. Below you'll find the details or visit the Art Antiques London website for complete information on dealers, to view the gorgeous catalog and book tickets online.
Opening Times:
Thursday, 14th June, 2012: 11am – 7pm
Friday, 15th June, 2012: 11am – 7pm
Saturday, 16th June, 2012: 11am – 7pm
Sunday, 17th June, 2012: 11am – 6pm
Monday, 18th June, 2012: 11am – 7pm
Tuesday 19th June, 2012: 11am – 7pm
Wednesday 20th June, 2012: 11am – 6pm
Admission:
£15 (Tickets available online or at the door)