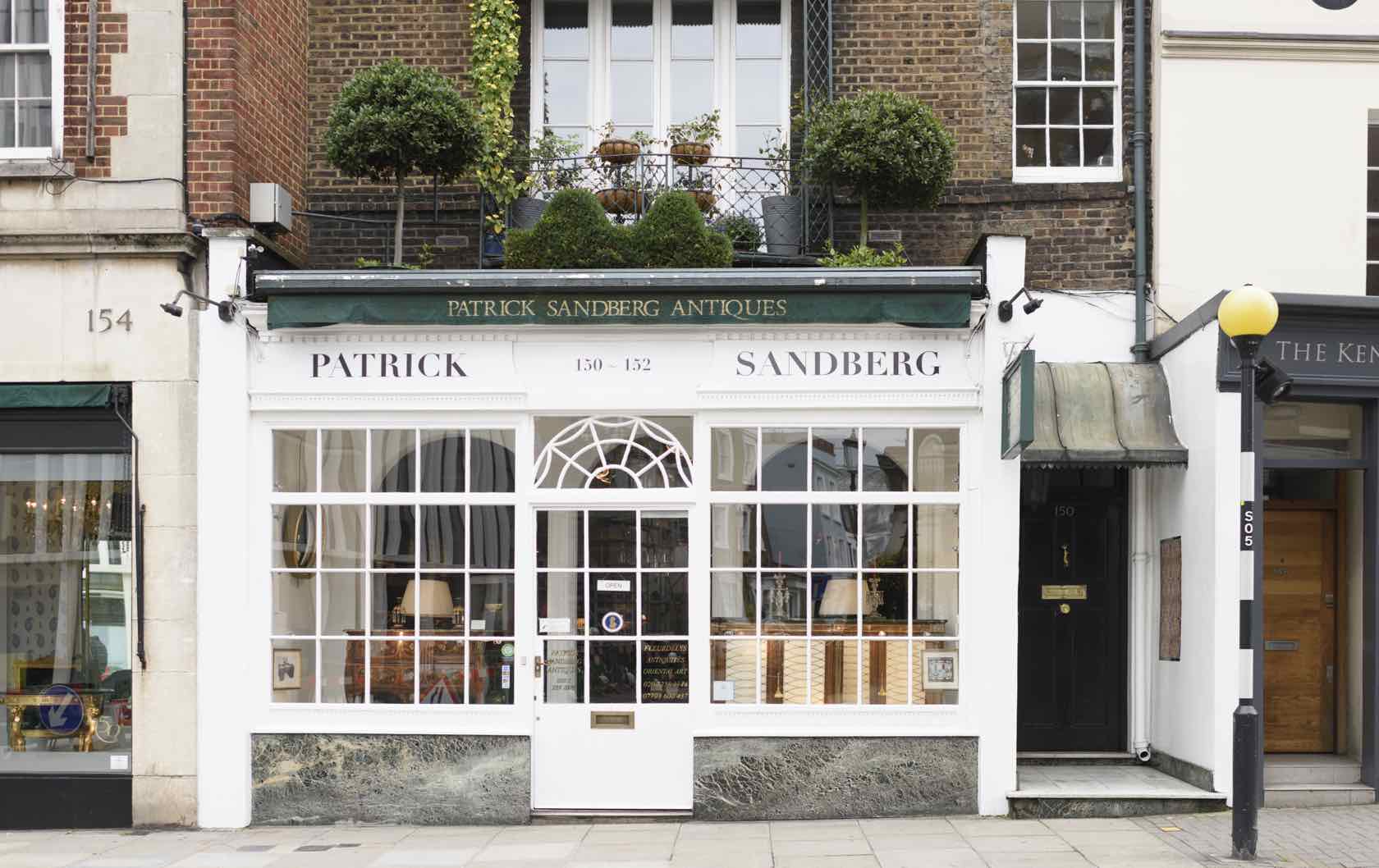 Kensington Church Street is one of Kensington's most charming streets with neighborhood floral boutiques, art and antique shops, eccentric pubs and quaint teahouses. Originally, Kensington Church Street was created as a lane to join two Roman roads (from Bath and Oxford) to the City of London.
Though there isn't anything left from that time, the buildings at the southern end of the street (toward Kensington High Street) date back to the early 1700s. Also at the southern end of the street, you'll find the formidable St. Mary Abbots built in 1872, which is the church that the street is named after. Here's the full guide on where to shop (or window-shop) for art and antiques and more on one of London's most enchanting high streets.
A Guide To Kensington Church Street

Art and Antiques
There are over 60 antique dealers peppered along Kensington Church Street, offering everything from classical art to treasured artifacts. And they're the real deal: Most of the shops on this street are members of the prestigious British Antique Dealers Association (BADA) and/or The Association of Art & Antique Dealers (LAPADA). (It's claimed that this thoroughfare has the country's highest density of BADA members.)
Expect to find a treasure trove of one-of-a-kind ceramics, porcelain, antiquities, art, furniture, silver, books, lighting pieces and clocks. For ornate eighteenth- and nineteenth-century pieces from around Europe, try Butchoff Antiques. They have a gorgeous and spacious showroom. For something more decidedly English, Reindeer Antiques is a leader in Georgian antique furniture. Check out the small-but-elegant Japanese Gallery Kensington for Japanese Woodblock prints, ceramics, woodwork and metalwork. In fact, there are several Asian antiquity shops along this street. Another good one is the art gallery, Gregg Baker Asian Art.
If antiques are your thing, be sure you also check out Notting Hill's Portobello Road Antiques Market.
Independent Shops
There are plenty of lovely independent shops to check out as you're strolling down Kensington Church Street. At the family-owned Chegworth Farm Shop you'll find fruit, vegetables and also award-winning, fresh-pressed apple juices. (They also sell lovely fresh flowers.) For more florals, stop by the Instagram-worthy florist, John & Jessie. They always have an impressive storefront display of flowers. For more photo-worthy floral displays, check out our full London guide here. It even features the flower-bedecked Churchill Arms, which sits right around the corner from John & Jessie on Kensington Church Street.
For specialty and premium items, stop by The Kensington Cigar Shop. They stock a first-class selection of Cuban cigars. For another interesting indie shop, swing by the fashionable Caviar Artisan – Boutique & Caviar Tasting Room. They carry all sorts of mouthwatering artisan delicacies.
Also, you can stock up on wine at the lovely Huntsworth Wine shop. They're a truly independent wine merchant with wines from all over the world (though they specialize in Bordeaux). Why not pick up a bottle of red to enjoy in the privacy of your own London Perfect apartment terrace, balcony or backyard?
If you get hungry on your walk along this charming street, stop in at the lovely artisan food shop Sally Clarke Shop. They have great fresh French madeleines and freshly roasted coffee from the artisanal Monmouth Coffee Company. Another great snack shop is the Greek deli, Menoo Eclectic Food at 25 Kensington Church Street (there's no website).
Where to Stay
London Perfect has several delightful vacation rentals available right off Kensington Church Street. For a real stunner, book the York. Sleeping six, the York overlooks Our Lady of Mount Carmel Church, a Catholic church that Sir Giles Gilbert Scott designed in 1959, after the World War II bombs destroyed the original church. Also, the bells can be heard from the nearby St. Mary Abbots, a grade II listed church by English architect Giles Gilbert Scott. Decorated in pops of blue and refined white, the multi-level York boasts plenty of light and even some stylish outdoor space.
The Austen also sits right off Kensington Church Street. With tons of bookshelves and little reading nooks, the Austen presents a quiet and charming home-away-from-home for visitors.
Nearby the Austen, there's also the Hornton set on a peaceful mews street. This quite mews home sleeps six and presents the perfect reprieve from the busy streets.
Another good option for staying near Kensington Church Street is the Palace Gardens Apartment. This petite one-bedroom rental oozes with smartness and style. It's perfect for couples or those visiting London on business.
Lastly, there's the ultra-chic Kensington Court rental. With statement lighting features, three gorgeous bedrooms, and a private patio fully equipped with a state-of-the-art barbecue grill, Kensington Court shines.
Ready to explore Kensington Church Street? The team at London Perfect can help you book the York, Hornton, Austen, Palace Gardens or Kensington Court for your next trip. We also have other apartments in neighborhoods like Notting Hill, Chelsea, and Belgravia to check out too. Get in touch with the team today.