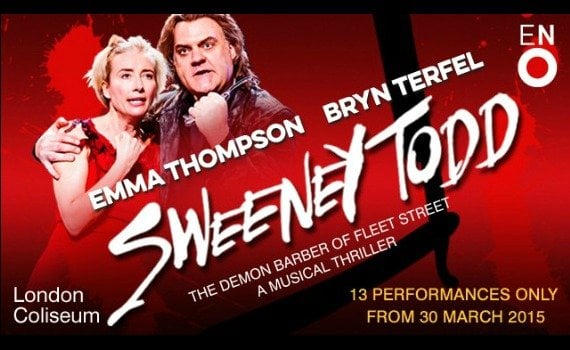 Theater lovers … did you know you were coming to London next spring? Here's why you'll be booking that trip very soon. If you act quick you can experience the limited opportunity to see multi Academy Award-winning actress Emma Thompson and international star Bryn Terfel reprise their roles as Mrs. Lovett and Sweeney Todd in this concert staging of Stephen Sondheim's gloriously gruesome musical Sweeney Todd: The Demon Barber of Fleet Street.
If you missed their critically acclaimed and sold-out performances at New York's Lincoln Center, now is your chance to see the celebrated show at the London Coliseum, presented with the English National Opera to celebrate Sondheim's 85th birthday with a vibrant semi-staged production of the most operatic of all his works. This gruesomely entertaining story is told through an unmatched sequence of Sondheim's most memorable melodies and loveliest orchestrations.
The setting for this unforgettable tour de force is the London Coliseum. With only 13 performances starting from 30 March 2015, Sweeney Tod ends on 12 April 2015. Click here to see more information on this unforgettable show!