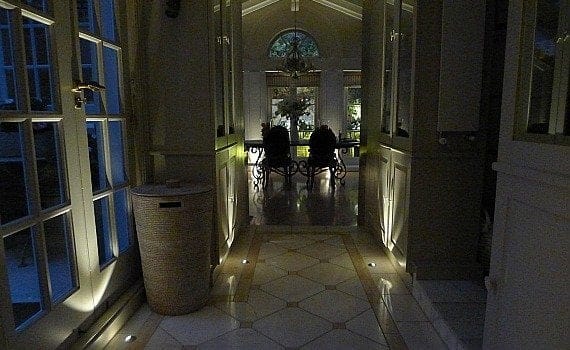 We discovered some gorgeous LED uplights from John Cullen Lighting in London — a brilliant lighting consultancy and store on the Kings Road in Chelsea. They're a warm white and are angled so the light only reflects onto the wall, not in your eyes.
These little uplights are ideal for highlighting a wall, column or fireplace. We started with 2 in the entryway where they lit 2 terracotta lions under a console — liked them so much, we added more along the long hallway to the kitchen!
Here's the Siena uplight, where they've designed a cover over 3/4 of it so the light is directed forward and up.
It was a complicated process to run the leads through walls, and then under marble, to drill perfect holes to hold the lights, but well worth the work for the final result.
Here are a few more examples of uplights used to great effect to highlight beautiful architectural details:
And because they're LEDs they last for thousands of hours, so they can serve as night lights as well –wonderful when you are up late and see their soft glow. Here's the actual Siena uplight.
They have been so popular that clients asked them to create an outdoor range, which the client below used to illuminate their wine cellar!
Gorgeous in this garden where they reflect the enormous terracotta jars.
Our electrician performed a difficult job by re-threading under marble and wood, hiding the cables and drilling perfect holes. We're so pleased that we added more recently!
Have a look at their site — there are tons of inspirational ideas for your home and garden!