Londoners just love taking a long, leisurely brunch over the weekend. It really is the perfect way to combine fantastic food with great conversation with family and friends. London has some great restaurants and cafes around the city so you can make the most of this most beloved meal, whether you're looking for a traditional fry-up or something a little more refined – they'll be something for everyone to enjoy.
We suggest taking the time to really savor this quintessential meal, so take a look at some of our favorite places around the city and prepare yourself to brunch like a Londoner!
Ben's Canteen
If you'd like to explore an area of London you wouldn't necessarily otherwise visit, I'd highly recommend Ben's Canteen over in Battersea. This comfortable, bright restaurant has become a beloved local establishment over the years, so you'll be certain to brush shoulders with more Londoners than tourists enjoying the famed "really indulgent Brunch." Plus, if you upload a picture of your food with the #benscanteenmenu hashtag, they'll give you a free Bloody Mary from 10 a.m., and a free Espresso Martini from 5 p.m. So start snapping!
Camden Lock Market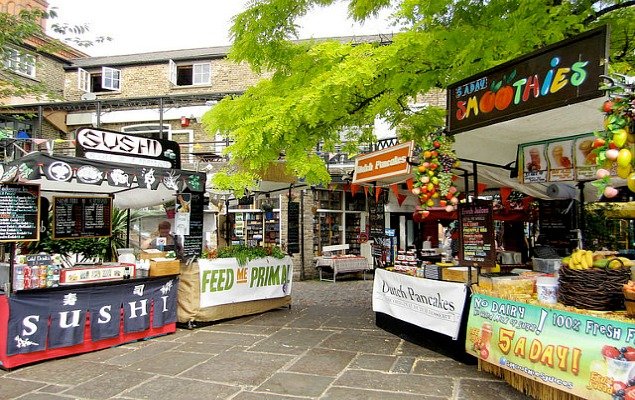 Established in 1975, Camden Lock Market features every kind of food imaginable – traditional British, Mexican, Ethiopian, Italian, and more. On sunny days, meander along Regent's Canal towards the market. Once you pick your dish, you can lounge in the sun alongside the water, and then perhaps make your way over to Primrose Hill for an unequaled view of the city.
The Ivy Kensington Brasserie
For a more upscale experience, visit The Ivy Kensington Brasserie, where traditional British food becomes unique, and the perfectly prepared dishes resemble pieces of art. Interested in chicken liver parfait? Or perhaps some pancakes? Toasted crumpets? The Ivy Kensington Brasserie is the place to be.
Look Mum No Hands

For a more casual atmosphere, head on over to this extraordinarily popular restaurant. Taxi drivers will be first to assure you that London has a rampant amount of bicyclists, so it's no wonder this bicycle repair shop combined restaurant is so popular among locals. From traditional black pudding recipes to vegetarian and vegan-friendly options, this trendy spot will not disappoint. You'll even be able to get away with wearing lycra – they'll just think you're in with the crowd.
The Providores
If you fancy a mimosa in a contemporary, stylish atmosphere, visit The Providores. Their weekend brunch menu features innovative dishes, including chorizo, chia seeds, and a fruit salad of pineapple, pear, grape, pomegranate, melon, apple, kiwi fruit and vanilla poached figs. All unique, all delicious. Plus, it's located in Marleybone, a neighborhood so elegant and beautiful, you'll have plenty to admire as you walk off your meal.
Whether you choose the more relaxed atmosphere of Ben's Canteen or the refined dining at The Ivy Kensington Brasserie, or perhaps a home cooked meal in one of our London Perfect apartments, you will be participating in a classic London tradition. Enjoy your brunch!
(Image credits: Pechisbeque, La Citta Vita, and Duncan C.)