We Brits have a deep love of Indian food, so I have given the Scotch Egg – that classic picnic snack – a bit of a makeover with the addition of some spice. If you haven't tried ajowan in cooking, it's definitely a spice worth taking the effort to find. Most supermarkets don't have it in their selection, but it's easy to buy online, or in specialist spice shops. As well as ajowan and store cupboard staples, ground cumin and coriander, a few nigella seeds mixed into the breadcrumbs add another flavor boost and give these eggs a wonderfully speckled crust.
For me, a good Scotch egg needs to have a runny middle, and so their first boiling is a short one. If you prefer to avoid raw yolks, just increase the cooking time to about 8 minutes and they should be well cooked through by the time you are finished frying. Either way, try to use really good golden yolked eggs – Burford Browns are my favorites.
I serve my Scotch eggs with a lovely herby cucumber and lemon raita, which gives a little freshness, and helps cut through the richness of the runny yolk and fried meat.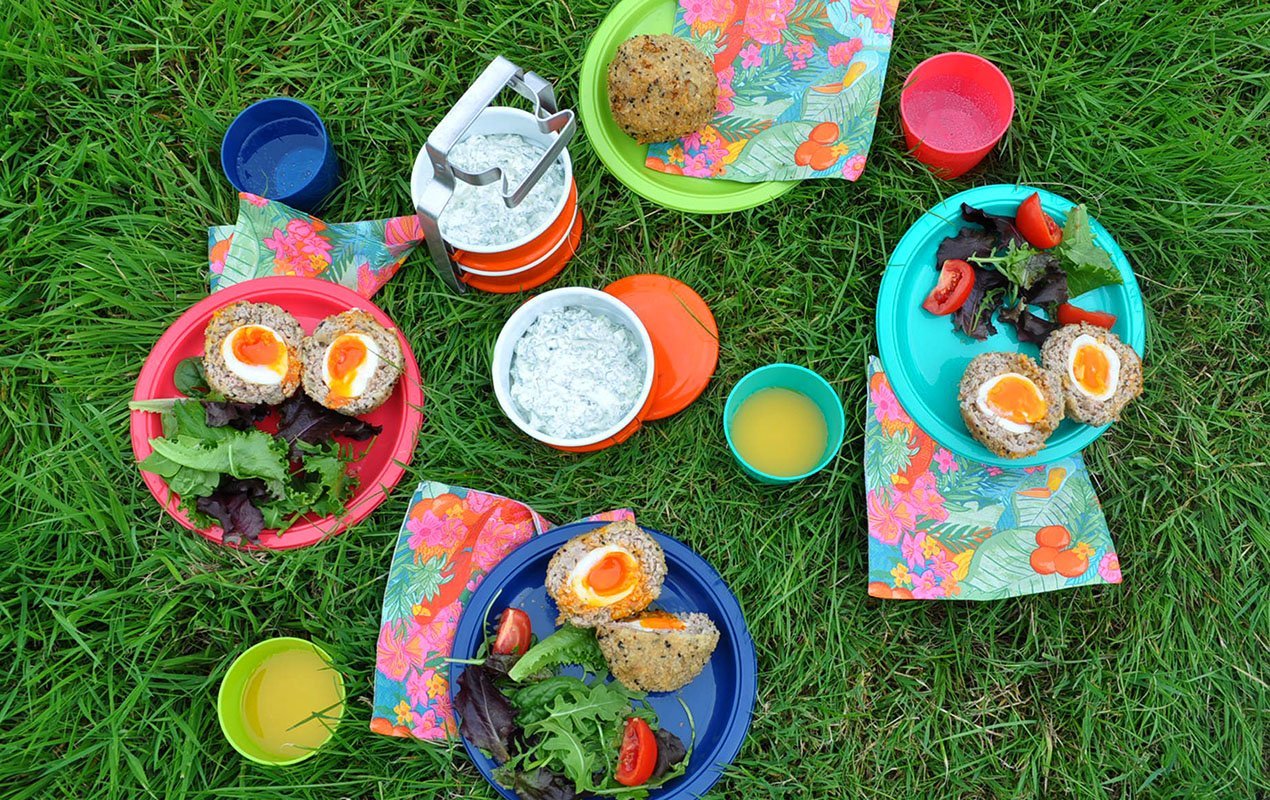 Serves 6
1 tablespoon rapeseed/canola or olive oil
1 large onion, finely diced
1 teaspoon coriander seeds
2 teaspoons cumin seeds
2 teaspoons ajowan seeds
½ teaspoon mustard seeds
2 garlic cloves, crushed
9 eggs
750g/1lb 10oz minced/ground pork
150g/5½oz/3 cups fresh white breadcrumbs
2 teaspoons nigella seeds
3 tablespoons plain/all-purpose flour
sunflower or vegetable oil, for frying
sea salt flakes and freshly ground black pepper
For the raita
a large handful of mint leaves
a small handful of coriander/cilantro leaves
200g/7oz pot plain Greek-style yogurt
a 7.5-cm/3-inch piece of cucumber, chopped into small dice
finely grated zest of ½ lemon
a squeeze of lemon juice
Heat the oil in a frying pan and add the onion. Cook over a low–medium heat for about 10 minutes, stirring occasionally, until the onions are cooked and beginning to color.
Meanwhile, crush all the spice seeds in a pestle and mortar. Add the spices to the softened onions, along with the garlic and cook for a further 3 minutes to toast the spices. Season with 1 teaspoon of salt flakes and a really good grinding of black pepper, remove from the heat and leave to cool.
Bring a large pan of water to the boil and add 6 of the eggs (the nice golden-yolked ones, if you have them). Boil for 4 minutes exactly (longer if you don't want the yolks runny) then remove them with a slotted spoon and put straight into a bowl of cold water to cool completely – at least 10 minutes in the cold water. Once cool, peel them very carefully.
Put the pork in a large bowl and add the cooked onions and spices. Beat one of the remaining eggs and add it to the pork, and mix well until everything is completely combined. Divide the mixture into 6 equal balls.
Mix the breadcrumbs with the nigella seeds and put them in a shallow dish. Beat the remaining two eggs and put them in another shallow dish, and put the flour in a third dish.
Take a ball of the pork mixture and press it out over the palm of your hand to form a thin patty in your palm – make it as big as you can as it needs to be large enough to surround the entire egg. With your other hand, take an egg and coat it in flour, then place it onto the pork and pull the pork around it. Use both hands to even out the layer of meat, smoothing it over and making sure the egg is totally surrounded. Set aside while you cover the other eggs in the same way.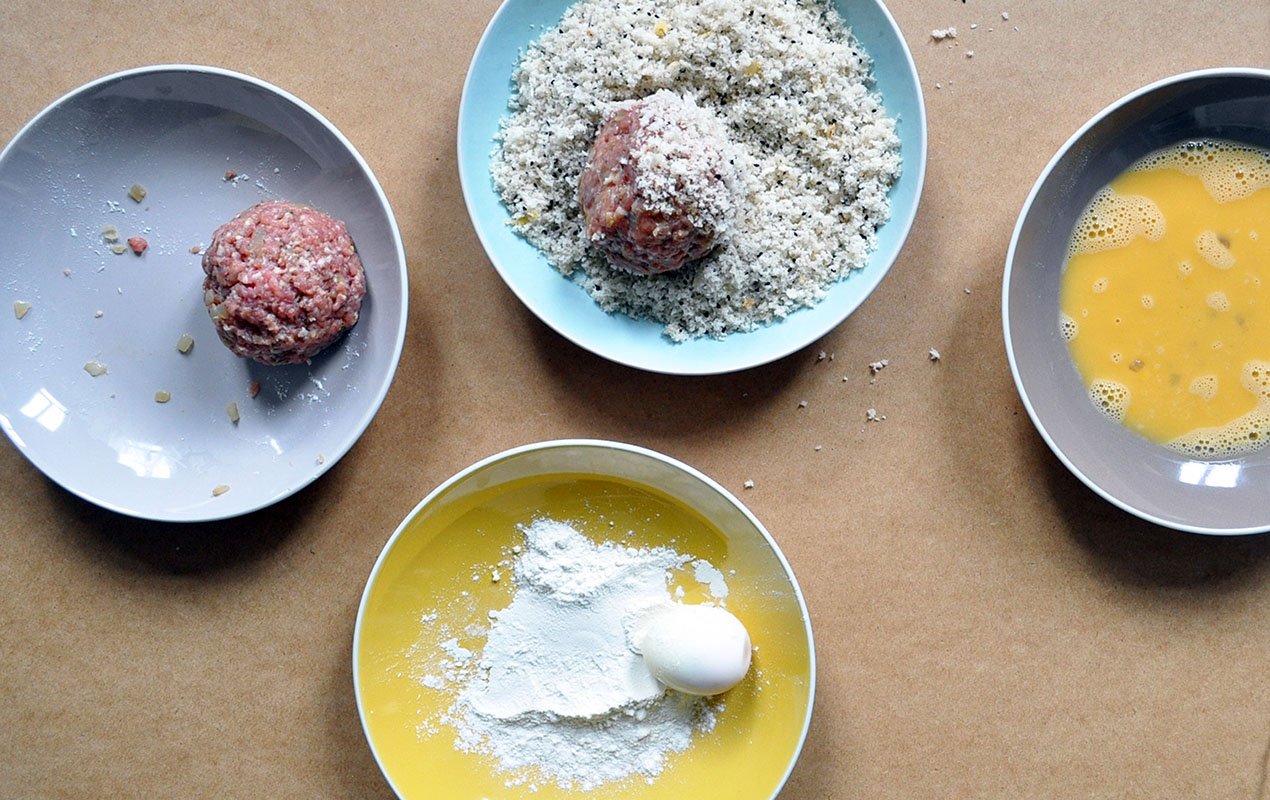 Heat a pan of the sunflower or vegetable oil to 170ºC/340ºF. One by one, dip the eggs first in the flour, then in the egg, and finally in the breadcrumbs. Roll them around in each coating so that they are evenly covered before you move on to the next. Lower the eggs into the hot oil with a slotted spoon and fry them for about 7 minutes until crisp and golden on the outside. You may have to do this in batches as they are quite big once coated and you don't want to overcrowd the pan or they won't brown evenly. Once golden, remove the eggs from the oil with a slotted spoon and transfer to a plate lined with paper towels to drain. Leave the eggs to cool completely before packing them into your picnic box, or the steam will make them go soggy.
While the eggs are cooling, whip up the raita. Simply chop all the herbs finely and mix them with the yogurt and diced cucumber. Add the grated lemon zest and a squeeze of lemon juice to loosen the mixture. Season well with salt and pepper and pack into a seal-able pot to take with you on your picnic.
Summary
Recipe Name
Indian-Spiced Scotch Eggs With Herby Cucumber And Lemon Raita
Published On
Preparation Time
Cook Time
Total Time
Average Rating


Based on 61 Review(s)