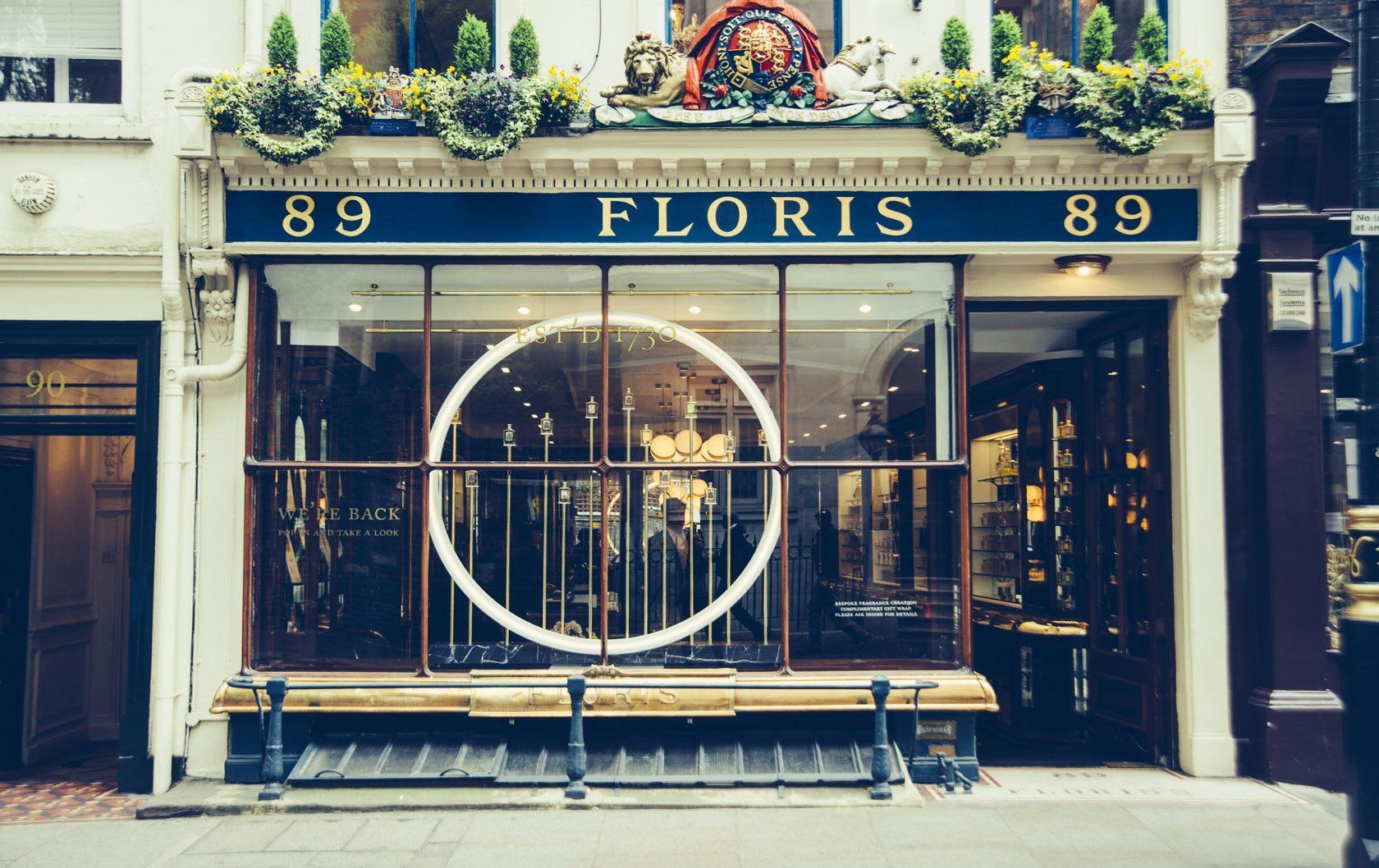 The beautiful shop frontage among the tailors on historic Jermyn Street.
When it comes to creating customized fragrances, Floris has it covered. The perfumer to the Queen knows a thing or two about it, after receiving a royal warrant back in 1820. Floris offers an array of fabulous in-house scents and a unique bespoke service. A customized perfume session is a thoughtful Christmas gift: choosing the right notes is a complex process, but creating a new, personalized scent is a fascinating experience.
Floris is located in the heart of London, just a short meander away from some of our palatial London Perfect homes.
Of course, perfume is a very individual thing – while bolder scents are favored by some, they may be too overpowering for another person. That's why we asked Edward Bodenham and the London-based Floris team to talk us through the history of the legendary company, bespoke fragrance, and the scents trending now.
Can you tell us a brief history of Floris?
The company was set up in 1730 by my distant grandfather Juan Famenias Floris, who was originally a barber by trade. He studied perfumery for six months in Montpelier. During this time, he met his future wife Elizabeth in the St James's area of London. They lived together above the Floris shop at 89 Jermyn Street, making fragrances and scented hair preparations for local gentry.
On the realization that their true passion was perfume, the company focus shifted to primarily making fragrances. As their sons were both trained in perfumery at Grasse and Paris, they later took over the running of the company. To this day, the company and the perfumery knowledge has been handed down from generation to generation. We are very fortunate that we still hold all of our original formula and reference books, dating back to the earliest days.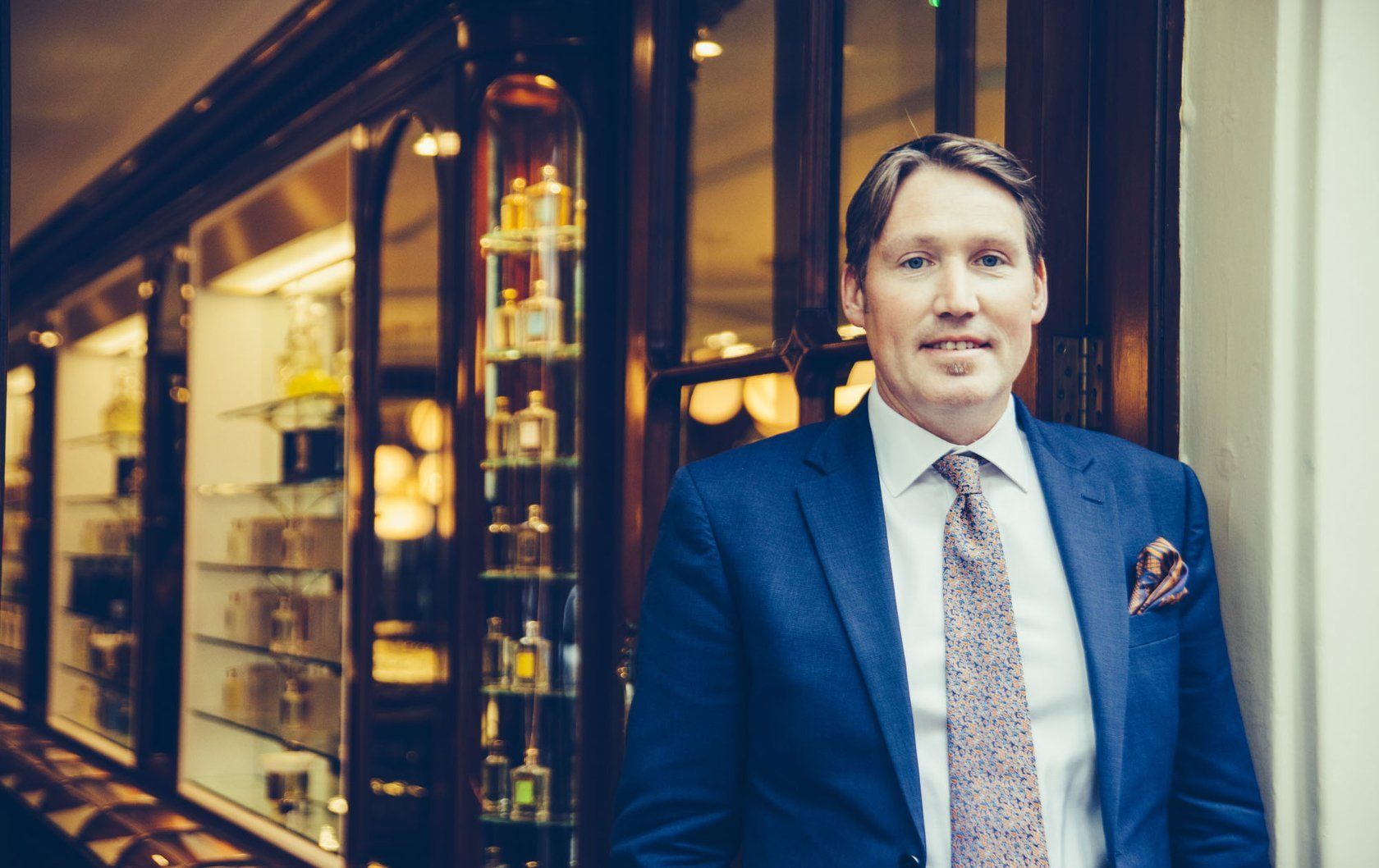 Edward Bodenham, grandson of Juan Famenias Floris.
Which scents are the most popular right now?
Eau de Cologne is very popular at the moment. Perhaps, it is a reaction to the wave of heavier fragrances that have flooded the market. A Cologne is a refreshing citrus, woody, type of scent that dates back to the early 18th-century. We have recently released, two modern interpretations of it, Bergamotto di Positano and Imperial Iris Cologne.
Could you talk us through your customization service? 
Our bespoke design service starts with a series of consultations with our perfumer, the customer will explore various different scent options, leaving with several samples to take away and try in their own time. There is no limit to the number of consultations the customer has – the fragrance is finished when it is finished – no matter how long this takes.
Our customization service is a two-hour appointment whereby the customer tries our various bases and selects one, before working with us to add complementary areas and accords. This helps to really tailor the perfume to each individual and their preferences.
Do you have any special tips for creating your own perfume?
Follow your instincts when creating your own perfume. The sense of smell is primal, and the emotional connection that you have with a particular fragrance is genuinely unique to you. As we go through life, we build up a memory bank of scents which are solely personal, only you can decide whether a scent is for you.
Stepping inside Floris, which was once also the family home.
How do you match scents to the customer?
We introduce various fragrances spanning the different families: citrus, green, woody, floral or oriental. This is to see which scent family the customer has a connection to. Then, we explore variations within this, to arrive at a scent most suited to that person.
Do you think bespoke is a current trend?
Yes, I think that bespoke is a huge trend and perfume is definitely a part of that. It's the way that our perfume house began, as all of our fragrances were individually made for each customer. It's something that we have always offered, so it's good that it comes full circle.
We know that you are the perfumer to the Royal Family and have had some iconic clients.
Yes, we are the Queen's official perfumer, back in 1820 we gained the warrant. You can also see our historic perfume ledger in the gallery. We've had many famous clients over the years. These include Sir Winston Churchill, Eva Peron who wore Special No.127 and Marilyn Monroe who wore Rose Geranium. Benedict Cumberbatch and Liv Tyler also. Actually, David Bowie was once served in the shop by my uncle Patrick and he used to wear our Elite fragrance.
If I love Coco Mademoiselle, are there any Floris scents you would recommend?
I would definitely recommend our new fragrance Chypress which has been my passion for the last couple of years. It launched in June. It's in the same fragrance family as Coco and shares the orange flower, rose and musk accords.
We know where we'll be Christmas shopping, or gifting ourselves…
Visit Floris at 89 Jermyn Street, St James's: it's conveniently located near to many of our luxury rentals at London Perfect. Contact us today for more information. 
Read more about the festive season in the capital, on our blog about London during winter.
All photos courtesy of Floris.