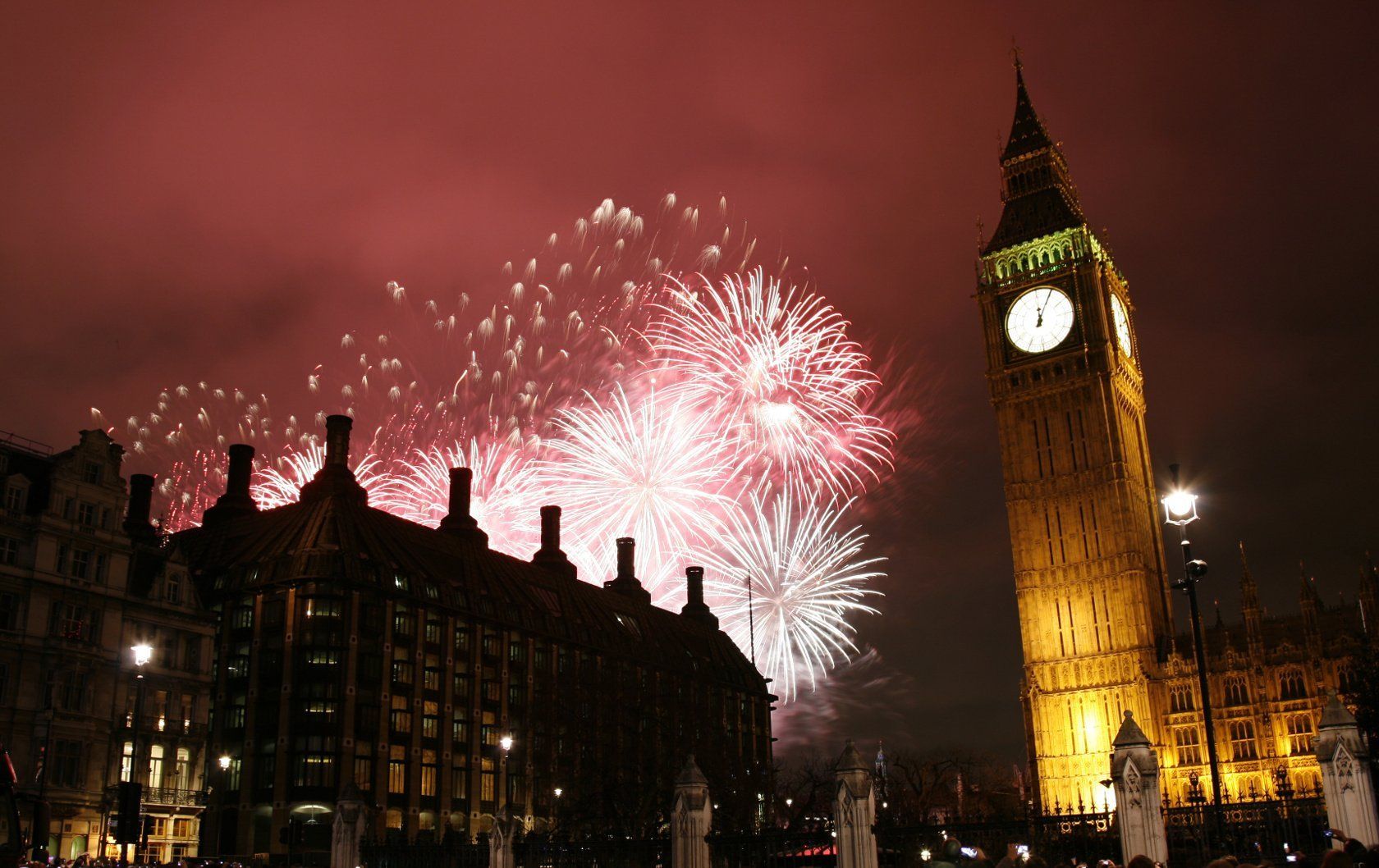 New Year's Eve is a thrilling time to be in London, with the fireworks show among the world's most dazzling. Expect rainbow colors and lights bursting around the London Eye, Big Ben and Houses of Parliament reflected in the Thames. The South Bank spectacle is bound to get your 2018 off to a sensational start.
London's jaw-dropping official pyrotechnics is now so popular that it is ticketed, with this year's display already sold out. Luckily, you can still get a free view of the action from more distant vantage points in the city. Alternatively, enjoy the show from the comfort of your stylish London Perfect rental apartment thanks to the live BBC broadcast.
Stays such as chic Pelham (sleeps five) in sought-after Chelsea are also close to the river. Pop the champers and toast your party! Here are five more free ways to make the most of New Year's Eve in London…
1. Parliament Hill
An insider favorite for its lovely, sweeping skyline views is North London's epic Parliament Hill beside Hampstead Heath. On the Heath's southeastern side, this lookout offers vistas of landmarks including St Paul's Cathedral, the Shard, and the Gherkin. The 322-feet-high Hill (98m) is beloved by locals as a beautiful spot to scope the city's skyline surrounded by trees. It's within walking distance of Gospel Oak, Kentish Town, and Hampstead Heath stations, so dress warmly and enjoy a stroll. Parliament Hill, Hampstead Heath, Highgate Road, London NW3
2. Primrose Hill
From lofty, tree-dotted Primrose Hill, on the northern side of Regent's Park, you'll enjoy great, free views of the fireworks. Walking up this grassy peak is a more chilled-out way of experiencing the celebrations than squeezing along the crowded riverfront. At 214-feet high (65m), it offers clear, 360-degree vistas of central London. You'll also spy any fireworks taking place in Hampstead or Belsize Park. Find it near Camden and Chalk Farm, just north of the famous London Zoo; park gates close at 1am. Primrose Hill, Primrose Hill Road, London NW3
3. Riverside Views, Restaurants and Bars
On the Thames, Tower Bridge, Millennium Bridge, Lambeth Bridge and Vauxhall Bridge are all free places to glimpse the fireworks. They are outside the official zone, so further away, but you should still arrive early and brace yourself for crowds. Or why not book a seat at a fab bar or restaurant overlooking the river? Entry will be free, so the money you'll save can be splurged on food, drinks or dancing. Try uber-cool riverside cocktail bar Dandelyan at Mondrian London, which will be counting down to NYE in style. Partying from 5pm until 2am on 31 December, it will be pouring fine cocktails to a sensational DJ set. Tables must be reserved (minimum spend £50 for two hours, £75 for three or £100 for the evening). Dandelyan, Mondrian at Sea Containers, 20 Upper Ground, London SE1
4. Hyde Park Winter Wonderland
It's only open until 10pm on New Year's Eve, but Hyde Park Winter Wonderland is still a fun night out. This family-friendly event offers feisty fairground rides, Christmas markets, bars and food to keep you toasty. A mammoth ice rink, underwater-themed Magical Ice Kingdom, two circuses and a giant observation wheel add to the winter-themed entertainment. Fairy lights, seasonal tunes, and a Victorian bandstand make this a festive London affair. It's free to enter, but you'll need to pay for key attractions (best pre-booked online). The last day is 1 January 2018 (open 10am-10pm), so get in quick! Winter Wonderland, Hyde Park, London W2
5. Eis Haus
Alpine pop-up Eis Haus is bringing icy fun to London Bridge City on the banks of the Thames. For free-entry fun, head to the alfresco après-ski-style terrace bar, offering live bands, DJs, and ice-carving displays. Hot toddies, wine, and beer are on sale here, or just enjoy views of Tower Bridge and City Hall. Blankets and heaters are on hand to keep you warm in the covered bar. You'll need to book online for entry to the core ice cavern (from £15). Inside you can quaff cocktails from frozen glasses amid carved ice wolves and bears. It's minus five degrees during the 25-minute sessions, so wrap up warm. Eis Haus is open daily until 3 January 2018 from noon to 10pm. Perfect for getting in the mood for the midnight fireworks. Feeling peckish? Check out the yummy food stalls at the adjacent Christmas by the River market (open until 3 January 2018; 11am-8pm on 31 December 2017). Eis Haus, Riverside Walkway, 2a More London, SE1
While in London for 2018, try one of our fascinating day tours uncovering other UK destinations such as Windsor Castle, The Cotswolds or Oxford. Contact us today for more information on our current apartment sales and tour itineraries. See our blog for more inspiring ideas for winter fun for families in London.