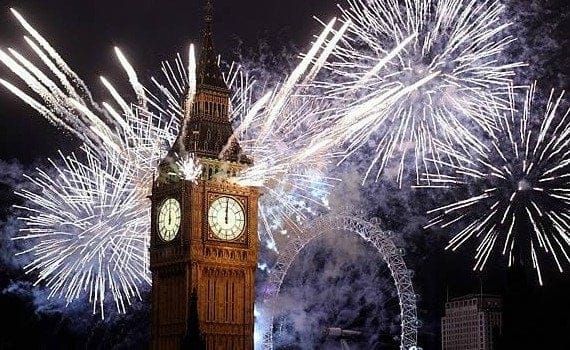 London knows how to throw a New Year's Eve Party. If you happen to be visiting the city at the end of the year, you're in for a treat. As Big Ben strikes midnight, London's trademark skyline lights up in a spectacular display of glittering fireworks. Lasting over ten minutes and centred on the London Eye and riverbank, there's no better way to ring in the New Year than by witnessing this remarkable event.
Watching New Year's Eve Fireworks
New Year's Eve in London will be a bit different this year. Tickets are being sold for the most prime viewing locations, including Westminster Bridge, Victoria Embankment and Southbank. At £10 each, they're going quickly. If you'd like to stay close to the action but can't get tickets, hop on the tube and head to Cannon Street. Situated right outside a ticketed area, you'll still be able to enjoy great views from here.
It should be noted that heading into Central London to watch the NYE's fireworks may not be best suited for younger children, especially if they require a buggy or pushchair.
Alternative NYE Viewing Locations
Primrose Hill
High atop Regent's Park, Primrose Hill is my personal preferred NYE viewing location. On a clear night you can see London's entire skyline and unlike in the heart of Central London, there's plenty of room to spread out on the hill and enjoy the occasion. The quieter locale and friendly atmosphere also makes Primrose the perfect choice for enjoying New Year's Eve with the whole family.
Parliament Hill
Parliament Hill offers a similar family-friendly viewing experience to Primrose Hill. It is further outside Central London and therefore less crowded. If the sky is clear you'll be able to see the whole of London from the top of the hill.
One New Change
Closer to Central London, One New Change is opening up its viewing platform to visitors on New Year's Eve. The platform, which famously features stunning view of St. Paul's Cathedral, will be open on a first come, first serve basis so get there early if you can.
Getting Around on NYE
London's public transport network really kicks into gear during NYE. All public transportation is free from 23:45 on 31 December to 4:40 on 1 January. For more information, you can view the Transport for London's (TFL) dedicated festive travel dates page here.
While public transport is the best way to get around on NYE, you can also book licensed black cabs and minicabs using TFL's cabwise.
_____________
Cheylene Thongkham is a writer, travel blogger and American transplant in London. You can read more about her life as an expat and adventures around the world at: www.girlinlondon.com
(Image Credits: Visit London, Mike Rolls, Cheylene, Rebecca Swift)