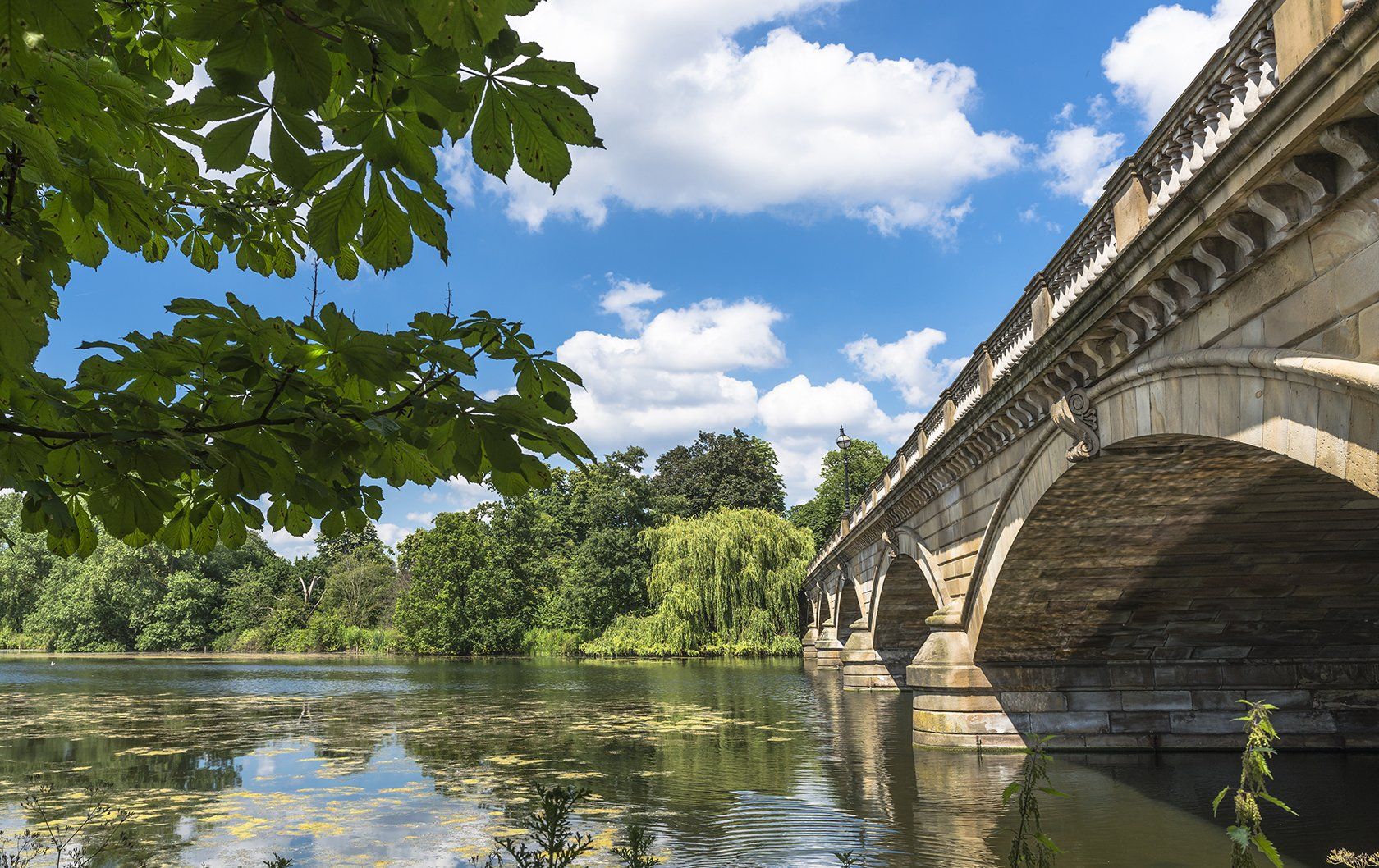 As the largest park in central London and long considered the "green lung" of the city, Hyde Park is one of the most popular Royal Parks. Filling 350 acres in the heart of London, it's connected to Kensington Gardens to the west and leads to Green Park past Hyde Park Corner, making it easy to enjoy from the South Kensington, Kensington, Knightsbridge and Mayfair neighborhoods and popular Oxford Street past Marble Arch. Called one of the greatest "people's parks" in Europe, there's a lot more than just natural beauty to discover in Hyde Park. We love a little bit of history and London is perfect for so many interesting details to uncover – even during a day at the park!
From King's Hunting Ground to People's Park
What we call Hyde Park today began on July 1, 1536 when King Henry VIII acquired the land from the Convent of Westminster. Nearby St. James's Park, also created by Henry VIII, wasn't quite enough to meet the king's voracious desire for expansive hunting lands. While the king's interest was solely for his own pleasure, it was thanks to Henry VIII's passion for hunting that Hyde Park was born. Throughout the 16th century, it remained a favourite haunt for kings and queens for hunting and sports. However, by 1637 the people of London were finally allowed into Hyde Park and by the time of King Charles II the walled park had become one of the most fashionable outdoor spaces in London. The place to see and been seen was the Ring, a circular path where people would gather to ride and to drive in carriages.
Hyde Park's features began to take shape during the reign if King George II and Queen Caroline from 1727-60. About 300 acres of Hyde Park were appropriated to create Kensington Gardens around their royal residence at Kensington Palace. A dam was added to increase the size of the Serpentine lake. By 1826, it was divided by the bridge and West Carriage Drive running along the boundary between Hyde Park and Kensington Gardens. The park was eventually surrounded by iron railings and a grand entrance called Apsley Gate was built at Hyde Park Corner opposite Wellington Arch. Designed by Decimus Burton and finished in 1828, while walking through the Ionic columned gate, stop to gaze up at the decorative friezes by John Henning that were based on the Elgin marbles at the British Museum.
What put Hyde Park firmly on the map was the arrival of the Great Exhibition in 1851. The world came to London and specifically to Hyde Park where Prince Albert had suggested the great Crystal Palace be built in the south side of the park. This massive glass building was one of the pinnacles of the Great Exhibition, which saw over six million visitors during its 141 days. After the Great Exhibition, Hyde Park continued to be a park for the people and a green respite for workers and families. With fun fairs, skating on the Serpentine in the winter, and plenty of space, it became a popular place for picnics and being outdoors, very much how the park is enjoyed by Londoners today.
What to See & Do
The first stop for many visitors to Hyde Park is the Diana Memorial Fountain located in the southwest area of the park. Opened in 2004, this beautiful fountain was built to honor Diana, Princess of Wales. Designed to represent Diana's great heart and openness, water gently cascades down the circular fountain in two directions and there are three bridges you can cross over and walk through the center.
While exploring the park, you'll find many more memorials, sculptures and fountains, each one with an interesting story to discover. Before heading out to explore, check out the map of Hyde Park and see what you might come across on your walk.
Set in the southeast corner of Hyde Park, you'll want to make sure you spend time meandering through the Rose Garden. An addition to the park in 1994, the garden is full of roses and seasonal flower beds with pathways laid out to form a trumpet shape. Along the way you'll see the fountain statue of Diana the Huntress that was designed by Lady Feodora Gleichen in 1899, the first female member to join the Royal British society of sculptors. The Boy and Dolphin Fountain by Alexander Munro is another oft-photographed spot. The roses are at their peak in early summer, but they continue to bloom through to the first frost in the autumn. However, the spring and summer floral bed displays make the Rose Garden a popular spot all summer long.
Located in the northeast corner of Hyde Park, take a look for the sign marking Speakers' Corner. Free speech has long been connected to Hyde Park, and this spot has been an established point for public speeches and debates since 1872. The likes of Karl Marx, Lenin and George Orwell have spoken here, and the space has seen demonstrations and speeches for all kinds of platforms and topics.
Relax & Eat in Hyde Park
The joy of Hyde Park is simply being outdoors, but there are plenty of ways to spend your time. From April to October, you can rent a row boat or pedal boat and paddle around the Serpentine. Or if you're looking for a more relaxing moment, head for one of the iconic green and white striped deck chairs that dot the park. Chairs are available from March to October and do need to be rented. Find out everything about the Park Deck Chairs here. There are playgrounds and a tennis and sports centre in the park grounds too.
For a unique London experience, Hyde Park Stables offers private and semi-private horseback rides through Hyde Park. The stables are located in one of the last mews with horses in central London and a peaceful ride is a wonderful way to enjoy the natural beauty of Hyde Park.
Swimming in the Serpentine has a long tradition and it continues to be one of London's most popular "open water" swimming spots. The Serpentine Lido is open for public swimming mid-May through September from 10am-6pm. If you go by early in the morning, you'll spot the Serpentine Swimming Club, the oldest in Britain, who swim daily in from 5:30am-9:30am.
Not far from the swim area and the Princess Diana Memorial Fountain, the Serpentine Lido Cafe is a great spot for refreshments and dining overlooking the Serpentine. Stop for drinks or a waterside meal while enjoying a stroll through the park.
Set on the eastern side of the Serpentine in a striking Grade II listed building designed by British modernist architect Patrick Gwynne, the Serpentine Bar & Kitchen is another fine spot for relaxed dining in Hyde Park. With a selection of wood-fired pizzas, salads and varied main courses, along with a full breakfast menu, it's a tasty stop anytime of the day. There are also refreshment stands located throughout the park. Check out this map of Hyde Park to plan your visit.
Stay Near Hyde Park
Planning a London holiday and love outdoor space? Many of our London vacation rentals in Kensington and South Kensington are only a short stroll away from Hyde Park. You'll find our Hyde Park one-bedroom rental set in a quiet mews is ideal for enjoying time in both Hyde Park and Kensington Gardens nearby. Start your day with a run through the park or enjoy a picnic or leisurely evening stroll – like a true local! For more space, the three-bedroom Middleton mews home vacation rental can welcome up to 8 guests. Contact our team to book your next London stay!