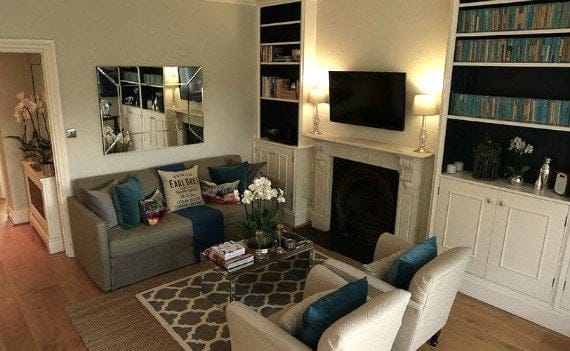 "There is nothing like staying at home for real comfort." – Jane Austen
Jane Austen said it best with her oft-quoted words, and that's precisely what we look for in our London Perfect vacation rentals – a place you can step into and feel at home from the moment you arrive. It has to be a setting that beckons you to stay a little longer, perhaps pull a book off the shelf, make a cup of tea and while away an afternoon. This is exactly what we felt the moment we walked into the Austen, a very special two bedroom home in London's exclusive Kensington neighbourhood. Come along and take a look at the new Austen vacation rental. We bet you'll feel right at home!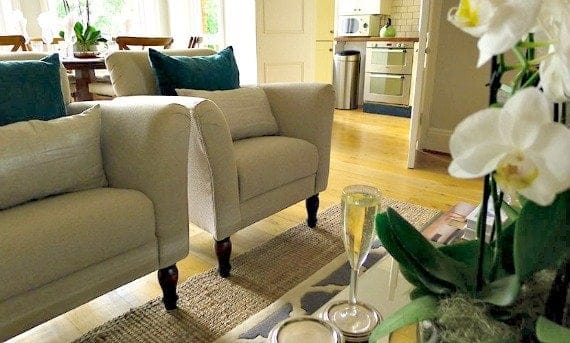 The heart of this welcoming home is the living room, with its comfortable sitting area that is perfect for conversation, curling up on the sofa with a good book (there's a marvellous collection!) or watching TV in the evening thanks to the wall mounted flat screen TV. Just beyond, the living room opens to a dining area surrounded by windows that overlook a lush communal garden.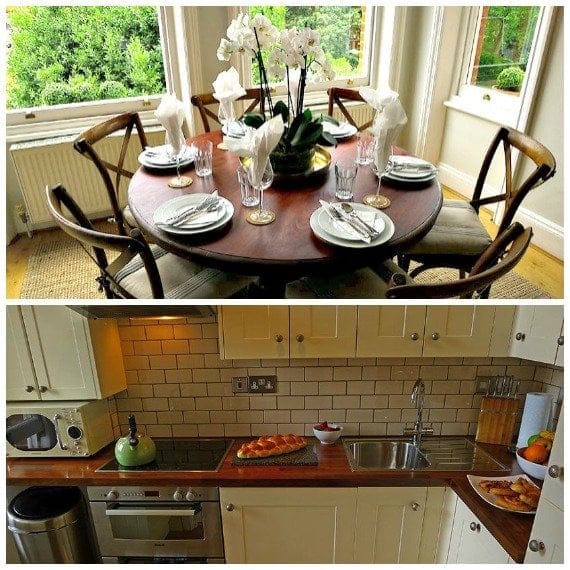 This is the perfect spot for starting your day in London with a peaceful view of nature. London is such a green city, full of fine garden squares and large parks. You'll enjoy access to the private communal garden during your stay, along with being a very short stroll from the expansive and beautiful Kensington Gardens. After a day exploring London, return home to the Austen where you'll look forward to retiring to the comfortable bedrooms. The master bedroom features a king size bed, plenty of storage, a writing desk, flat screen TV and an en suite bathroom with shower, toilet and sink.
The cheery second bedroom features two twin beds that can also be zipped together to form a king bed. Bright accents and lovely light complete this charming bedroom setting. For a comfortable stay, the Austen also include a second bathroom to make getting ready to start your day quick and easy.
And, yes, there's even a communal garden that Jane Austen would have adored. Walk through a romantic arched gate covered with vines to discover the pretty garden with plenty of spots for relaxing, reading and enjoying this very rare London feature.
The Austen is a memorable and beautiful spot in London. It's like a good book that leaves you with characters that linger in your memory for years to come. We invite you to find out more about the Austen vacation rental in London and to contact us right away to book your stay before you miss your chance!