On a recent visit to Liberty of London – one of London's best shopping spots – I spotted some brilliantly designed products created by the very clever Hoxton Street Monster Supplies. Just reading their storefront windows of their East London location is a hoot. "Bespoke and Everyday Items for the Living, Dead or Undead" and "Purveyor of Quality Goods for Monsters of Every Kind."
As you can imagine, this is a fun store for children of all ages! Or simply pop into Liberty's where there is an entire section on the ground floor dedicated to Hoxton Street Monster Supplies. Manufactured by an inspiring new charity called The Ministry of Stories, they have produced a line of candies described as brilliantly as you could imagine. Check out their Monster Supplies, musts for budding monsters of all ages.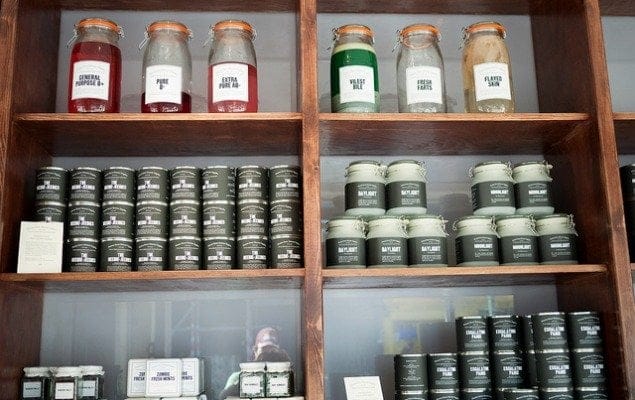 Just in time for Halloween, I couldn't resist sharing the best monster supplies and treats for all the goblins and ghouls in your life! Maybe you can gross them out with a little bit of the Thickest Human Snot? It sounds gross, but it's an absolutely delicious Lemon Curd! Brain jam is delicious raspberry jam with as many raspberries as the best gourmet jams. These are wonderful ideas of London souvenirs for friends with a good sense of humor at home.
One of their groups of products caused me the biggest laugh. It's called the Range of Tinned Fear and includes: The Collywobbles, Escalating Panic, The Heebie-Jeebies, Mortal Terror and, of course, A Vague Sense of Unease.
I love how Hoxton Street Monster Supplies states that "each tin contains the precise emotion on the label, prepared in the form of boiled sweets and these specially commissioned stories: 'A Vague Sense of Unease' by Laura Dockrill, 'The Collywobbles' by Nick Hornby, 'The Heebie Jeebies' by David Nicholls, 'Escalating Panic' by Joe Dunthorne, and 'Mortal Terror' by Zadie Smith."
Reading about the stories reminded me of how in my family of six girls I was the one who was most believed in monsters. I would beg and bargain with my sisters to take out the garbage for me or to let me climb into their bed at night. My sister Lisa offered me "There's a Nightmare In My Closet" for my 25th birthday – and it helped even then!! Funnily enough, a monster starter kit might have helped break my terror … with humor and the candy potions below.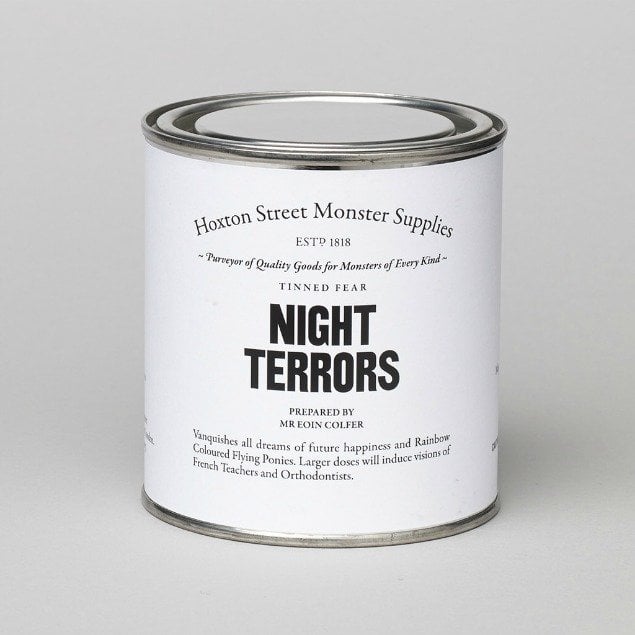 A visit to the Hoxton Street Monster Supplies store in London is a must for children of all ages. Just check out some of their creatively spooky products!
And if your children suffer from Creeping Dread as I did, maybe this potion will help!
The Night Sweats is just what the doctor ordered for avoiding school. Effects a most palpable episode of the Night Sweats. Quite likely also to induce: aches, agues, quivers, shivers, lassitude and general trembling. Now with added nightmares!
I bought some Impacted Earwax caramels to bring to the kids next month!
Just imagine about what their next monster treats might be … Jellied Fear? Mini Monsters Under Bed? Or the one my sisters used to reduce me to mortal panic: Bloody Hand Finger Treats! We'll just have to stop in Hoxton Street Monster Supplies again soon to see what other goodies they've cooked up.
Until then, do check out their shop or website. And don't miss the chance to read about the Ministry of Stories, the non-profit organization that runs the store and mentors young children in creative writing and storytelling. In its first year alone, it hosted over 3,000 young people in writing workshops alone. Click here to learn more about how you can help!

Hoxton Street Monster Supplies
159 Hoxton St
London N1 6PJ
For your next stay in London, our friendly reservations team are on hand to help you select one of our stunning family vacation rentals.