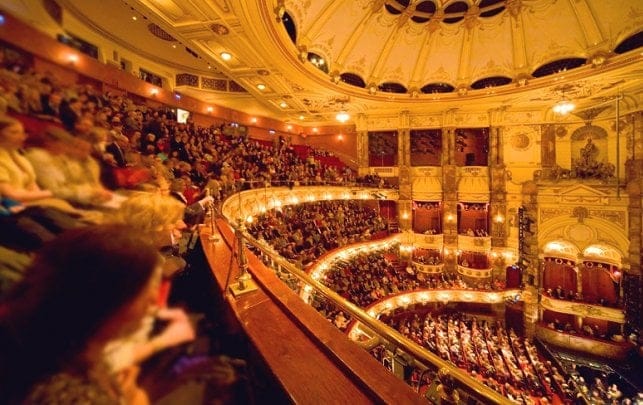 For theater lovers it doesn't get any better than London. If seeing a show is top of your London to do list, then you'll want to book the Ultimate London Theater Package. This seven hour extravaganza will give you a unique insight into London's rich theater history with a stroll through the exciting West End as well as an immersive "behind the scenes" experience visiting the oldest playhouse in London – all topped off with dinner and a theater show in London!
The tour begins with a leisurely walk through the heart of the theater district where you will learn all about the early origins of the theater right through to the most famous playwright of all time, William Shakespeare, and then on to modern-day theater's most famous productions. You will also go behind the scenes in London's oldest operating theater for your chance to see how it all works, joining the actors in their place of work. Later on in the day you will get the opportunity to relax and unwind at a fabulous French restaurant, enjoying a delightful two-course meal. The perfect finishing touch to this day of theater is to see a show. You can choose from one of the West End's top theatrical shows like Les Misérables, Mamma Mia or Charlie and the Chocolate Factory to mention just a few.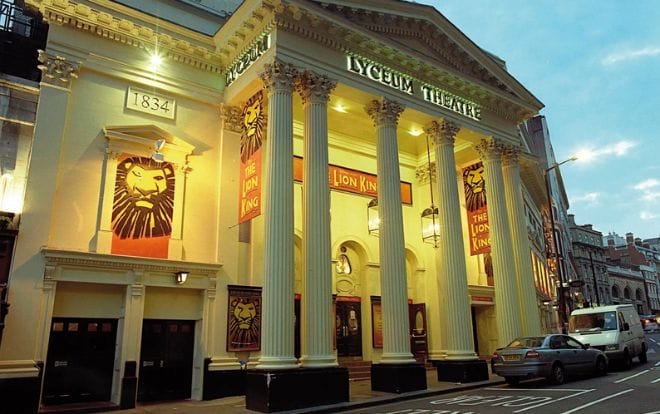 Here are more details on some of the tour highlights:
Covent Garden
A visit to London's famous Covent Garden has become synonymous over the years with some of best restaurants and shopping in town. During your walk through the theater district you will also learn about the history of Covent Garden and its time as one of the most important markets in Europe.
The Royal Opera House
This is the magnificent home to London's most famous operatic productions, and you will get to find out all about the history of this incredible building and how some of the most famous theatrical terms actually originated right here!
Backstage Theater tour
A visit backstage is something all audiences hope for, and on this tour that dream becomes a reality as you get to immerse yourself in theater life. You will even join the actors backstage for a chance to see what life in the theater is really like.
Theater show
A day of all things theater surely must result in seeing a great show, and after enjoying a fabulous two-course meal, you will end the evening in style by seeing a top West End production. You can choose from some of the most famous and long-running shows, including Agatha Christie's The Mousetrap and Les Misérables!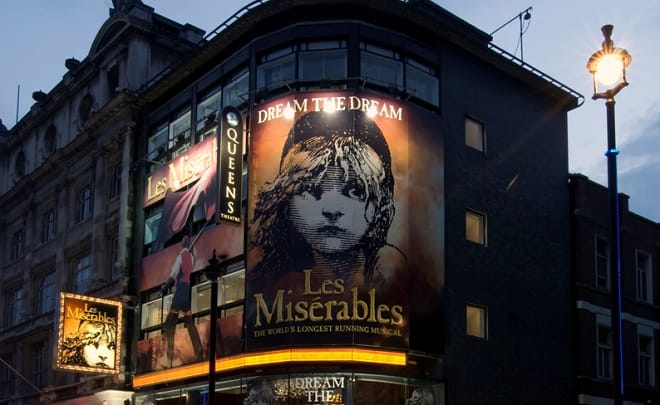 Don't miss your chance to be a part of this theatrical extravaganza – it's sure to be a tour like no other!
Tour start time: 3:30pm
Duration: 7 hours approximately
Included in the tour:
Walking tour
Backstage theater tour
Two-course dinner
Theater ticket (second best pricing band for each production)
Not included:
Drinks at dinner
Drinks at the theater
Book your tickets for the Ultimate London Theater Package here!
 ____________
If you would just like to enjoy the walk, you can book just the London Theater Walking Tour. This gives you an excellent tour perfect for theater lovers and then you can enjoy the evening in the West End at your leisure.
(Image Credits: Provided by Fat Tire Tours)