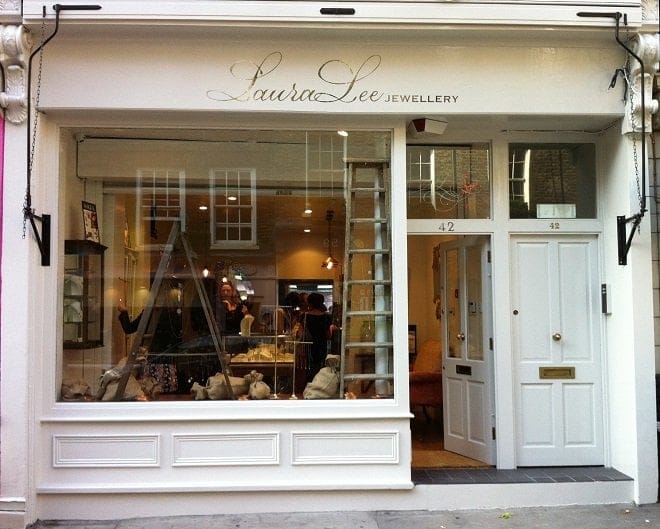 Laura Lee is one of the most sought-after jewelry designers in London, and we were fortunate enough to get the opportunity to find out about her life and work. We delved into how she got started in jewelry design, as well as discovering more about the inspiration behind her stunning jewelry collections. Her beautiful store is located in the heart of Covent Garden on Monmouth Street, and is the perfect place to find a wonderful gift for friends or family, or that special present just for yourself. Laura also shared her perfect day in the city, as well as her top places to visit in the capital – we think there are some truly great suggestions here for your London stay!
What  first  inspired  your  love  of  jewelry?
My Mum had a wonderful charm bracelet  laden  with  charms  from  all  her  travels  around  the  world  with her friends  and  then  with  my  Dad.  I  loved  the  different charms  and  the  stories  they  told  and  the  places they invoked  in  my  imagination.   My  Dad  bought  home  for  me  one  day  a  bag  full  of  sequins  and  beads from a trimmings  supplier  and  this  fired  up  my  imagination  and  I  never  stopped  being  obsessed.
When  was  the  moment  that  your  passion  for  jewelry  turned  into  a  business?  
It  was  a  slow  burn  thing  really  rather  than  a  flash  bulb  moment.  I  made  jewelry   when  I  was  at  art  school to  supplement  my  existence  as  a  student  and  when  I   came  back  to  London  I  went  to  the  same  store  my Dad  had  brought  me  those   sequins  and  beads  from  and  started  making  fashion  jewelry  from  those   components  ‐  which  I  sold  to  lots  of  different  stores  in  London  including  little   jewelry  boutiques  and department  stores  such  as  Harvey  Nichols  and  Liberty.  It  just  kept  on  growing  from  there.
Where  do  you  find  your  inspiration  for  your  collections?  
Everywhere  -­‐  from  the  street,  in  galleries,  in  the  night  sky.  By  always  looking  at   things  in  the  world  there is  inspiration  all  around  us.
You  have  a  beautiful  store  in  Monmouth  Street,  Covent  Garden  –  was   it  always  an  ambition to  have  a  store  in  London?  
To  be  honest  I  took  on  the  shop  on  a  bit  of  a  whim!  My  Chinese  granddad  was  a   gambler  and  I  think  it must  be  in  my  blood.  Although  thinking  about  it  is  the  natural  place  for  me  to  have  a  shop … I  always   loved that  part  of  town  and  the  villagey/local  feeling  of  the  area  ­‐  it  suits  me  and   my  approach  to business. I didn't  really  know  how  to  run  a  shop  but  I  have   learnt  so  much  and  after  ten  years  or  so  have a built  a really  wonderful  team  and   client  base  ‐  we  have  made  a  Laura  Lee  Family  in  our  premises  on  our beloved Monmouth  Street.
How  would  you  describe  your  perfect  day  in  London?
Spending  the  morning  browsing  in  the  gorgeous  antique  shops  on  Church  Street   –  Lunch  at  Moro  on Exmouth  Market  followed  by  a  walk  on  Hampstead  Heath … a   sunny  day  of  course!  Oh  and  then  some drinks  down  at  the  South  Bank  people   and  river  watching.
What  would  you  recommend  as  your  Top  3 places  to  visit  in  London?
Victoria  and  Albert  Museum,  British  Museum  and  all  the  parks  –  I  particularly   like  the  Chelsea Physic Garden … and  maybe  some  shopping  destinations  like   Mayfair  and  Shoreditch  and the  Shop  at  Bluebird  in Kings  Road.  Oh  and  Petersham  Nurseries  in  Richmond.  Sorry  three  is  not  enough in  London!
Click here to find out more about Laura Lee Jewelry.