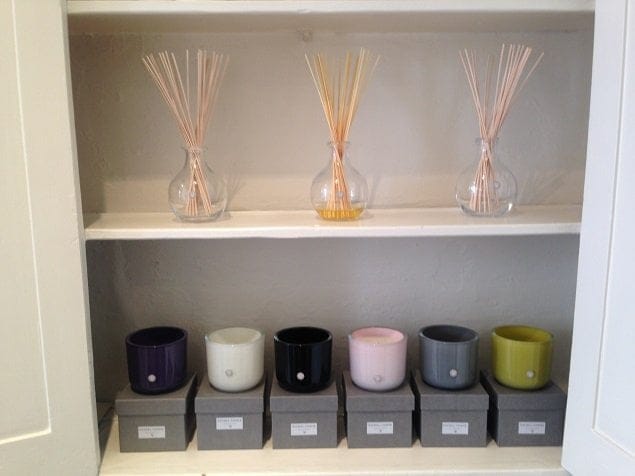 Nothing adds that perfect finishing touch to make a house feel like home better than a beautifully scented candle. We're always on the look out for the finest quality candles and were thrilled when London's top Candle Chandler, Rachel Vosper, chatted with London Perfect about her exclusive candle business. Rachel's designs and beautifully scented candles are much sought-after in the UK and internationally. Her fine boutique located on Kinnerton Street in the heart of Belgravia is one of the most stunning stores we have ever visited, and recommend you stop by on your next visit to London. We think you will love the scents of these luxurious candles and you can even have your own bespoke candle made with a scent to your own specification. Rachel also opens up about her favorite things to do in London, and we think there are some great suggestions when planning your time in the city.
When did you first become interested in candle making?
In 1994 I met a candle maker on a beach in Barbados. The following day I visited the candle making studio to assist and fell in love at first pour.
Your beautiful store in Belgravia showcases your stunning range of candles  – was it always a dream to have your own boutique in London?
It was always my dream to have a shop close to Knightsbridge. During the late 80s I used to take the top deck of the 52 bus from Victoria to Kensington Market to buy my outfit for a Saturday night. The bus passed a shop called Rachel in Knightsbridge which always made me yearn for my own retail space.
In your candle collection, do you have a signature scent?
Our signature scent is named Choisya. It is a wonderful blend of Mexican Orange Blossom, Bergamot and White Musk.
At your Belgravia store you run candle making courses – can you tell us more about this?
Candle making is a wonderful way to spend an afternoon. We mainly run group courses for 6 people but individual courses are run as and when time allows. The course gives a great insight into the history and art of candle making and students leave the workshop smelling divine and with their very own hand made one wick candle. Champagne is also included – there have been a few wonky wicks along the way.
How would you describe your perfect day in London?
My perfect day in London would be spent with my two year old daughter, Isabel. We like to visit one of the play grounds in either Hyde Park or Holland Park and feed the ducks in Kensington Gardens. During the summer months the V&A lido is perfect for little tots and they have live music on a Saturday and a great little cafe. In the winter you can't go wrong with the Science Museum and they have a fantastic soft play area. I know it sounds a bit touristy but an open top bus tour is really fascinating and should be a must for London folk and visitors alike!
Click here to find out more about Rachel Vosper candles and store opening hours.
(Image Credits: Photos by author)