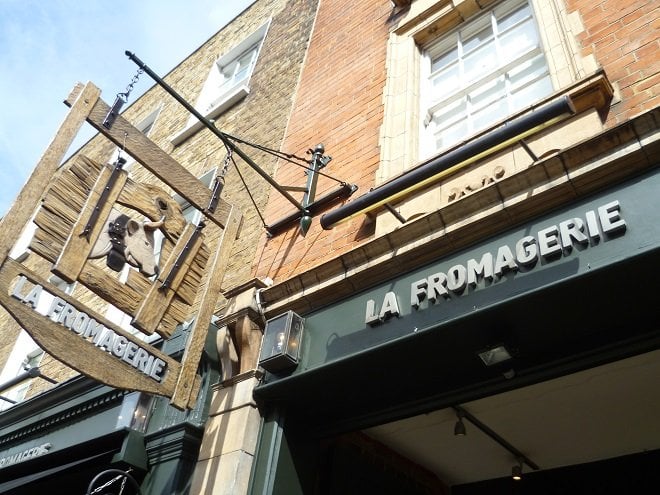 The sophisticated enclave of Marylebone has some of London's top culinary highlights, and is the place to visit for some of the most delicious artisan food in the capital! If you are planning a relaxing lunch for friends back at your apartment, or an evening supper for the family, you simply have to make your way to La Fromagerie on Moxon Street to pick up some of the finest cheeses in London.
La Fromagerie has become one of the leading destinations for cheese connoisseurs looking to create that perfectly balanced and much coveted cheese board. On my recent excursion to La Fromagerie, I was immediately impressed by their wonderful variety of fresh seasonal fruit and vegetables, as well as pantry essentials including chutneys, homemade jams, olive oils and freshly baked bread. We definitely recommend choosing a chutney to complement their delicious cheeses!
La Fromagerie is also that perfect place to enjoy a drink and a freshly prepared meal in the café area. It has become an all-day dining destination, from that early morning bacon sandwich, right through to a seasonal and ever-changing lunch menu.
The real star of La Fromagerie is their unique Cheese Room which houses their extensive range, the room also has the perfect conditions in order for the cheeses to mature. I was kindly invited to take a closer look and gladly took up the offer. Their selection of the world's finest cheeses reads like an A-Z that includes a tempting Bavarian Blue, an oozy Brie de Meaux, and a tangy Keen's cheddar.
The knowledgeable staff at La Fromagerie will certainly guide you in the right direction, ensuring that an evening supper with family, or a dinner party with friends, will have a cheese board to satisfy all appetites.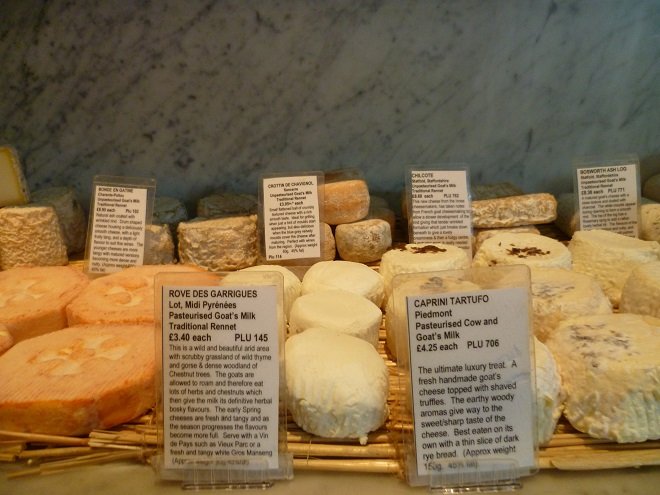 On Friday evenings, they host a cheese, charcuterie and wine evening which is such a great way to enjoy a seasonal cheese board paired perfectly with wine! You will also enjoy the finest charcuterie, as well as house-cured salmon and game terrine. For afters, you can indulge your sweet tooth with a selection including Armagnac soaked prunes and Affogato. This delightful evening begins at 6.00pm through to 10.30pm and is guaranteed to be an evening fit for the most ardent foodie. To make sure you don't miss out on this wonderful evening, click here to book your reservation. We know this store will soon become one of your London foodie favorites, too!
Click here for more details on La Fromagerie and store opening hours.
(Image Credits: All photos by author.)