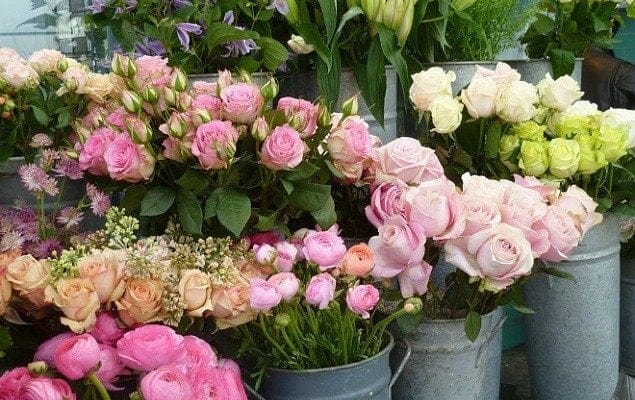 A beautiful bunch of flowers brightens up any room, and is that perfect finishing touch to made your London vacation rental feel just like home. Fortunately, there's an abundance of tempting flower stalls to choose from around London. From the most bountiful bouquets to a pretty hand-tied arrangement, there is a flower option to suit every occasion. Our selection below will help you make that perfect floral selection during your stay in London!
Wild at Heart, Westbourne Grove, Notting Hill
In the heart of fashionable Westbourne Grove you can find the most stunning flowers and artistic flair at Wild at Heart. These must-have designs and seasonal bunches have an incredibly loyal following, and are much sought-after for the most glamorous weddings and media events in town. Wild at Heart was established by Nikki Tibbles in 1993, and along with their wonderful location in the heart of Westbourne Grove, you can also find their flowers in Liberty, as well as in their store on Pimlico Road. If you are looking to surprise a friend with a lovely bunch of flowers or you are looking for that perfect table arrangement for a dinner with the family, this wonderful company really do offer the most luxurious selection of seasonal flowers.
Address:
Wild at Heart
222 Westbourne Grove
London
W11 2RH
The Covent Garden Academy, St Martin's Court
A visit to Covent Garden is a must while on your London stay, particularly for the lovely stores and boutiques. Tucked away in the delightful St. Martin's Court you will discover The Covent Garden Academy which has a beautiful display of fresh flowers and plants outside their delightful store. If flower design and arrangement is something you've always wanted to learn, they also offer a Three Day Taster course which will give you a new-found confidence in flower arranging! The course is ideal for beginners and the skills taught include how to create that perfect hand-tied arrangement, as well as how to work both contemporary and traditional flower arranging techniques. This course has even been voted as their most popular! Click here to take a look at all of the courses on offer.
Address:
The Covent Garden Academy
St Martin's Courtyard
9 Slingsby Place
Covent Garden
London
WC2E 9AB
The Gated Garden, Borough Market
If you have visited the popular Borough Market you will know that it is one of London's most visited food markets. From Tuesday through to Saturday, artisan food sellers lay out their wonderful produce for a hungry and loyal customer base. You'll also be pleased to know that food isn't their only specialty as they have a wonderful flower and plant stall called The Gated Garden. If you are looking for fresh seasonal flowers to take back to your vacation home, then this is the perfect stop. For longer stays with London Made Perfect a stunning potted plant brings a personal touch to any room. You can also pick up some delightful delicacies from the foodie stalls of Borough Market to take back home with you!
Address:
Borough Market
8 Southwark Street
London
SE1 1TL
Judy Green's Garden Store, Hampstead
Tucked along a delightful side street in the heart of Hampstead is a wonderful flower store which is sure to provide you with that perfect bunch of flowers! Judy Green's Garden Store, located on Flask Walk, is the perfect destination for fresh, seasonal flowers but also for a wonderful range of gifts items – stunning scented candles sit alongside beautifully designed throws and daywear bags – surely enough to tempt any shopper to treat themselves to that perfect gift or two!
Address:
Judy Green's Garden Store
11 Flask Walk
London
NW3 1HJ
Jacques Flower Shop, Duke of York Square, Chelsea
A shopping trip to the fashionable Duke of York Square in Chelsea's Sloane Square is the idea spot to seek out the latest designer collections as well as indulging in some of the delightful restaurants in the local area. You'll also find a lovely little flower store called Jacques Flower Shop at the entrance of the Duke of York Square. This popular store has a wonderful fresh selection and is always full of customers looking for that perfect bunch of flowers, and is a great place to find a selection to take back to your vacation apartment. A carefully selected bunch of blooms always adds a homely feel to any room!
Address:
Jacques Flower Shop
45 Duke of York Square
London
SW3 4LY
(Image Credits: All photos by author)