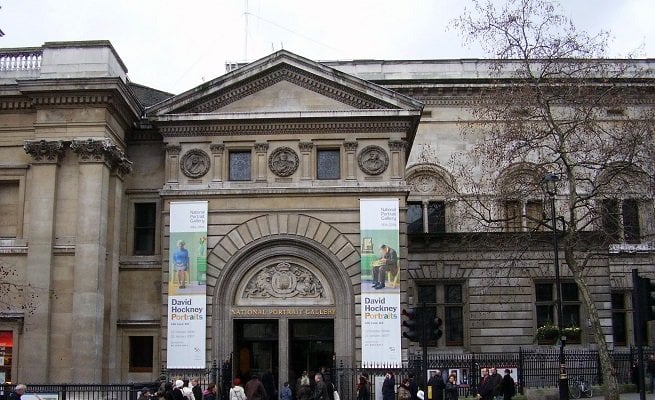 London has many reasons to celebrate the year 2016. From the anniversary of Shakespeare's death, to the Queen's 90th birthday, London is hosting dinner parties, screening plays, and broadcasting the Queen's most significant moments on TV.
But what about for the fashion lovers of the world? Well, you're in luck. British Vogue also happens to be celebrating its 100-year anniversary, and to commemorate the occasion, the National Portrait Gallery is featuring some of Vogue's most iconic photos in the exhibition, Vogue 100: A Century of Style.
While stepping through the gateway into the exhibition, I immediately thought, "Am I modeling for Vogue today?"
Preposterous? Maybe. But something about the dimmed lights, the music, and sense of glamor made me feel as if all who walked through those long hallways were readying themselves to strut down the catwalk.
Somehow, a mere museum exhibition felt transportative, magical.
And I'm not the only one who has felt touched by this transcendental quality of the magazine, as evidenced by the exhibition's featured quotes from legendary photographer Tim Walker. "What Vogue did made sense to me," Walker has observed, "Because it dealt with fantasy and the magical."
The exhibition itself embodies the unique stylistic and storytelling techniques Vogue has embodied since its original publication in 1916.
In a rather counter-intuitive yet brilliant setup, the exhibition works backwards in time, beginning with the celebration of contemporary fashion. First, you're pleasantly overwhelmed by a seductive series of videos featuring today's famous models such as Cara Delevingne and Emma Watson. Then, the contemporary makes way for the past in a hallway honoring the expansive history of Vogue. Iconic images from throughout the past century decorate the pale walls, with finely painted descriptions in dark ink carrying you through the magazine's story.
You'll see Kate Moss's Hope and Glory, and Twiggy on a Raleigh Motor Bicycle wearing knee-high socks, rocking voluminous eyelashes, and symbolizing something far greater than a girl on a bike. As described in the photo's caption, "Suddenly the world belonged to the young."
Next you can delight in a photo of Yves Saint Laurent at his first collection, PARIS by Irving Penn, taken in February 1958.
The story truly begins to unfold in the rooms dedicated to the decades. We begin with the 2010's, featuring surreal and complex photographs, celebrating the changing roles of models in the 21st century. Today, models are known. Celebrated. Followed on Instagram, and are often household names – a phenomena usually relegated to one or two models in past decades, making this century wholly unique in the fashion industry.
Both the 2010's and 2000's offer a community of contrasting images: surreal, glamorous, ephemeral, sultry, vibrant, dramatic, deceptively simple.
There's Belle de Jour featuring Gwyneth Paltrow, shot by Mario Testino, for a softer, more seductive side of fashion.
Then you have Tim Walker's October 2009 shoot of Alexander McQueen poised above a skull, looking blasé with a cigarette balanced between his fingers, creating a stark yet simple narrative.
Then we delve into the 1990's: the reign of Kate Moss in her casual underwear and unassuming pout. From there, each decade has a room of its own, some even featuring the manner in which photographers dealt with their medium, deep in the dark room, switching between slide after slide.
The exhibition celebrates Vogue's dedication to promoting what's new in the arts, as they're credited with introducing mainstream readers to Jean Cocteau and Pablo Picasso.
As you move through history, you see that various cultures have blended together throughout time, taking pieces of one another to create new, innovative looks. As explained on the walls of the exhibition, "London may have had class and style but New York had glamour and showmanship. For fashion guidance, both still looked to Paris."
And after passing through each decade, after pouring over the room of preserved Vogue editions, after examining the finely crafted original Vogue Art Deco drawings of the 1920's, you realize that these are more than just photographs.
They're moments of time and history preserved in frames, featuring models to designers, David Bowie to Josephine Baker, coronations and weddings, and moments recognizing when fashion and society began to shift, change, become anew.
And then you finish the exhibition back where you started with the mesmerizing display of color and movement in the digital moving picture: the future of fashion.
Tips: 
The exhibition runs until May 22, 2016. We recommend that you book your tickets at least 24 hours in advance or arrive early. Click here to find out more information and to book your tickets!