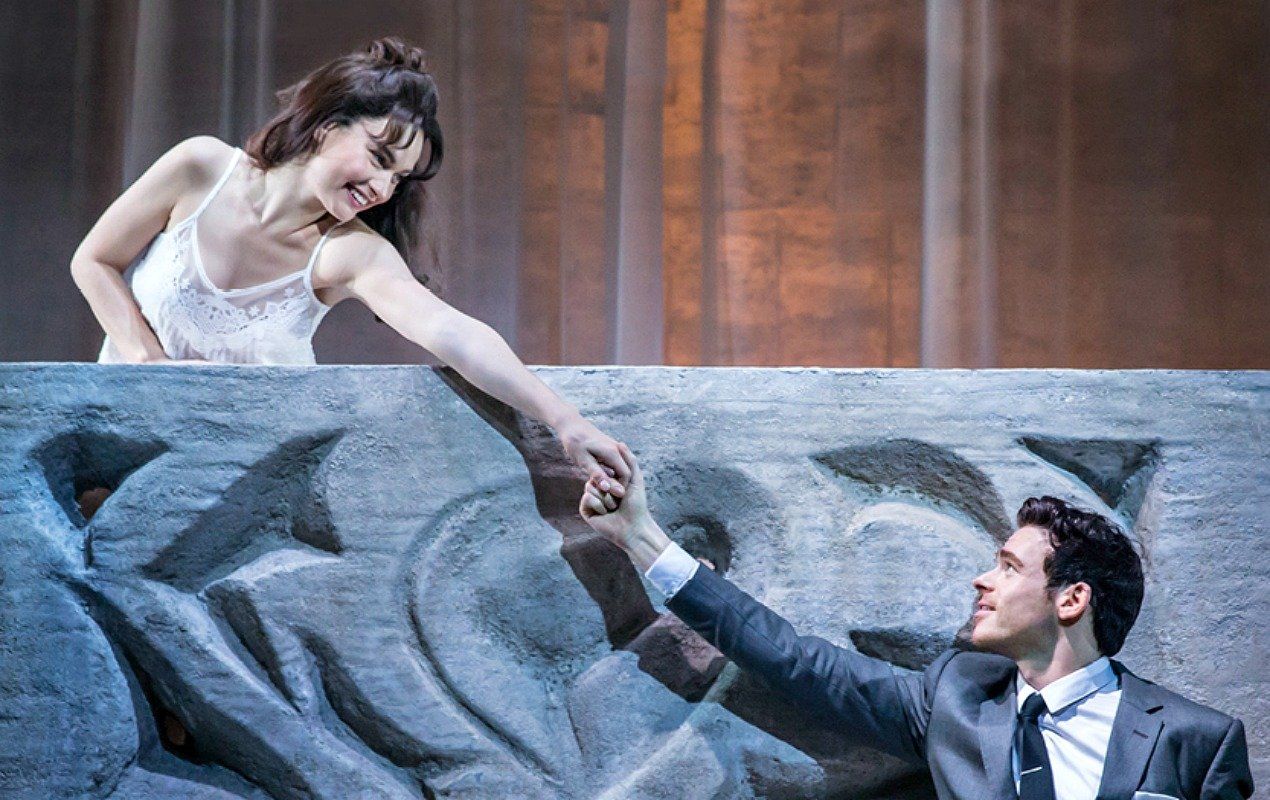 William Shakespeare's Romeo and Juliet is arguably the most beloved of his plays and two of the most famous literary lovers in history. From Classic Stage Company's 2013 performance, in which they highlighted the fact that the title characters were just 13-years-old, to Baz Luhrmann's 1996 take riddled with guns and tropical tees, there has been a variety of theatrical and cinematic interpretations. But still, Sir Kenneth Branagh and Rob Ashford's production of the play definitely holds its own amongst the many that came before it.
From now until August 13th, the Garrick Theatre will host Kenneth Branagh Theatre Company's Romeo and Juliet, starring Cinderella's Lily James and Game of Thrones's Richard Madden as the title lovers. With its black and white color scheme, innovative character portrayals and emphasis on the story's Italian heritage, the show gives you a new way of looking at Romeo and Juliet without compromising Shakespeare's original idea.
The Theatre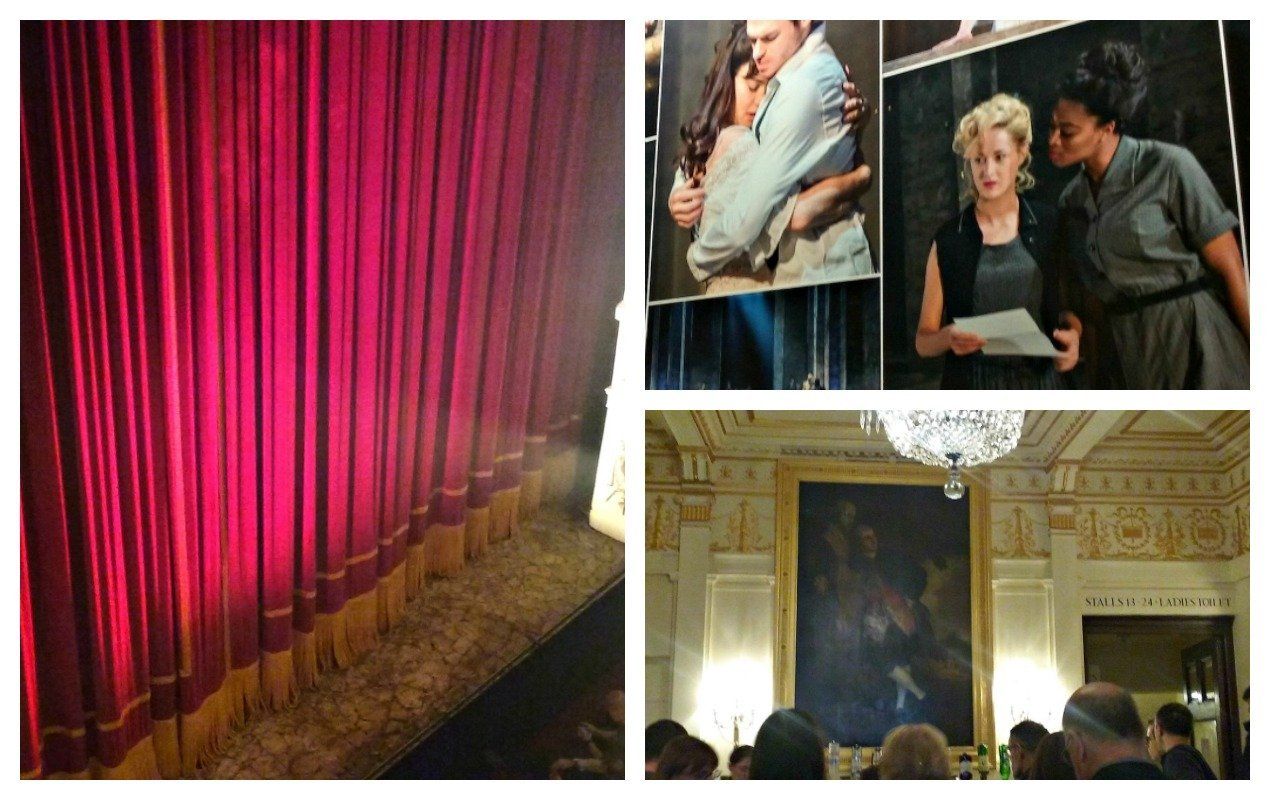 As soon as you approach the Garrick Theatre, you see that the exterior is decorated with images of the actors in character. Whether they're posing in sensual black and white photographs, or caught mid-performance in color, these posters definitely set the sensuous and romantic tone of the story.
The Garrick Theatre itself is nothing short of perfect for the night at hand. Decorated in white walls, gold trimming and red accents, it has all the classic elements you would expect of an English theatre (including the trademark red curtain that everyone loves to see).
The Show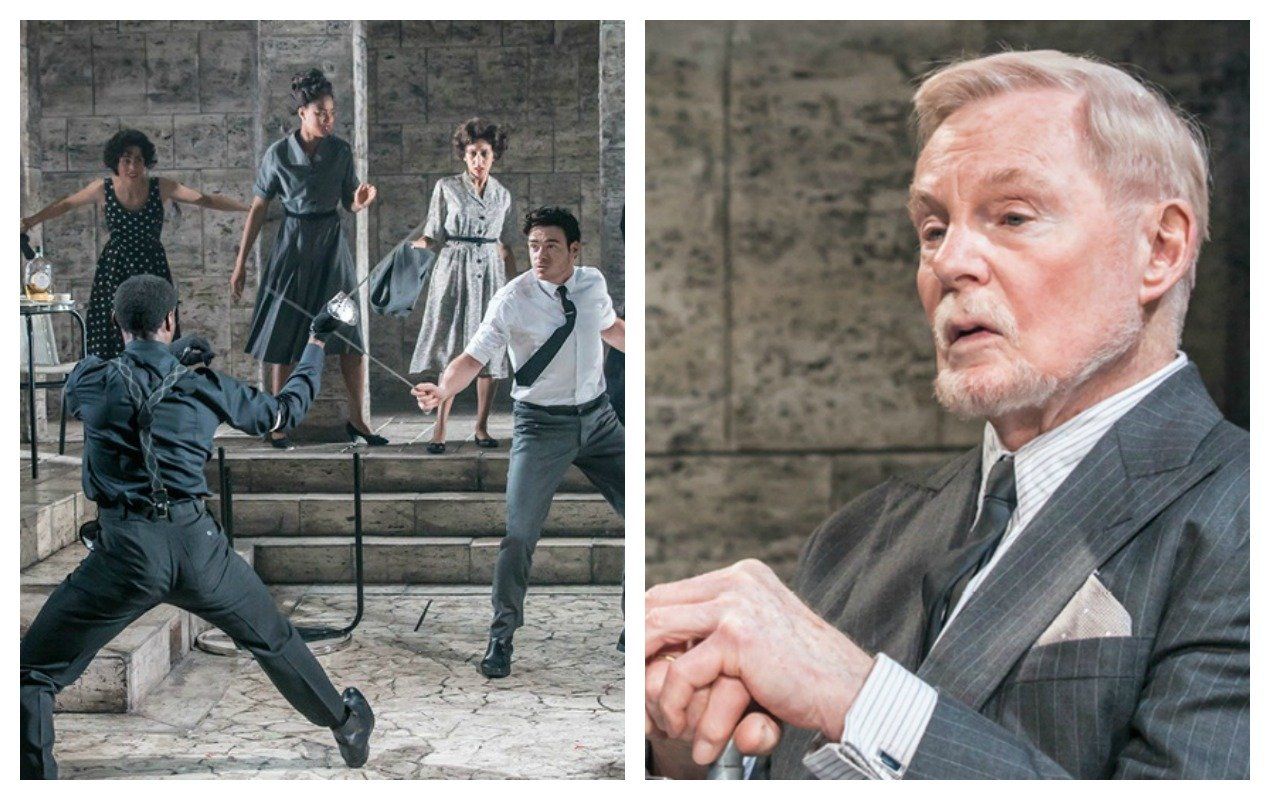 When the curtain finally opens, the first thing that might enter your mind is "Greek tragedy." With the actors dressed in their garbs of black and white, the set design is both simplistic and historic, compromised of artificial stonework. Branagh and Ashford's direction pays homage to the early days of theatrical performances, with the actors taking props and set pieces on and off the stage. Though the set is sparse, comprised mostly of café tables and chairs, it's the perfect set up that allows for the characters to fill up the space.
Even though it has the ambiance and color scheme of a tragedy, the play exudes surprising lightheartedness. The actors weren't afraid to go for a laugh, delivering some of their lines to the side of comedy rather than drama, and the show even takes a couple of musical turns, with both Lily James and Derek Jacobi (who plays Mercutio) singing jazzy songs to serenade the cast and audience. But perhaps the most impressive element is its emphasis on its Italian roots.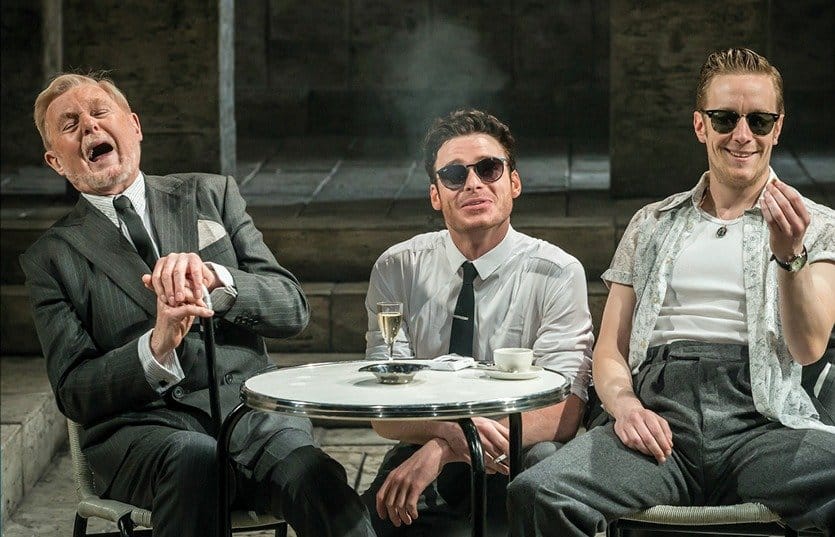 Because the play was created by England's most notable playwright, people often forget that the story takes place in Verona, Italy. The women are cloaked in chic fit-and-flairs and pencil skirts. The men are decked in classic suits and black shades worthy of Vogue. There are outbursts of the Italian language, cigarettes being smoked, and espressos being sipped. It's like watching a Federico Fellini film: energetic, smoldering, sexy and not without its humor.
The Performances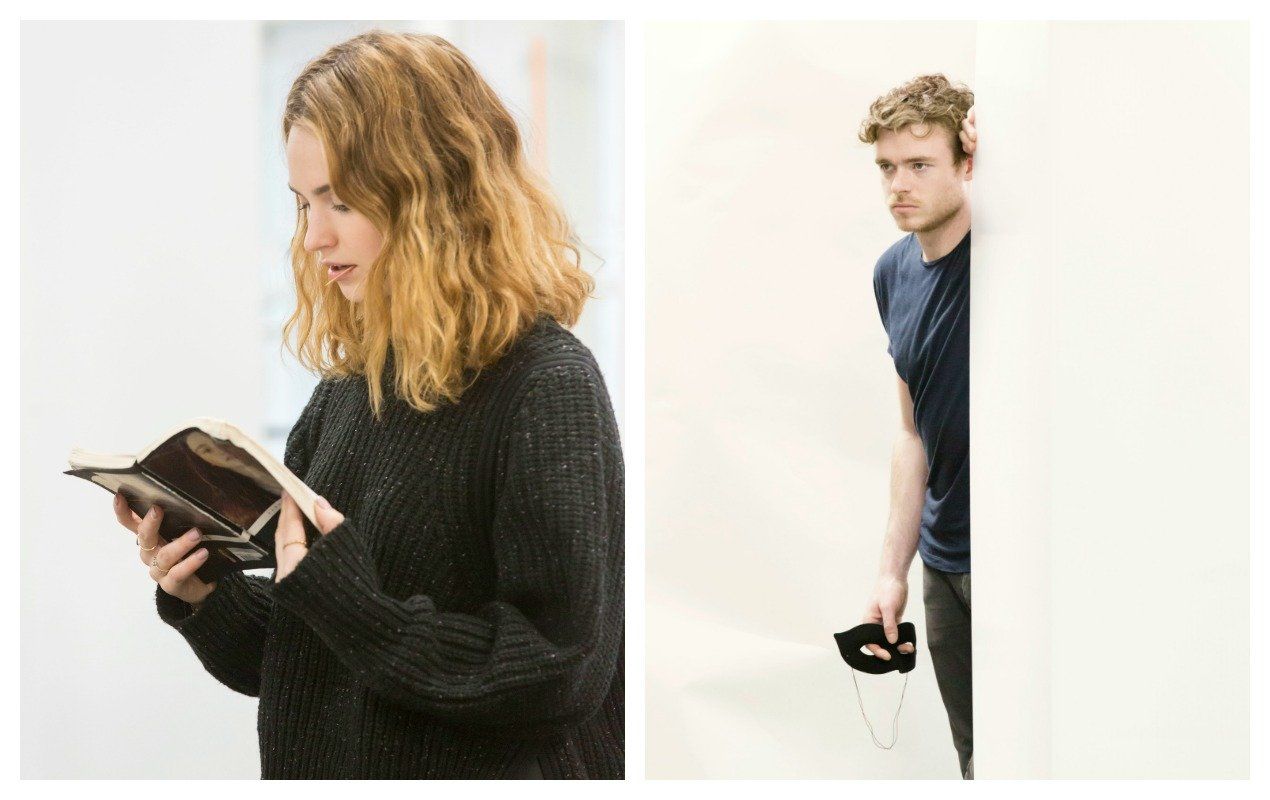 By far, this rendition of Romeo and Juliet has one of the most interesting casting decisions you'll see, starting with the great Sir Derek Jacobi. When you think of Mercutio, the imagery of a lively young man with a crazed sense of wisdom probably comes to your mind. This isn't the case with Jacobi. Playing an elderly Mercutio, the actor exudes the same level of vigor and crazed wisdom, but has a different essence. Instead of having a wild, old-soul Mercutio whose death was a testament of violent youth, the audience is presented with an aged, yet young-spirited Mercutio, whose death is more of a timely accident.
Other interesting, yet successful, cast members are that of Samuel Valentine, whose youthful and sensible Friar Laurence shines onstage, and Kathryn Wilder, who plays a giddy and comical female Peter. "It was awesome [playing a female Peter]," Wilder stated when I spoke to her briefly outside of the theatre. "It was a good time, especially since humor was added to the character." But arguably, the most interesting character portrayal comes from Lily James herself as Juliet.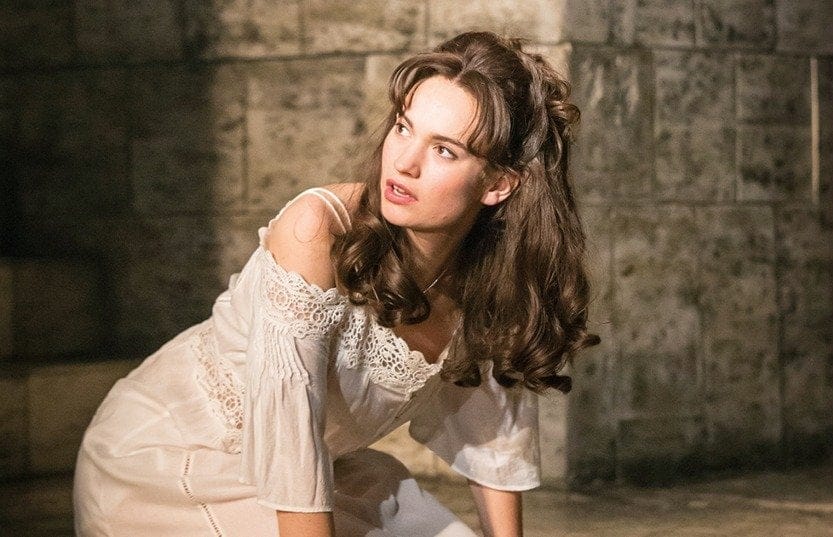 Between actresses like Claire Danes and Olivia Hussey, the Juliets we usually see are wallflower types who only come out of their shells when they fall in love with Romeo. But James's portrayal is quite different. Instead of giving us the shy and demure approach that we're used to, she opts for a more vivacious Juliet. A Juliet that's dancing and giggling at the masquerade ball. A Juliet that smiles while she sings in front of an entire party. A Juliet that's actually a little drunk during that famous balcony scene. It's fun to watch her play this tragic character in a more lively fashion, and allows you to see Juliet not as a willowy girl, but a budding teenage bella of Verona.
Unfortunately, during late June and early July, Richard Madden was absent from playing Romeo due to an illness, so actor Tom Hanson (who is cast as Paris) took his place. Still, through Hanson's strong performance and the seductive stills of Madden in character, it's clear that the portrayal of Romeo is confident and suave. The character isn't a love-struck, heart-sickened sensitive youth, but an intellectual type who seems to interpret his woes more than he dwells in them. If you come on a night where Tom Hanson is Romeo, you can expect a well-crafted performance. If you come on a night where Richard Madden is Romeo, you'll get to see the original in all his glory. Either way, you win.
There is limited availability for most of the performances, so be sure to book your tickets before they sell out!
(Production images courtesy Encore Tickets. All other photos by author.)