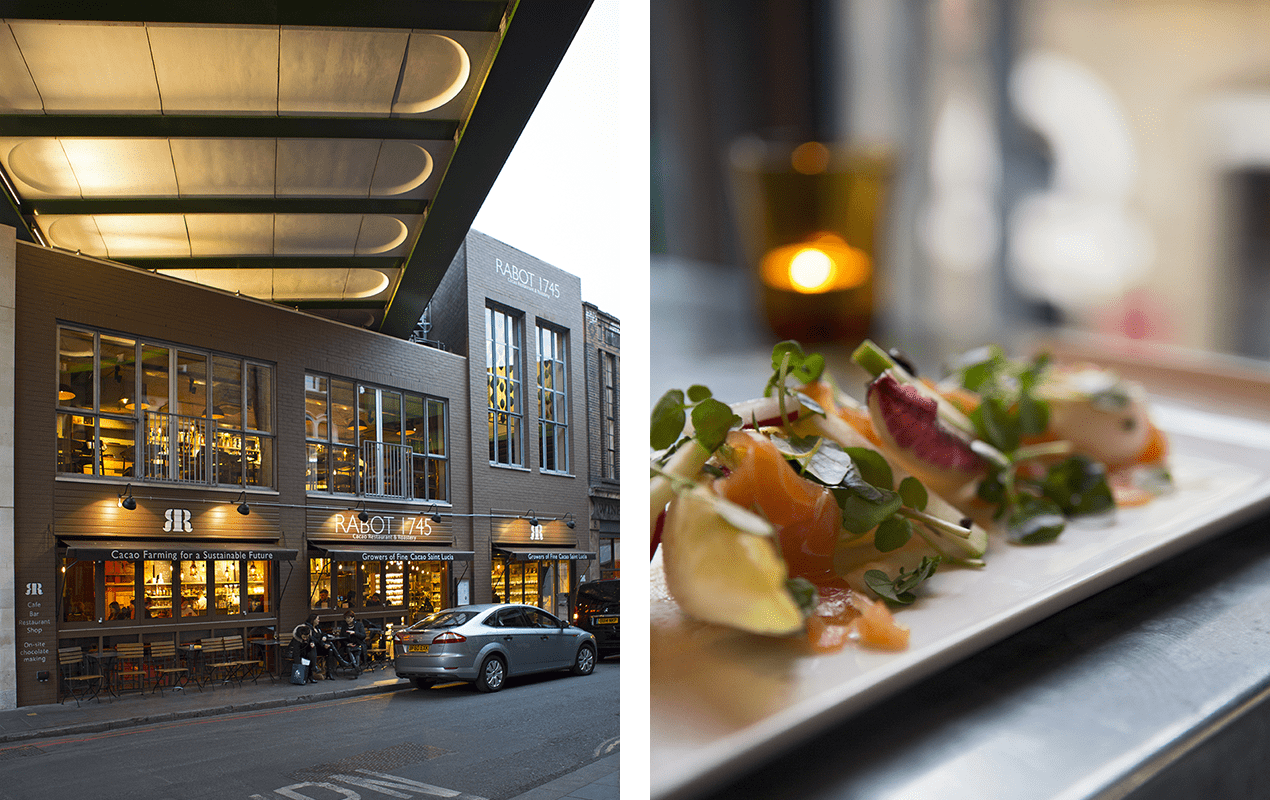 For the ardent foodie, a visit to Borough Market is a must while vacationing in London! The sights and smells as you wander around the stalls are positively mouth-watering, and make for a delicious day out for all the family. What might not be talked about as much are the incredible restaurants that help make this area one of the top foodie hotspots in the city! What could be better than combining a trip to the market and then a relaxing lunch or evening meal at the sublime Rabot 1745.
This restaurant has prime location in the heart of Borough Market, with a delightful terrace overlooking the bustling activity of market life below. The cuisine is a vibrant mix of West Indies, Caribbean as well as British influences. The real selling point, however, is its use of cacao which is featured in every single dish, but always with the lightest touch. We think everyone will be excited by the eclectic menu, and it's certainly not just for the cacao-lovers out there!
We highly recommend booking in advance, and indeed, our London Perfect team can always be of assistance here. On a lovely day, why not request a table on the terrace and you'll be able to not only soak up the atmosphere of this fine restaurant, but also the market below.
One of the best ways to start the evenings' proceedings is with one of their delicious cocktails, and we can highly recommend the Rabot Rum Sour which is made with Chairmans reserve rum, lime juice, cocoa bitters and nutmeg. They also have an excellent selection of rums, as well as a wonderful wine list which is sure to please everyone at the table.
A lovely way to try a variety of dishes is by ordering the Sharing Plate which has a number of tasty options, including the Cacao and treacle cured salmon, rabbit and ham roulade, Roast butternut squash and Sweet potato soup, and finally, some very moreish sweet potato crisps. This is a great option if you can't decide what to have from the very tempting Starter menu.
As you move onto the main dishes you will find an incredible array of choice, with our favorite, the Loin of venison, being ordered almost immediately! This stunning dish is prepared with a cinnamon-cacao crust, parsnip white chocolate purée, blackberry gel, and estate dark chocolate jus. Also, the vegetarians at the table will have some delicious options including the Baked vegetable pressé, with slow roasted herbed aubergine, tomato and onions, topped with leaf wrapped madras rice, and a tomato reduction. It's a good idea for everyone at the table to choose something different so you can try the other choices on the menu!
After the incredible savory feastings, you are offered some very tempting desserts, so hopefully, you'll have a little bit of room left! Try their signature molten chocolate lava pudding, made from the cacao bean on site at the restaurant, which is served with their Rabot ice cream. If you're after something a little more fruity, you can't go wrong with the Mandarin ice parfait with salted caramel ganache, white chocolate passion fruit curd and brittany shortbread.
We simply can't recommend this restaurant highly enough and feel it is a great addition to your culinary adventure while here in London. For more information on Rabot 1745, click here for menus and online booking.
Rabot 1745
2-4 Bedale Street,
Borough Market,
London
T: 020 7378 8226
E: [email protected]
(All photos courtesy of Rabot 1745)