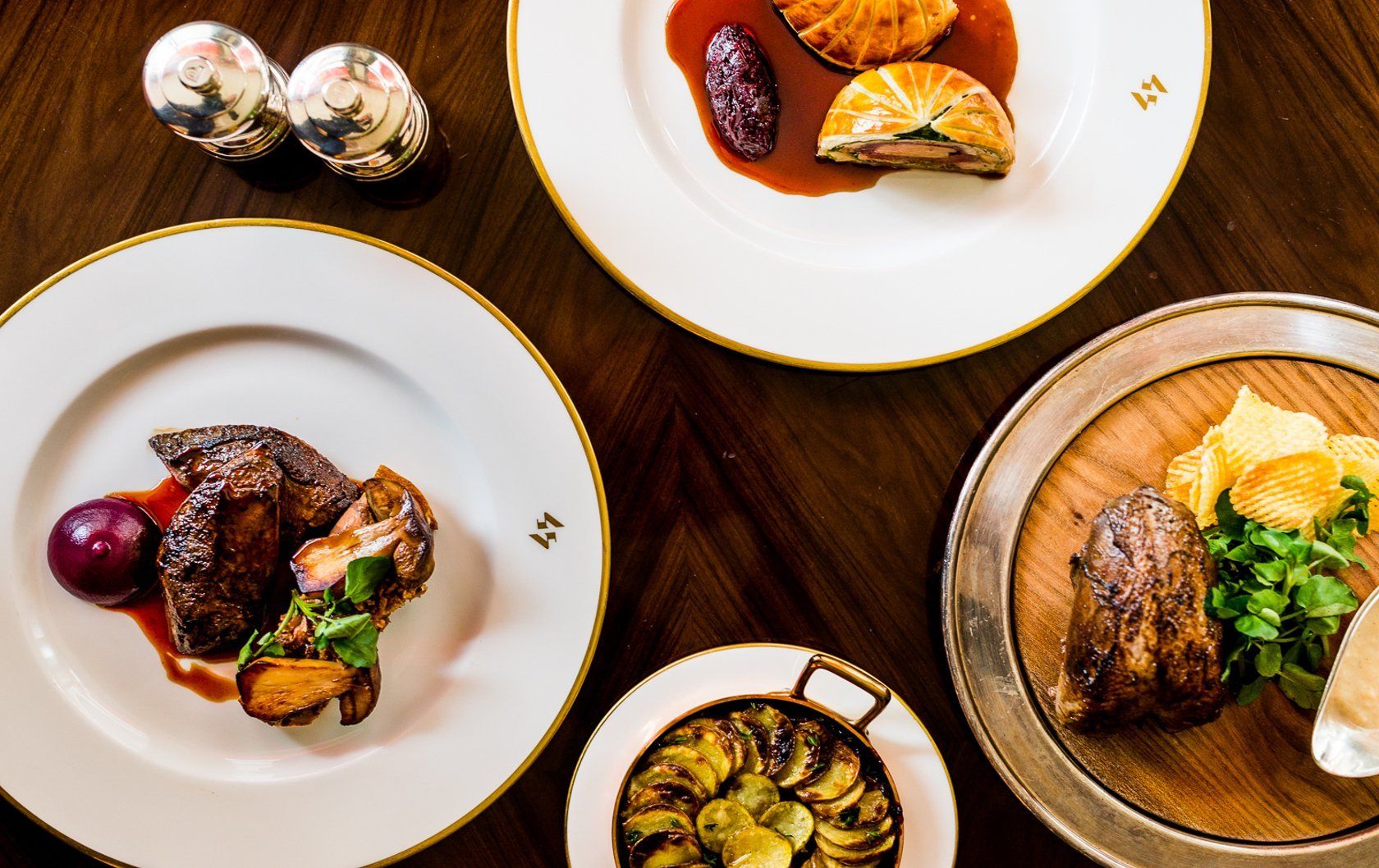 Upmarket dining at Fortnum & Mason. Credit: 45 Jermyn St.
Black Friday is here! With the biggest sales now on (read our blog on the best of the Black Friday deals) and Christmas shopping underway, London's luxury department stores are ultra-alluring, with their bevy of bargains and glitzy window displays. Harrods, London's iconic store, boasts 11,000-12,000 lights as part of its renowned Christmas decorations.
Any shopping trip in London encompasses the best of luxury brands and dining, that's why our apartments are located near the big department stores and their top-notch eateries. We're even having our own Black Friday vacation rental sale which runs through November 27; don't miss out on discounts of up to 30% on some of our lovely London homes. All this talk of shopping is making us hungry, so we've rounded up some of our favorite places to dine at London's biggest department stores.
Perch yourself at Arthur's swish bar. Credit: Liberty
Harrods offers wow-factor French fare at Galvin Demoiselle and Fortnum's restaurant 45 Jermyn St. makes its mark with its roving caviar trolley. Luxury department stores are not just about designer brands, they're about the whole package: the leisurely shopping, the personalized customer service, the luscious food halls, elegant eateries and swish Champagne bars. A shopping outing is an experience from start to finish and London's department store chieftains certainly make it a memorable one for their patrons.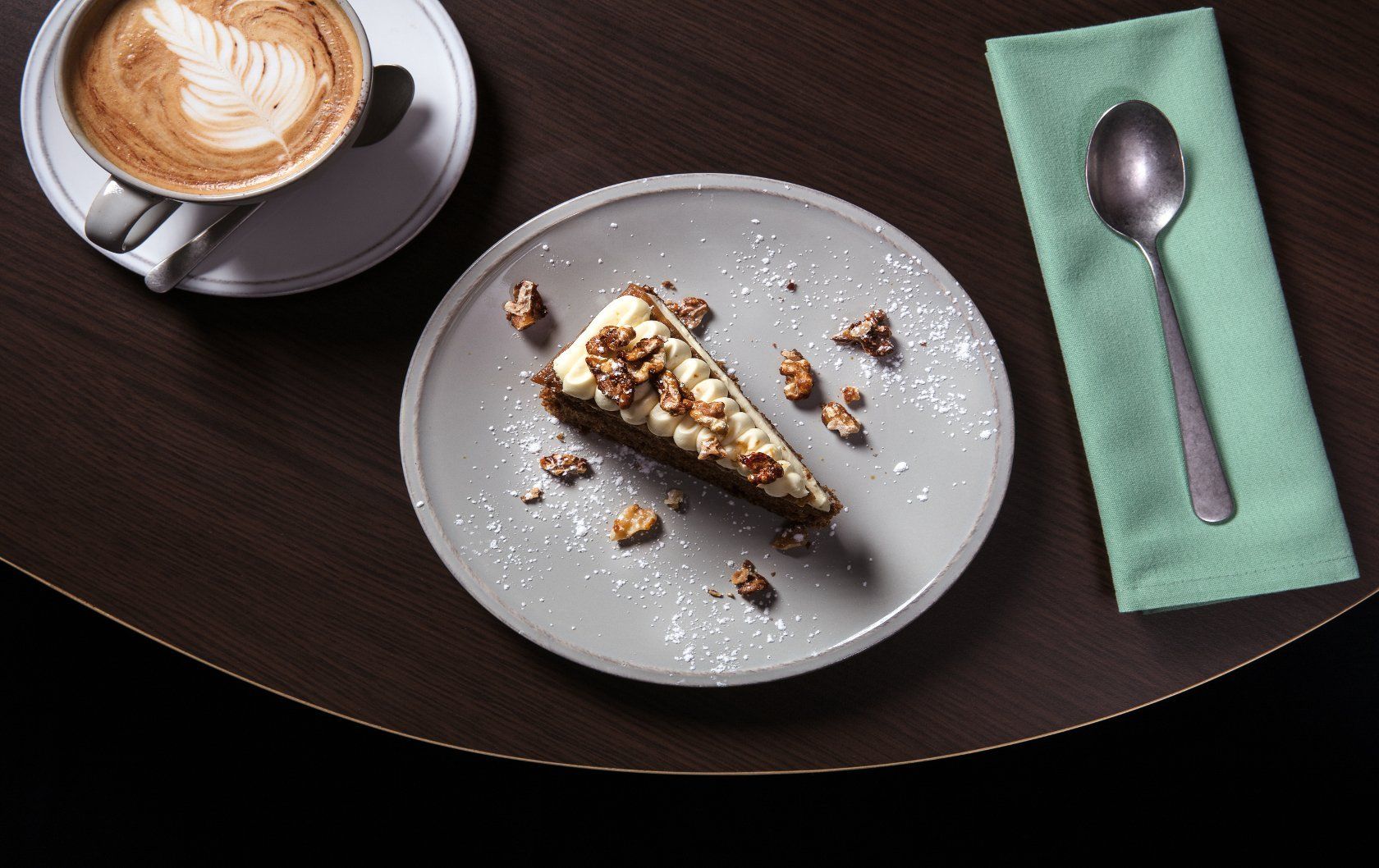 Try Ingrid's winning carrot cake. Credit: Liberty.
Titans such as Harrods and Selfridges provide the finest produce and gargantuan food halls, so there's no need to venture farther afield when it's lunchtime. When you're scouting for designer goods, browsing Marc Jacobs bags or having a makeover at Bobbi Brown, the time comes to choose a lunch or dinner spot. But, where to start? Here we select our favorite department dining options.
Harrods: Galvin Demoiselle, Roastery and The Champagne Bar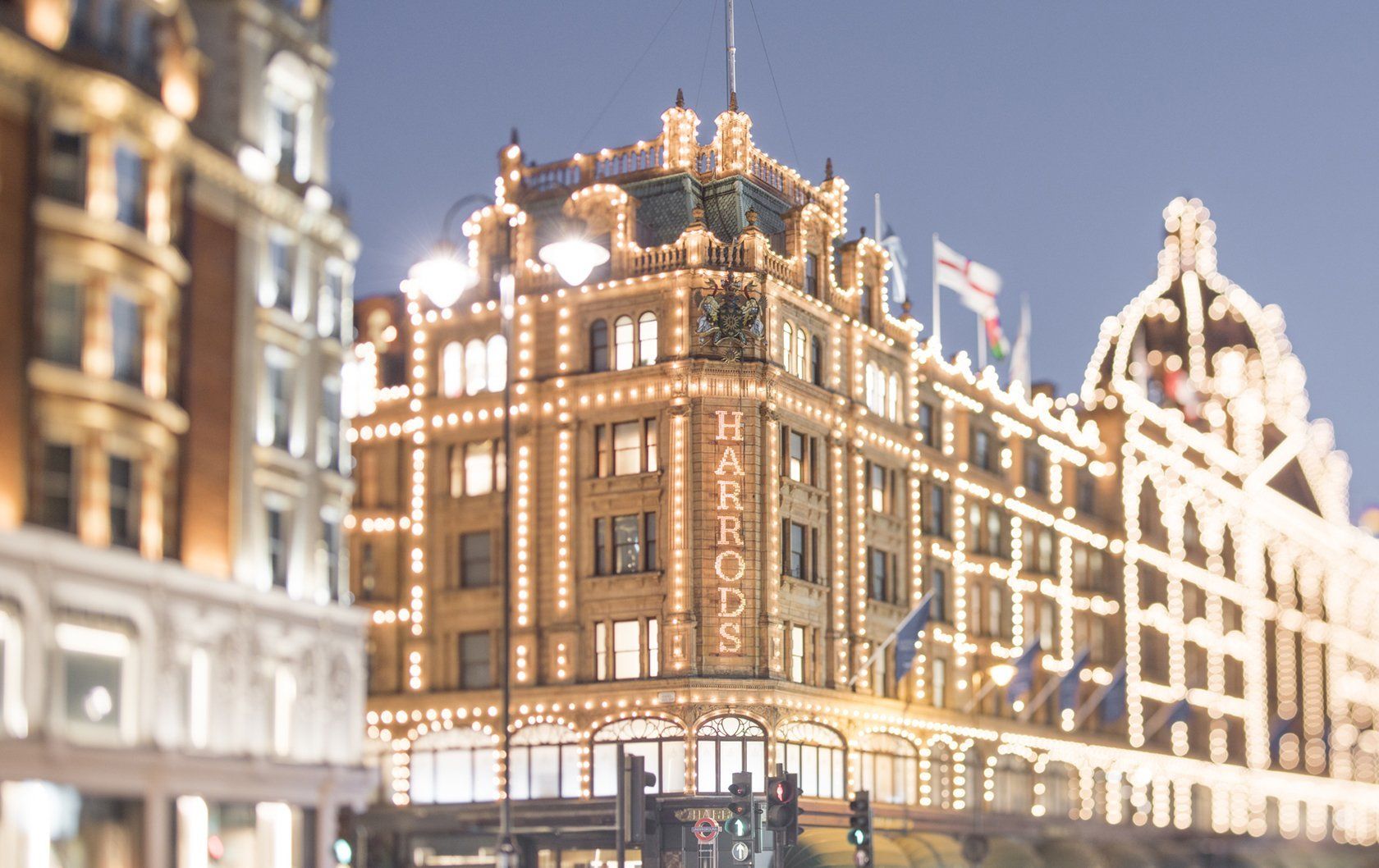 The Galvin brothers' light and breezy French restaurant, Galvin Demoiselle at The Conservatory, offers an innovative menu including favorites such as Galvin cure smoked salmon, for those that wish to linger a little. The chic terrace has striking views of Knightsbridge and its surrounds. Between them, the superstar chef brothers (Chris and Jeff) have over 50 years of experience, racking up time in various Michelin establishments – so you're in good hands.
Stop by the new Roastery and Bake Hall. Credit: Harrods
If you're in more of a hurry, just grab a coffee at the newly launched Roastery and Bake Hall, and snack on some freshly baked fare. In typical Harrods-style decadence, there are over 200 pastry products to pick from. Just remember to take a loaf of Lance Gardner's signature sourdough home.
Fancy some fizz? The Champagne Bar is set on the first floor and stocks Champagne from Harrods' exclusive Hostomme family; they have three centuries of history in the Champagne region. Sip on a glass of effervescent bubbles and try some satay or crab cakes.
Liberty: Arthur's 
 Art Deco perfection. Credit: Liberty
Arthur's is the new Art Deco-style restaurant located in the gorgeous treasure trove of Liberty and it's a smart spot to escape the shopping crowds. Established back in 1875, Liberty is the home of all things bright and beautiful; it takes luxury department store shopping to a new level in its Great Marlborough Street base. During the festive shopping season, it's the perfect place to pick up shiny baubles for the tree and be ensconced in the rows of colorful silk scarves.
Colorful and delicious: salmon poke. Credit: Liberty.
The menu is considered at Arthur's, opt for brunch bites such as fresh waffles, generous open sandwiches, or hearty mains including juicy glazed chicken or mouth-watering salmon poke. But, don't miss out on Ingrid Parfait's (the in-house baker) sweet treats such as her famed carrot cake. Arthur's Afternoon Tea is an event in itself: petite finger sandwiches, mini pastries, and scones with Cornish clotted cream. Top it off with a glass of Taittinger Champagne – if you're feeling fancy.
Harvey Nichols: Wallpaper* Bar and Fifth-Floor Café
Sultry Wallpaper* at Harvey Nichols is just like walking into its glossy pages. Credit: Harvey Nichols
Wallpaper* – as the name suggests – is taken from a happy collaboration with the magazine. The interior design at this bar makes visitors feel like they are stepping into the pages of a glossy and its cool-factor is off the charts. Choose one of the divine cocktails such as the Word Up, made with Grey Goose vodka, ginger liqueur, yellow Chartreuse and lime juice. There's also a fine menu that includes steak sandwiches with Asian coleslaw and caramel-laced banoffee pie.
Share a platter with pals at Fifth-Floor. Credit: Harvey Nichols.
We also love swinging by the Fifth-Floor Café & Terrace which offers a totally tempting menu including tasty club sandwiches, sharing platters of Italian and Spanish meats, and their mezze of hummus and grilled halloumi. The modern eatery is the ideal refueling pitstop for any determined sales shopper. Or, just have a coffee and get back to the discounts.
Selfridges: Aubaine and Caviar House & Prunier
Oysters? Champagne? Yes, please. Caviar House & Prunier. Credit: Selfridges.
Located next to the designer shoes is Aubaine, the chic French bistro, which is a fanciful place to watch fashion people swathe by. Standouts include the "breakfast cassoulet" for brunch and moules marinière for lunch. Meanwhile, in the food hall, ditch the groceries and sneak into Caviar House & Prunier. Expect a vast selection of shellfish and other fishy delights matched with an incredible wine and Champagne selection.
Fortnum & Mason: 45 Jermyn St.
 Caviar trolley, anyone? Photo:45 Jermyn St.
Lady Diana loved Fortnum's and so do we. What's not to love? It's a gourmet's dream store. Fortnum's is also as British as it gets and they hold the royal warrant. At the glamorous restaurant offering 45 Jermyn St. (it won the Best Interior at the GQ Food and Drink Awards) sample steak tartare and Dover sole from the varied menu, but the caviar trolley has to be the most fun and flashy feature for diners. Fancy caviar with made-to-order scrambled eggs? Get it here, in a slick setting.
The Christmas and New Year sales are also approaching and there will be copious bargains to be had, with some outlets massively reducing big-ticket items. Plan your shopping trip today to get the best apartment deal for your vacation.
For your next stay in London, our friendly reservations team are on hand to help you select one of our festive family vacation rentals. We can also help with shopping, itineraries, tours, dining reservations, and customized private experiences. Contact us if you are planning your trip and don't forget our Black Friday deals now on.