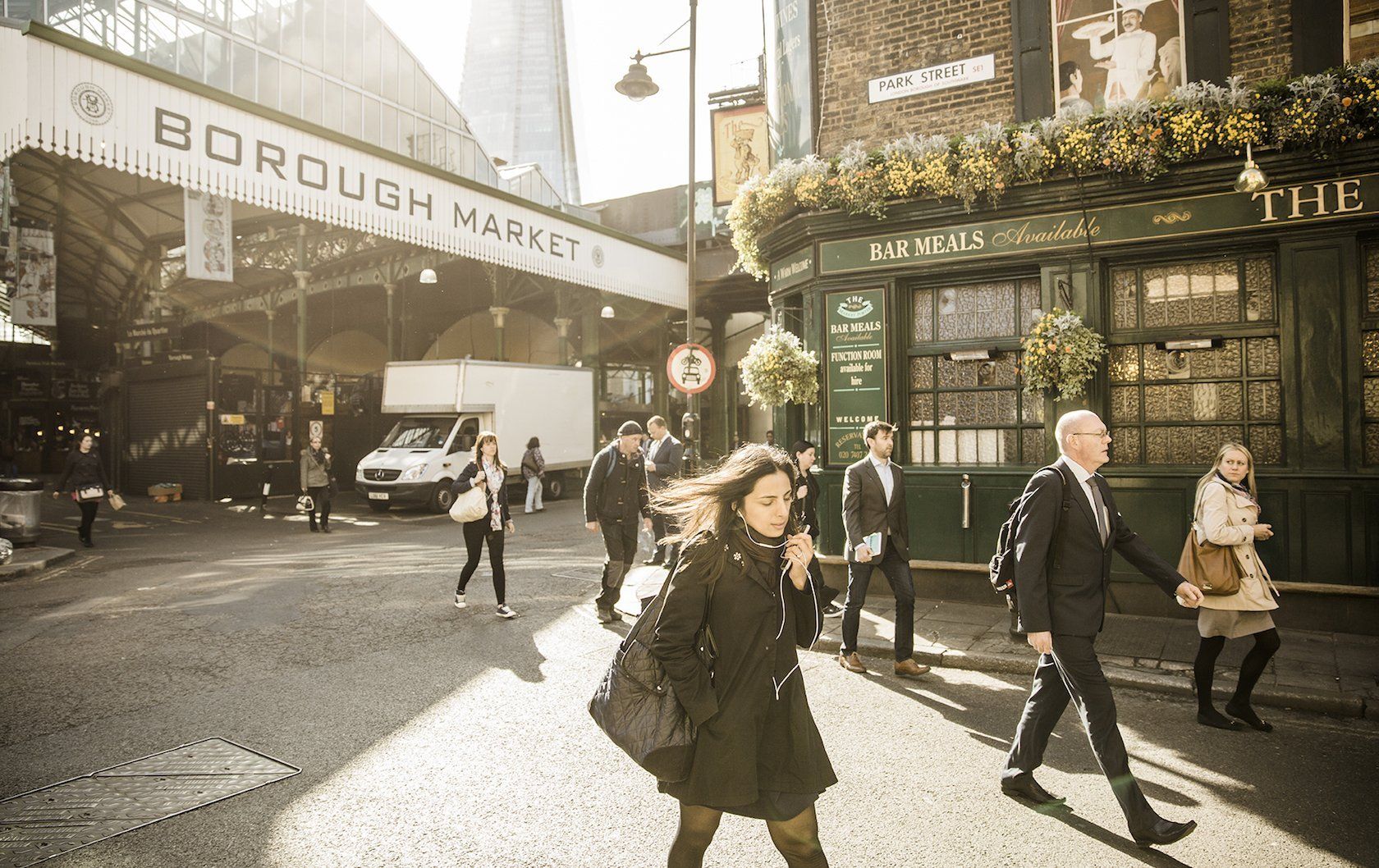 If you haven't heard of London's Borough Market then you are missing out. It's arguably London's best artisan food market selling mouthwatering, gourmet street food, as well as tons of raw products like fresh cheeses and cured meats, gorgeous fruit and vegetables and freshly baked goods. There are even stalls selling craft beer and wine. Here's everything you need to know about visiting Borough Market in London.
Visiting Borough Market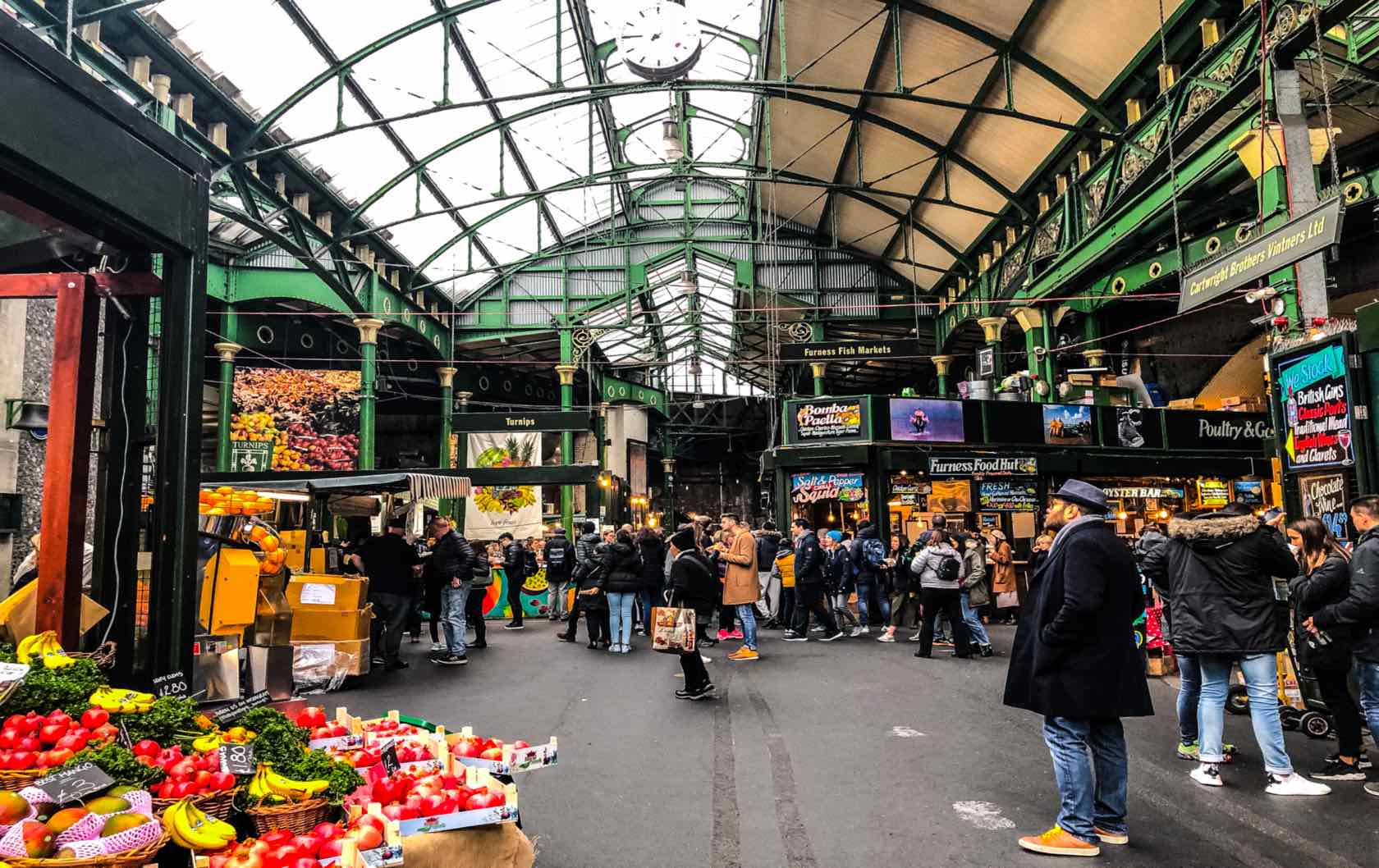 What Is Borough Market?
Borough Market is one of London's largest, oldest and most popular food markets in the city. Though it's an open-air market, it's largely covered and protected from the elements. This veritable foodie heaven is composed of food stalls mostly run by the producers themselves. Expect to find the best-of British produce and products along with international delicacies sourced from around the world like Italian black truffles, authentic Spanish tapas and French pastries.
Where Is Borough Market?
Borough Market is located at 8 Southwark Street, in Southwark, which is in the southeast part of the city of London. (A market has existed at the same location since the 12th-century.) London Bridge is the nearest tube station, which is serviced by the very efficient Jubilee and Northern lines. As you're leaving the station, keep your eyes out for signs indicating the best exit for Borough Market. The route is clearly marked, and it will lead you right to the entrance to Borough Market.
The Jubilee line is easily accessed from the Central Line, which is right by London Perfect apartments like the Palace Gardens and the Chatham. Also, the Jubilee line is accessible via the Piccadilly Line, which runs right by London Perfect apartments like the Lennox, the Walton, and the Spencer.
When Is Borough Market Open?
Full market days (when all of the stalls are open) occur on Wednesday and Thursday (10:00 a.m. to 5:00 p.m.); Friday (10:00 a.m. to 6:00 p.m.); and Saturday (8:00 a.m. to 5:00 p.m.).
Limited markets days (when only some stalls are open) occur on Monday and Tuesday (10:00 a.m. to 5:00 p.m.).
The market is closed on Sundays except in December when there are special hours for the holiday season, which is a great time to visit London.
Regardless of the day you choose for visiting Borough Market, do try and go early in the day because the market can get extremely busy. It's a favorite wholesale shopping location for chefs and gourmands, as well as hungry tourists. And if you do go early, feel free to bring the kids along. It's just one of the many family-friendly days out that are possible in London. (Here are a few other ideas.)
What Should I Eat At Borough Market?
It's hard to choose wrong when visiting Borough Market: There are just so many amazing things to eat! Some fan favorites include the cheese toastie (basically grilled cheese) at the Kappacasein stall, which is made from cheese from Bermondsey. There's also the delicious hot chorizo sandwich with fresh rocket (arugula) from Spanish purveyors, Brindisa. If you're a fan of oysters, don't skip out on a visit to the oyster farmers and shellfish merchants, Wright Brothers Oyster and Porter House. Their always-fresh oysters are sourced from around the British Isles, as well as Ireland and France.
If you're in the mood for something sweet you certainly came to the right place. There's the lovely Bread Ahead Bakery with the best doughnuts. (Seriously, they have won awards!) Bread Ahead has locations all around the city, but this was their original spot.
There's also Comptoir Gourmand for French-style sweets. (You're not going to want to miss out on their buttery chocolate croissants.) For something a bit different, try some goat's milk ice cream at Greedy Goat. The choices are endless. Also, here are a few other great spots for sweet tooths in London if you can't make it to the market.
You can find a full map of all of the vendors here. Just do yourself a favor and go hungry! You can also stock up on raw produce, meat and veg to cook up in your own kitchen—which is just one of the many benefits of renting an apartment instead of staying at a hotel on your trip to London.
Ready to live, shop and eat like a local? Get in touch with London Perfect today. We have plenty of gorgeous London apartments to choose from.