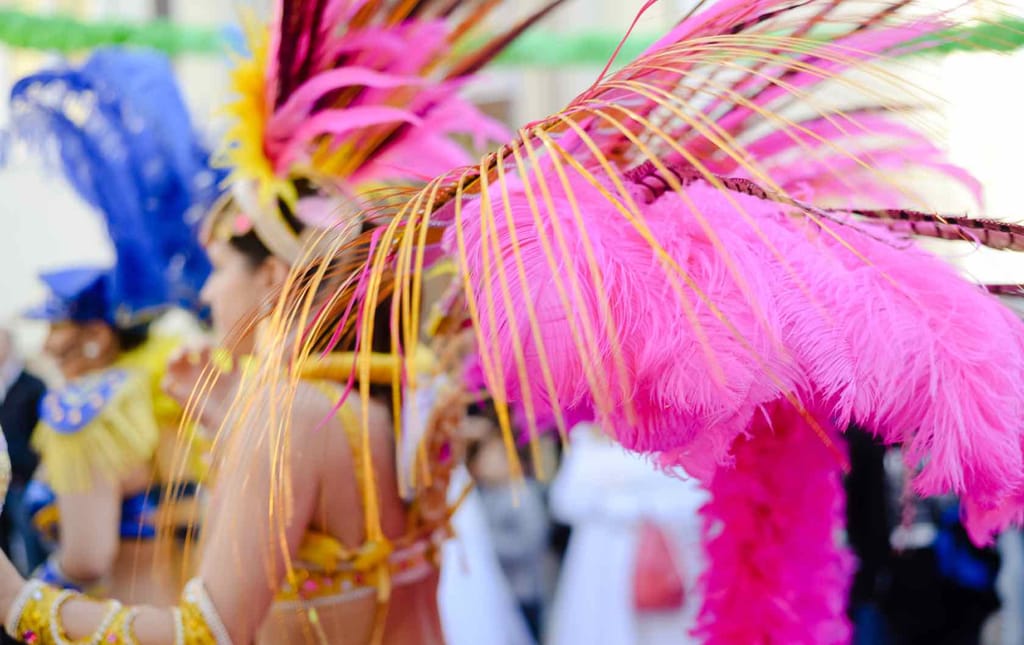 Each summer, at the end of August, the usually quiet, aristocratic neighborhood of Notting Hill transforms into the site of London's biggest and craziest street party: It's time to celebrate Notting Hill Carnival. Here's everything you need to know to have a wild first-time experience at this epic, weekend-long street party.
Guide to Notting Hill Carnival

What is Notting Hill Carnival?
Notting Hill Carnival is Europe's biggest street festival. The yearly event effectively closes down the Notting Hill neighborhood, as it largely consists of a massive parade of floats and West Indies-themed open-air music and dance performances. There are no tickets (it's free) and everyone is welcome to come and join the (often wild and crazy) party.
Why Go to Notting Hill Carnival?
Notting Hill Carnival is a celebration of diversity and London's Caribbean community. Dating back to 1966, visitors can expect to enjoy plenty of Caribbean dancing by festival-goers in traditional feather carnival costumes replete with headdresses. There's great calypso music and steel drum bands, as well as plenty of modern beats. With over thirty static sound systems set up around the parade route blasting dub, house, jungle, samba, blues, hip hop and more, there is something for every partier's taste.
Also, there's tons of delicious street food—and drinks—to enjoy. After the carnival, nearby clubs and bars are quick to continue the celebration with special music and promotions, making it an all-night party.
When is Carnival?
The dates of Notting Hill Carnival differ slightly every year, but this year, it starts on Sunday, August 25, 2019, and ends on Monday, August 26, 2019. [The last Monday of August is a Bank Holiday (public holiday) in London, so most people are off work.] Sunday is family day (though it's still a big, chaotic party with lots of people and noise); and Monday is the official big bash. Timings are released closer to the date, though it basically lasts all day. Keep your eye on the official website here. If you're coming with kids, get there early, so that you can leave early (as the day goes on the party revs up and crowds increase).
Where is Carnival?
Carnival basically takes over most of Notting Hill, and spills out into the adjacent neighborhoods of Ladbroke Grove and Westbourne Park. You can check out a map of the parade route here. Most of the streets in the area are closed to vehicles during Notting Hill Carnival. Also, most local tube stations are exit-only. You can see the transport options here.
Where should I stay during Carnival?
In Notting Hill:
To be at the heart of the carnival action, stay right in Notting Hill! It's one of the best neighborhoods in London even without the carnival thanks to its charming local cafes and pretty colorful streets.
The Danebury is a great option, as there's outdoor space, so you can get in on all the colorful excitement without being stuck in the crowds. It also sleeps six, making it a good place to rent if you're a group of friends. Sleeping four, the Leicester is another great choice. It's right in the middle of the carnival! With one bedroom and one bathroom, this would also make a fine choice for social couples who are in the mood to celebrate.
Near Notting Hill:
If you don't want to stay in Notting Hill during carnival but you still want to go, try staying nearby at one of our rentals within walking distance. Palace Gardens is perfect in this regard. It's not right in Notting Hill, so you won't have to worry about it being too loud or busy, but it's just a short walk away. It's also such a bright and sunny rental, which is great for enjoying summertime in London. (Check out a few of our other favorite sunny apartments here.)
The Hornton is another option for a nearby rental. With three bedrooms and two bathrooms, this hideaway will easily accommodate you and five of your best friends.
The Austen is also right near Notting Hill. Sleeping four with two bedrooms and two bathrooms, the Austen would make a good option for two couples or a small family. It's also well-positioned between two parks, Holland Park and Kensington Gardens, making this one of our favorite rentals without even mentioning its proximity to the carnival.
Snag an apartment for Europe's biggest street party. Get in touch with the team at London Perfect today. We can help you find the perfect spot to enjoy Carnival.