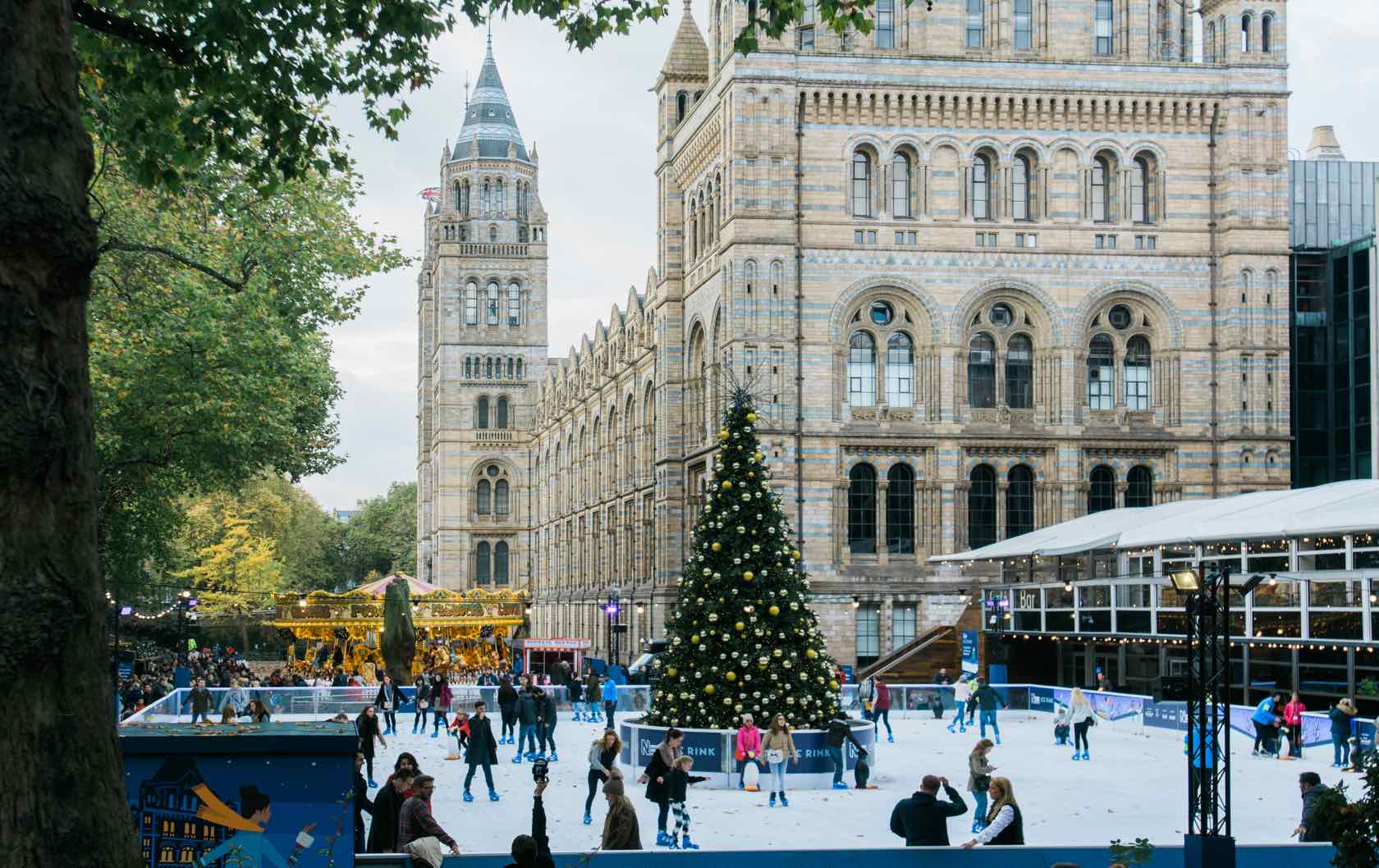 Though winter is the perfect time to curl up indoors in front of the fire, there's still plenty of festive fun to have outdoors during this time of year. And because winter can be relatively mild in London (it rarely snows), spending time outdoors is hardly a chore in the capital city. One of the most magical winter activities to enjoy during the winter is ice-skating. With super rink locations like in front of the impressive Tower of London and outside the enchanting Natural History Museum, these are London's best ice rinks for some frosty fun that's suitable for the whole family.
5 of London's Best Ice Rinks
Natural History Museum Ice Rink
Skating around the charming ice rink in front of the glowing Natural History Museum is one of those classic London moments that you just can't miss. Located in the heart of lovely South Kensington, the Natural History Museum Ice Rink is just a short walk from many of our London apartments like the bright, two-level Rockingham, set in a quiet mews, and the well-appointed Salisbury, nestled on a leafy South Kensington square. (With one bedroom and romantic décor, the Salisbury is actually one of our favorite London Perfect apartments for couples.) Once you're ready to hang up your skates, head up to the Café Bar (which has a birds-eye-view of the rink) and reward yourself with some hot mulled wine or a seasonal cocktail.
Tower of London Ice Rink
Set in the shadow of the formidable Tower of London and the elegant Tower Bridge, Tower of London Ice Rink is one of London's best ice rinks—if not the very best one. Open for about eight weeks over the holiday period, the Tower of London Ice Rink has the most festive atmosphere. Even if you're just there to watch, you can enjoy some seasonal treats from the on-site Ice Rink Café & Bar. Go for a classic hot chocolate, brimming with gooey, melting marshmallows. Or try a warming Cornish pasty, which is a baked pastry pocket filled with savory, hot meat. After spending the afternoon or evening on ice, retire to your very own London Perfect apartment. We have plenty of cozy options and some even come with their very own fireplaces.
Hyde Park Winter Wonderland Ice Rink
Every winter, London's iconic Hyde Park turns into a winter wonderland—literally. Hyde Park Winter Wonderland is a massive winter-theme fair for all ages. There are carnival rides, attractions, activities, entertainment and a Christmas market. (Make sure you arrive hungry because there's plenty of Christmas food too.) There's also an ice rink, which is actually the largest ice rink in the United Kingdom. The huge rink is set up under a fan of sparkling fairy lights around Hyde Park's Victorian Bandstand in the park's southeast corner. (It's closest to the four-level Spencer apartment.)
Skate at Somerset House
Skate at Somerset House is another one of London's best ice rinks. Sponsored by Fortnum & Mason, one of London's most opulent and iconic department stores, Somerset House's ice rink is framed with a massive, 40-foot Christmas tree bedecked in Fortnum & Mason's famous Christmas hampers. There's also a pop-up Fortnum & Mason's store in Somerset House's West Wing. This ice rink stays open late (on a few dates, it's even open all night long). But no matter when you visit, this classically British ice rink is a lovely spot for a romantic date or a big family day out.
Hampton Court Ice Rink
Though it's not as central as the other ice rinks, Hampton Court's ice rink is certainly one of the most magical spots to skate in London. Who wouldn't want to skate and spin in front of a 500-year-old Tudor palace? Though tickets to the ice rink don't include tickets to the palace, since the view is so fab from the rink, this activity doubles as some historic sightseeing as well.
No matter which of London's best ice rinks you decide to visit, be sure to check their opening hours and weather policy first. Also, it's a great idea to snag tickets in advance, as the rinks can get quite busy. And dress warmly; all of these ice rinks are in the open air, and it can get very frosty in the evenings.
If you haven't already—be sure you get in touch with the London Perfect team to reserve your perfect London apartment. (Yes, it's the most wonderful time of the year, but it's also one of the busiest, so get in touch as soon as possible.)