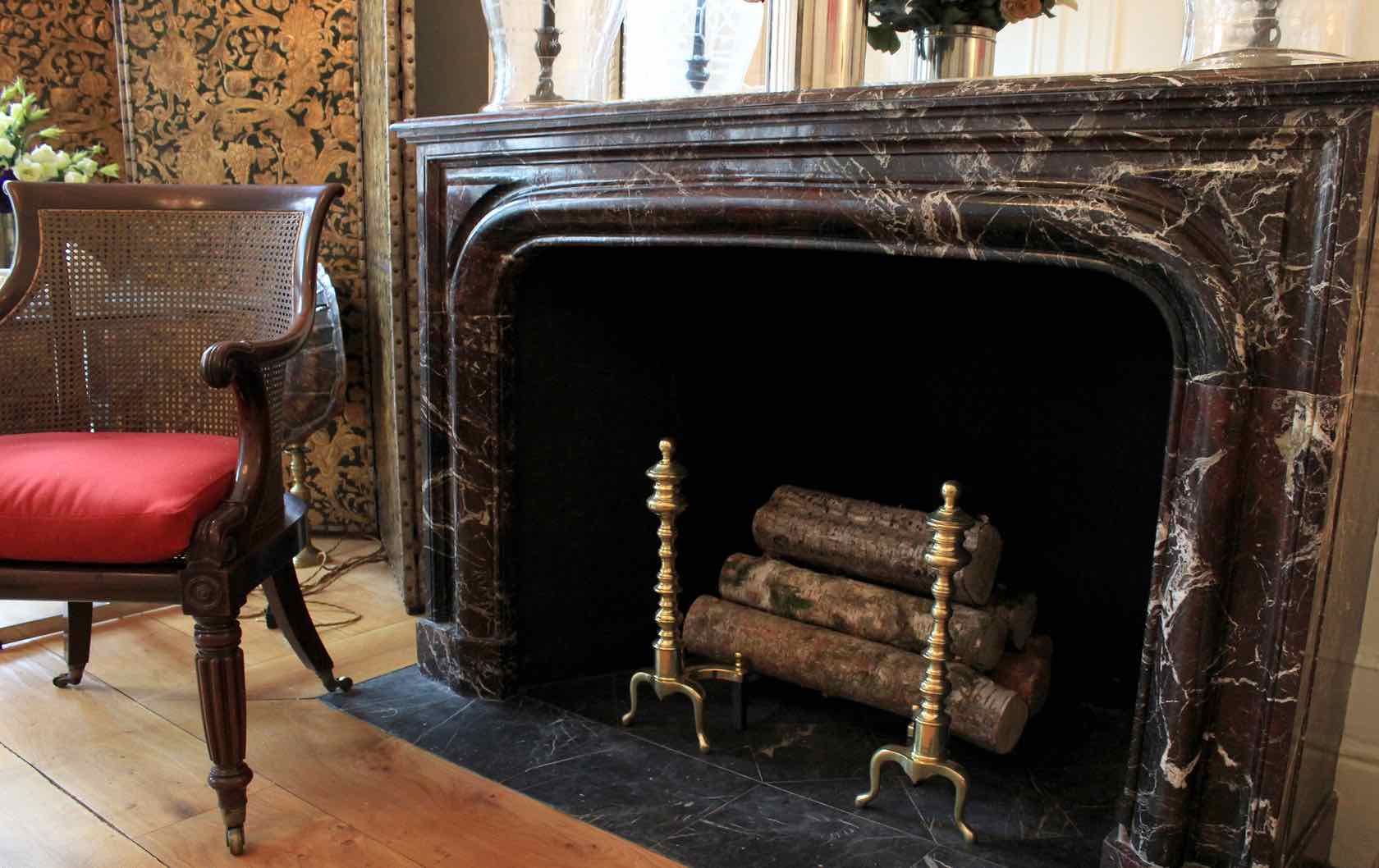 A fireplace can transform a room, even if it's just decorative. As the weather gets colder and the days get shorter, it's just human nature to be drawn towards warmth and attracted to rooms outfitted with fireplaces. Chosen for their style and the sense of coziness that they infuse into a space, here are ten of our favorite London apartments with fireplaces:
London Apartments with Fireplaces:
Belgravia
Step inside the inviting Belgravia, and your eye will go straight for the elegant ivory fireplace. Though its the focal point in the generous yellow-toned living room, the whole three-bedroom Belgravia apartment is well dressed and well designed with creative flair throughout. Ideal for five guests, the living room also features large glass doors opening out onto a narrow balcony that floods the room with plenty of brilliant sunlight.
Danebury
With hints of art deco inspiration and pops of velvet in shades of gray and iceberg blue, Notting Hill's Danebury is a design masterpiece. The faux-chimney housing the ethanol fireplace is sleek, simple and stunning. It imbues the whole the living room with a welcoming sense of warmth, practically inviting guests to gather around.
The room also includes a minimalist staircase leading to the Danebury's rooftop terrace. It's one of the most enviable outdoor spaces out of all of the London Perfect apartments. If you dress warmly—and maybe take along a hot cup of coffee from one of Notting Hill's many cafes—you can even enjoy the terrace in the winter months.
Wellington
There's something quintessentially old-world English about the charm-packed Wellington, which dates back to 1835. Laid out over three floors in the stately neighborhood of Chelsea, there's room for up to five guests. Lushly decorated in thick patterned fabrics, antiques and homey oriental rugs, the Wellington's living area comes with a gas fireplace.
Wellesley
How lovely is the working fireplace at the wonderful Wellesley? Secreted away in a mews in Chelsea, this apartment is at once intimate and quiet, but also in the hub of city life. Stop by the Duke of York Square's Fine Food Market, just a few steps from the house. Also, there's plenty of refined and trendy restaurants nearby in Sloane Square.
Gloucester
Set in a historic Victorian building, the Gloucester sleeps six with four bedrooms and three and a half bathrooms. There are also two fireplaces: one in the relaxed, informal living area and one in the master bedroom. Also, just around the corner, you'll find the refined classically British restaurant, Launceston Place, housed in a Kensington townhouse that dates back to 1839.
Victoria
Kensington's Victoria apartment has several fireplaces. There are two in the massive living room area (one beset by couches and the other by a lovely writing desk); there is one in the bedroom (there are four total bedrooms); and there's another fireplace in the open-plan, airy kitchen. (The Victoria actually has one of the very best kitchens.)
Cornwall
Red and white and utterly gorgeous, the decorative fireplace in the Cornwall makes the space. The red-and-white color scheme carries on throughout this one bedroom, one bathroom vacation rental, which also boasts the most amazing secret garden. You could completely forget you're in the city.
Walton
With a lovely period fireplace in the clean and chic living room, the Walton, on the border of Kensington and Chelsea, is ideally located near both the Sloane Square and South Kensington tube stations. Decorated with smart contemporary artwork, this two bedroom, two bathroom home is a great option for art lovers or those with a keen key for design. There are also lots of cultural things to do right on your doorstep, like visit the Victoria and Albert Museum, which is just minutes away. There's also the Natural History Museum and Science Museum nearby, as well as Hyde Park.
Salisbury
Housed on a leafy square in South Kensington, the Salisbury is a light-filled English dream house. And the handsome marble fireplace, set under an aristocratic oil painting, is the icing on the cake. Who wouldn't want to curl up in front of that fireplace with a good book and an even better glass of wine? The Salisbury also has a lovely balcony overlooking a green garden square and a breakfast nook, which add to this apartment's coziness factor.
Want to hear more about these apartments or about our other London apartments with fireplaces? Get in touch today. We'll find you a snug and cozy spot to call your own this winter.