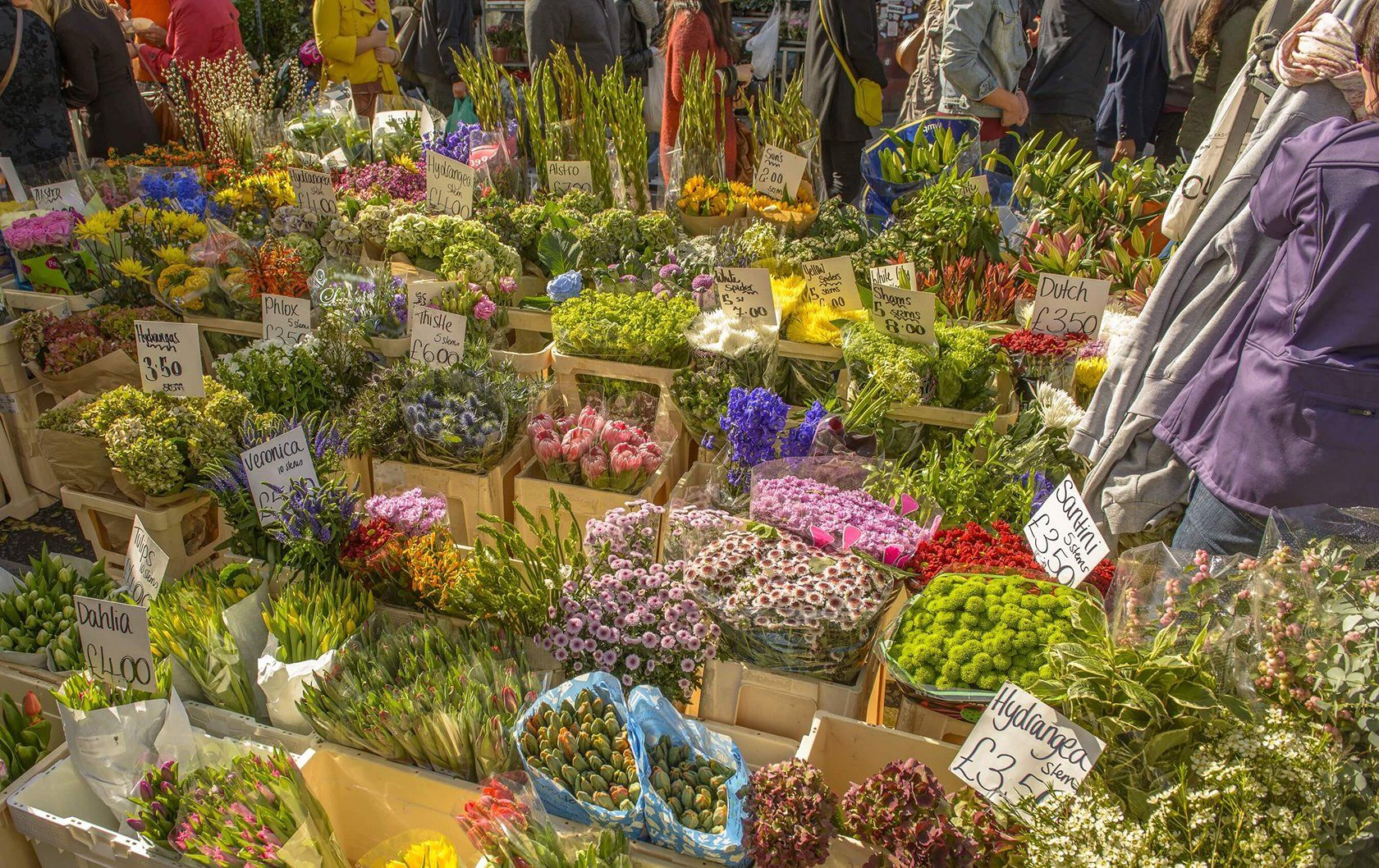 One of the best ways to see the heart of London is by browsing through the city's flowers, vintage, farmers markets and others. You'll be able to find something fun for everyone you bring with you. The markets offer fresh food, flowers, ingredients, treats, gifts and more. You can explore the markets and more of London by starting your exploration with Vacation Perfect. We have the best vacation rentals in London for couples or families. Grab your tote bag and browse these spots for flowers, vintage and more in London's markets.
Portobello Road is one of the most famous street markets in the world. Vacation Perfect has some vacation rentals available nearby, so shopping is easy. The market has a long and rich history stretching back to the 19th century. Browse the stalls filled with antiques, jewelry, furniture, vintage clothing and lots more.
This is a busy market with a lot of energy, much different than as famously depicted in My Fair Lady! We recommend you shop at Covent Garden during the week or in the morning. This market is excellent for finding quirky boutiques. The market is also lively for performing artists like singers, mime artists and more, as well as a terrific foodie scene.
One of the best places for fresh and beautiful flowers is along Columbia Road. It's located in London's East End. Make sure that you arrive in the morning to get first dibs on a spectrum of colorful flowers. However, if you can't make it early, you will still enter a magical atmosphere filled with music, banter, great food and more. It evokes scenes of a bygone era.
Between Liverpool Street and Brick Lane, you can find Spitalfields Market. Here you can expect to find shops, restaurants and an ever-changing selection of craft stalls. If you visit the market on a Thursday, you will be in for a treat. Thursdays are a retro dream; expect to peruse old maps, charming wooden Victorian desks, vintage dolls, lovely lace and well-loved leather satchels.
Find The Perfect Gift Or Treat In London
Plan to spend the afternoon in London's lively flower, vintage and farmers markets and maybe bring back something yummy to your Vacation Perfect rental property for dinner. To learn more about London, read our travel guide at London Perfect for more things to do and how to plan your vacation. Contact us on our website or call 1-888-520-2087 to learn about renting a vacation rental in London.