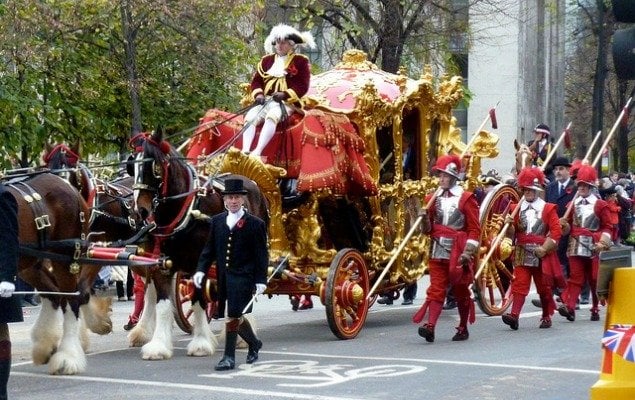 How often can you join in with an event that has been running for 800 years? Referenced in Samuel Pepys's diary, the Lord Mayor's Show is a party like no other, and this year why not watch the celebration itself, taking place in central London on November 14th. The Lord Mayor's Show officially marks the election of the new Lord Mayor of London, an annually elected ambassador for the City of London. The day consists of a spectacular parade starting in Bank and taking a three and a half mile route west to Aldwych, in the centre of London.
This tradition started in 1215 when the King allowed the City of London to elect its own Mayor, to keep the City on his side whilst he was waging war overseas. The position was granted on the premise that every year the newly elected Mayor must leave the safety of the City, travel upriver to the small town of Westminster and swear loyalty to the Crown. Despite plagues, fires and countless wars, the Lord Mayor has, since then, pledged loyalty to 34 kings and queens of England.
So join in on this day of celebration, with more than 7,000 performers filling the streets with dance, marching, music, acrobatics, colourful costumes, horses and much, much more. Expect special celebrations this year to mark the 800th year of the parade. Things kick off around 11am, lasting until 2.30pm.There is also a river pageant, setting off from Westminster Bridge at 8.30am, floating downriver to pass through Tower Bridge at 9.25am, with a spectacular riverside fireworks display at 5.15pm. From 3pm you can take advantage of free walking tours of London with the City of London Guides leading tours around the city, keeping the crowds entertained between the procession and start of the fireworks. Enjoy the party!
(Image Credits: Magnus D, Lord Mayor from the Lord Mayor's Show,